The Broadcast Pioneers of Philadelphia is a federally recognized, state chartered charity. We are a 501(c)(3) non-profit corporation serving Philadelphia since 1962.

Frank Stone
Newsletter Editor

Broadcast Pioneers Tour
KYW Newsradio/WIP Sportsradio
Wednesday, July 25th, 2012

Tour starts at 10 am SHARP!
Ratecard: FREE
(856) 365-5600

PLEASE RESERVE NOW!
RSVP DEADLINE: 10 pm, 7/23/12
rsvp@broadcastpioneers.com
FREE Tour of
KYW Newsradio & WIP SportsRadio!


Wednesday, July 25th



The next Broadcast Pioneers event takes place on Wednesday, July 25th at 10 am. It's a FREE tour of KYW Newsradio and 94 WIP, SportsRadio at 4th and Market Streets in Center City. Save the date.
On this tour, we will be announcing our 2012 "Person of the Year" and our 2012 inductees into the Broadcast Pioneers' Hall of Fame.
Parking for this tour will NOT be provided. There are several pay lots nearby. Trains, buses and other public transportation are available.
WARNING: You MUST reserve for this event in advance. We are obligated to provide the stations with a guest list which they will give to security. If you are not on that list, you cannot attend. WE MUST HAVE YOUR RESERVATION BY 6 PM ON MONDAY, JULY 23rd!
Call (856) 365-5600 for reservations. There is no cost for this event. We hope to see as many of you as possible.
SPACE IS LIMITED! PLEASE MAKE SURE TO RESERVE EARLY!

Visit Our Website Often - http://www.broadcastpioneers.com

TIME TO RENEW YOUR MEMBERSHIP:
In mid-May, all members received their membership renewals. If you haven't already done so, please take a moment to look over your contact information listed on the form and make any changes or corrections. We will use this information for our membership directory this fall. IF YOU HAVEN'T RENEWED YOUR MEMBERSHIP YET, YOU ARE LATE!
In this time of rising costs, it's even more important for those of you who can afford to do so and want to help to check off the extra contribution box on the renewal form. We are a state-chartered, federally-recognized charity with a 501(c)(3) status, which may make your contribution tax deductible on your federal income tax. Check with your tax advisor to see if this applies to you.
All dues are billed at the same time. Why? We have a volunteer that handles this. If we had to do it on a monthly basis, we would have to hire a company and thus raise your dues. There's no reason for us to do this. Be assured that if you joined in mid-year (say October), you would never be dropped until you received your full year of membership. If you can be generous with an extra contribution, we would certainly appreciate it.
A LITTLE BIT OF HISTORY!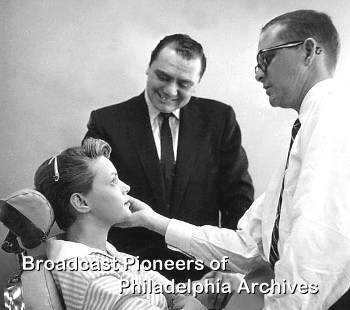 (Left to right) Member Peggy King, Ernest Borgnine and unidentified make-up artist
The George Gobel Show
February 1956
On February 16, 1956, actor Ernest Borgnine (who just passed away on Sunday) was a guest on "The George Gobel Show" on NBC-TV. Pretty Perky Peggy King, a member of the Broadcast Pioneers, was a regular on the broadcast. She was "the girl singer" on the telecast. Coincidentally, that particular episode of the show aired live (of course) and the date just happened to be Peggy's 26th birthday.
By the way, Ernie and his wife, Tova Traesnaes, had a house here in Malvern even though the couple spent most of their time at their Hollywood home. Why? His wife's "Beauty by Tova" cosmetics are often featured on QVC whose studios are in nearby West Chester, Pennsylvania. Borgnine was best known as the lovable Commander on "McHale's Navy." One of the supporting actors on that show was Bob Hastings (Lt. Carpenter). Bob had previously worked here in Philadelphia at WPTZ and Channel 3 on a program called "Atom Squad." It was broadcast daily on the NBC Television Network and originated live of Center City Philly.
WELCOME NEW MEMBERS:
FULL MEMBERS:
Leigh Richards wore many hats throughout the years. As a reporter, she covered City Hall & the streets of North Philadelphia during the demonstrations of the mid-70's. She was one of the first female "Boss Jocks" at WFIL. In addition to her on-air duties at WSNI and WXTU, she hosted weekly public affairs programs, which she loved.
Fred Bauer has worked in radio, TV, music and motion pictures. He won a Gabriel Award for his PSA, "It's 11 o'clock, do you know where your children are?" He was the producer/director of "Summertime of the Pier" with member Ed Hurst. Fred owned and operated five TV stations and was the writer/producer of the Academy Award winning "Buddy Holly Story."
Ramona Alpern is a new member. She's the widow of former member Mel Alpern, who passed away a few years ago. Ramona was one of the first voices for "Selective Directory Assistance." She has also done tons of radio and television commercials and is in AFTRA and SAG. She has worked in our business for more than 60 years.
We are thrilled to have these new members. They've helped to bring our total membership up to 474 (an all-time record). We hope to see as many of you as possible at the June luncheon.
DIGITAL ARCHIVAL PROJECT NEWS:
Members Lisa Thomas-Laury & Marc Howard
Action News, WPVI-TV
Tuesday, May 14, 1985

Action News Reporter Chris Wagner
Action News, WPVI-TV
Tuesday, May 14, 1985
On Monday, May 13, 1985, the City of Philadelphia dropped an incendiary device on the MOVE compound on the 6200 block of Osage Avenue, a few blocks south of Market Street. The video we are presenting here is from the next day, Tuesday May 14, 1985. It's from the 5 pm Action News newscast on WPVI-TV, Channel 6. This material is copyrighted by WPVI and all rights are reserved by them.
Our transfer comes direct from a WPVI-TV 3/4" video tape. However, it is a generation down. Why? Well, this 3/4" recording consisted of various reports. This was taken from an aircheck and then dubbed onto the final 3/4" tape for long term storage. In our opinion, the Real Video version is slightly clearer and cleaner.
Watch in Real Video!
Watch in Windows Media Format!
On August 26, 1966, WCAU Radio (now WPHT) aired the first annual "Night Talk" Folk Festival. On this night, Broadcast Pioneers Hall of Famer Jack McKinney spoke with folk singer Tom Paxton.
Listen in Real Audio!
Listen in Windows Media Format!
Next we have a 4 and a half minute cut from the WCAU-TV "Big News," anchored by legendary Broadcast Pioneers member John Facenda. During this excerpt, we also hear a commentary by Broadcast Pioneers member Donald Barnhouse. The topic that day was New York Congressman Adam Clayton Powell. The date is Tuesday, January 10, 1967. While this was a television broadcast, no known video footage has survived into the 21st century. However, we do have the audio.
Listen in Real Audio!
Listen in Windows Media Format!
The next archival cut dates from Monday, December 29, 1975. We have a 14 minute clip. The original tape (which is in our audio archive) was recorded by KYW Newsradio on audio cassette. The anchor is Vince Lee. About half way through this excerpt, we hear Broadcast Pioneers member Jay Lloyd with a 90 second phoner. Today, that same report would be about 30 seconds long (or less).
Listen in Real Audio!
Listen in Windows Media Format!
On Saturday, February 11, 1967, Andy Griffith was a guest on the Ed Harvey "Talk of Philadelphia" program on WCAU Radio, now WPHT. Ed was Vice-President of this organization and served on our Board of Directors for decades.
On Saturday afternoons, Ed Harvey did a little something different than his regular radio telephone talk format. He had a mystery caller who would disguise their voice. Ed would give people hints on who it was and then the radio audience could call in and guest who it was.
This particular day, the caller was Andy Griffith. The piece is almost 15 minutes long and is presented here in its original form. The tape was recorded at 7 and a half ips and was mastered in master control of WCAU Radio. Therefore, it is of higher quality than any off air recording could possibly be. For the first time in 45 years, the recording can now be heard.
Listen in Real Audio!
Listen in Windows Media!
IN TOUCH WITH OUR MEMBERS:
Congratulations to Jim Gardner, the 1996 Broadcast Pioneers' "Person of the Year," who is celebrating 35 years as 6abc's news anchor at 6 p.m and 11 p.m. When it comes to delivering the "big story," Jim's unmistakable voice and delivery has been one of the "real" sounds of Philadelphia telecasting and he's legendary in the business. Gardner is also in our "Hall of Fame." Well done, Jim!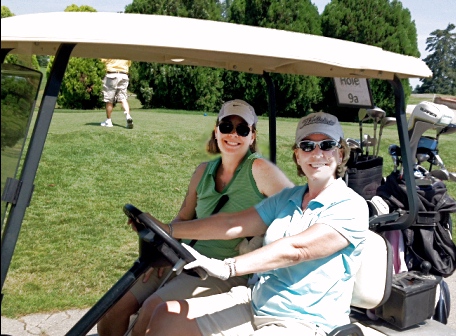 (Left to right) niece Bev Gandolfo and member Cathy Gandolfo
6ABC Annual Golf Outing
Center Square Golf Course, Blue Bell, PA
Saturday, June 30, 2012
We heard from member Cathy Gandolfo, who told us:
On Saturday, June 30th, 6abc held its annual golf outing at the Center Square Golf Course in Blue Bell. 47 golfers took part including present and retired channel six employees, their family members, and friends. The weather was hot but it didn't slow the teams down. Everyone enjoyed food and drink after the round and prizes were given for longest drive and closest to the pin plus some door prizes. Since the Mayan calendar predicts the end of the world, the golf outing was billed as the "Final 6abc golf outing." Hopefully that's wrong and all will return next year for another fun time.
Broadcast Pioneers member Johnny B. Hall recently attended the 2012 NONCOMvention for noncommercial radio stations at Philly radio station WXPN as a "Program Partner." Johnny experienced a 30 minute concert by Willie and Luke Nelson as well as performances by singers Norah Jones and Brandi Carlile, plus a chat with red-hot rockabilly performer J.D. McPherson. Sounds like a great time, Johnny!
Member Allan Hotlen recently wrote us about his friendship with singer Al Martino and producer/arranger Peter DeAngelis. Did you know that Allan wrote songs? One of the ones he wrote was with Pete and Al recorded it. It was called, "Now, Before Another Day Goes By." Click here for Allan's bio. Scroll about half-way down to read all about this friendship.
Congratulations go out to member Gene Arnold and his wife Terry, who had to miss the June luncheon because they were celebrating their 50th wedding anniversary. Gene tells us that Terry may require some surgery soon and he is recovering well from a broken wrist and titanium bone repairs. Terry is having success with a CD she recorded for the USO and Wounded Warriors, called"Here With You." Gene is still doing voice work as well as "Sounds of Philly" internet radio shows. They sure are keeping busy!
Broadcast Pioneers member John Primerano, singer/pianist/songwriter, had an enormously successful Mother's Day series of appearances leading up to his performance at La Cena Restaurant & Lounge in Bensalem, PA on July 5th. John's latest CD has been added to nationally syndicated radio host Don Kennedy's, "The DK Show." Nice going, John!
ON THE HEALTH FRONT:
Member Mel Klawansky has sent us more details on the aftermath of Gene Vassall's knee replacement surgery. Gene (who is 87 years old) told Mel via e-mail:
The first month was extremely bad. In addition to the severe pain, the effects of the anesthesia were devastating with loss of memory, several infections, hallucinations and total loss of appetite. Now after 8 weeks, I have been pain free, walking without any problems, eating normal and actually feel great. I received results of blood tests today. Everything came back normal.
Member Sheree Goldflies tells us that member Ilse Poindexter (Malcolm's widow) has had hip replacement surgery. Now, she's getting rotator cuff surgery. We wish her well and will report more information once we have it.
We have heard from the Adelman family that Robin had surgery a few weeks ago. She is home and doing well and we wish her the best. Robin is the daughter of member Leon Love. Robin, husband Ira and dad Leon are underwriters of Broadcast Pioneers scholarships for college students. We wish Robin the best and hope to see her soon.

Did you know...
A BROADCAST PIONEERS VICE-PRESIDENT INVENTED
CHOCOLATE MARSHMALLOW ICE CREAM!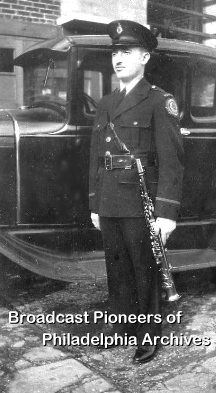 Broadcast Pioneers Member Max M. Leon
circa 1935

Most of us remember Max M. Leon as the former owner of WDAS AM & FM in the fifties, sixties and seventies. But he was an accomplished musician, candy maker and inventor, as well as being a Vice-President of this organization in the seventies. His daughter, member Ruth Leon Weiman, e-mailed us:
I was so young, but I remember him putting containers of a substance in the refrigerator over and over again, because he wasn't satisfied with the consistency of the marshmallow or its ability to blend with ice cream. He finally took a break from his efforts and went away for the weekend, and in the middle of the night, it hit him what needed to be altered, raced back home and changed the formula so it would work.

Breyers was his client and his exclusive buyer. It really was his main achievement at the time, although his candy (Whole-sum Products) was shipped overseas to our armed forces and his factory was operating through the day and night. His formula for butter mints was an exclusive formula, and the Acme markets packaged it under the name of Daintee Butter Mints.
Max Leon came to the United States from Eastern Europe at the age of sixteen. Max once said:
I arrived in this country from Poland (Swierze), where I was born with a violin, four dimes and a suitcase full of hope.... In a few years, I had my own company. I was conducting my own orchestra; running my own radio station. There are opportunities all around you. You just have to take advantage of them.
Max entered broadcasting like everything else. He once said, "learn all you can about what you're getting into, and once you know what's what, don't hesitate, plunge." Max lived by what he preached. Upon purchasing WDAS, Leon went to night school at Temple University, enrolling in communications courses. He also volunteered to work at WRTI, Temple's student broadcast outlet. During this era, WRTI was only an AM station and heard on campus through the electrical system. Leon joined on campus one of his daughters, Ruth.

Max Leon told the Temple University News a half century ago: "It's a shame more owners don't take a few radio courses." He approached music in the same fashion. Self taught, Max made his first violin at the age of nine and played at social events. He said:
I remember the first time I drew the bow across the strings. The result was like the quavering wail of a cat on a back fence. But to my young ears, it sounded like music. From that moment my fate was sealed. Music became a part of my life - the most important part.
Max M. Leon practiced his violin and a year or so later, he was playing in a band that played at Polish weddings and other celebrations. Just out of his teens, Max had mastered the violin, saxophone and clarinet. He was then studying the piano.

For a half dozen years, he fronted "Max Leon and his Musical Eagles," a local dance band. While simultaneously becoming the general manager of the candy factory at which he began work as a candy breaker. He then became the owner of that same company, the Whole-Sum Products in 1934. They made different types of sweets and also invented marshmallow ice cream for Breyers Ice Cream Company. He kept the candy factory all during the WDAS days. In fact, the candy company was a sponsor on the radio stations. Max was also an accomplished horseman. He rode in the polo matches as a referee and the 103rd calvary troop farm.

However, Max still wanted to be involved with music so he joined the Police and Fireman's Band where he began as a saxophone soloist and eventually became director.
Of the above photo of Max Leon in uniform, Ruth Weiman e-mailed:
The picture is definitely of dad when he played in the Police and Fireman's Band. Later on he became Music Director. But again that was later on. Wynne says she still has the jacket and my son David has a medallion of some kind from then. We had a family party today and I circulated the picture and everyone agreed on what that picture was.

Editor's Note: Wynne is Wynne Alexander, a WDAS Historian, former station newscaster and granddaughter of Max Leon.
He was also the Music Director of the Hegeman String Band. He studied conducting with Paul Breisach, the conductor of the Metropolitan Opera Company, the famed Eugene Ormandy, director of the Philadelphia Orchestra and Martin Rich of the Curtis Institute of Music.

In 1943, he founded, financed and conducted "the Philadelphia Pops Orchestra," which included most of the members of the Philadelphia Orchestra.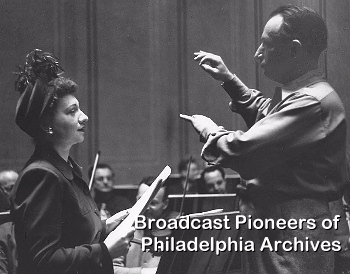 Saturday saw Max and his members of the Philadelphia Pops Orchestra practicing on the 4th floor of his candy factory and at the Lorraine Hotel on Broad Street. Max "broadcast" the rehearsal throughout the plant through a loud speaker system in the production area. During the Second World War, the orchestra played concerts at Army and Navy hospitals, service centers, camps, stations and raised over $6,000,000 in war bond sales. Leon organized it, led it, paid all the bills and was their conductor. It was his "baby." Throughout the years, he continued to conduct the eighty piece Philly Pops with performances at the Academy of Music. He worked with people like Risa Stevens, Robert Merrill, Todd Duncan, Jan Peerce and Percy Grainger.

Next Max Leon turned his efforts to opera. He served as president of the Philadelphia Grand Opera Company for a dozen years. He presided over their merger with the Lyric Opera Company. For the next three years, he served as General Manager of the Opera Company of Philadelphia. He was decorated by the Italian government as a cavaliere for raising money to build houses in Florence for people who have been flooded out. He spoke Italian fluently. On December 14, 1959, there was a resolution that was adopted by the Senate of Pennsylvania giving Max M. Leon the title "Mr. Music of Philadelphia."
This regular monthly column is written and researched by Gerry Wilkinson

MORE DIGITAL ARCHIVAL PROJECT NEWS:
Members Herb Clarke & Harry Haas
Adam's Mark Hotel, Philadelphia
May 1991

Member Edie Huggins
WCAU, NBC 10 Newsroom
December 1997
On New Year's Eve, 1997, Broadcast Pioneers member Herb Clarke did his last weathercast for WCAU-TV, NBC 10, here in Philadelphia. The station made a special tape for Herb and these excerpts come from that recording. Our particular copy was donated by Broadcast Pioneers member Bill Baldini. In our opinion, the Real Video version is slightly clearer.
Watch in Real Video!
Watch in Windows Media Format!
ARCHIVAL NOTE: The left photo is from our May 1991 annual banquet. Our "Person of the Year" was Herb Clarke, a former president and chairman of the board of this organization. Herb served on our board for a quarter of a century. On the right side of that photo was our President at that time, Harry Haas. Herb is being presented with our "Person of the Year" glass microphone trophy. At that time, we were a chapter of the National Broadcast Pioneers organization. Today, the parent organization no longer exists and we are an independent non-profit charity belonging to our membership.
--------------------
Next is a jingle for WFIL Radio, 560 on AM. It dates from about 1954. If someone has more info about this jingle, please e-mail us.
Listen in Real Audio!
Listen in Windows Media Format!
Here's a WIBG Radio sign off from before their Storer days. This was when they were owned by the Seaboard Radio Broadcasting Corporation. We are dating it in the mid-fifties. Note that Tom Donahue (who later went on to be a rocker on WIBBAGE during the early Storer era) is doing morning drive, but it wasn't rock and roll yet. It was more of a traditional pop music wake-up show from the fifties.
Listen in Real Audio!
Listen in Windows Media Format!
Here's an announcement that aired on WHYY-TV, Channel 12. The date is July 9, 1969 and it's just before 11 pm. The announcement talks about how the TV station is now on the air seven days a week, even during the summer. Previously, there was a reduced schedule in June, July and August and no broadcasts on Sundays. While this aired over Channel 12, the current PBS television station here in the Delaware Valley, the announcement is only in audio!
Listen in Real Audio!
Listen in Windows Media Format!
From 1956, here's a WRCV-TV, Channel 3, Philadelphia sign off. Note that the announcer is Norman Brooks. Although Norm didn't identify himself on this cut, we know it's him. An interesting sidebar is that five years earlier, Brooks was the morning newscaster on a local WPTZ show called, "3 to Get Ready" starring local Trenton talent Ernie Kovacs. While on this cut, Ernie isn't dropping water on Norman, that was the kind of thing that went on during that morning telecast. Roy Neal, who later went on to NBC-TV News, also was one of Kovacs' newscaster. Neal also got the water treatment. While this is a television broadcast, we only have audio! Today, Channel 2 is known as KYW-TV.
Listen in Real Audio!
Listen in Windows Media Format!
PLEASE NOTE: While "3 to Get Ready" was on television, no recordings (even audio) are known to exist. This was before the days of video tape, but audio reel ro reel home equipment did exist at this time (1950 to 1952). If you have an audio recording of "3 to Get Ready," we would love to have you send us a copy. Please e-mail if you can help! You'll be helping to preserve history.
Remember, History is ONLY What Gets Saved!
(If there were no portraits of George Washington, how would we know what he looked like?)
A LITTLE BIT OF HISTORY!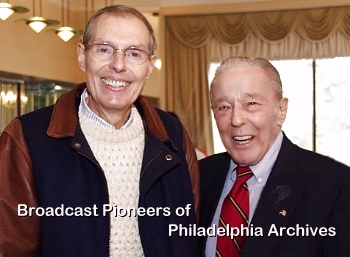 (Left to right) members Andy Musser and Paul Norton
(Both have been inducted into our Hall of Fame)
Broadcast Pioneers Luncheon
Bala Golf Club, Philadelphia
Wednesday, December 19, 2007
THANK YOU:
As we do every month, we want to thank Broadcast Pioneers member Johnny B. Hall for his monthly cash donation to our DAP, Digital Archival Project. Johnny has recently upped his contribution to $200 a month. The amount totals $2,400 yearly and really helps us to underwrite this much needed but expensive project. We welcome other gifts for this project in the form of money and/or donated items like video tapes, audio transcriptions and photos.
Johnny continues to underwrite scholarships. He has already underwritten three scholarships to be given away in 2013 with a pledge of three more coming in the second half of this calendar year.
Ira and Robin Adelman and Robin's dad, member Leon Love, have already underwritten a scholarship for 2013. They have been underwriting scholarships for years now and this brings their grand total to 7.
Member Sylvaia Kauders is also underwriting a scholarship for 2013 and one for 2014 (part of a five year package of scholarships that started in 2010).
Member Esther Kurtz has again been generous this year. When she renewed her membership, she included $1,000 for a scholarship. It is in the memory of her late husband, member David Kurtz, founder of B-10, and she has been doing so for the last half-dozen years.
The "Mayor of the Afternoon," Member Harry Hurley, heard on WOND-AM 1400, hosted his annual Hurley in the Morning Golf Open on June 15th. The main charities will receive at least $10,000 each, including Shore Medical Center, Ensign John R. Elliott HERO Campaign for Designated Drivers, Atlantic Prevention Resources and the Gold Foundation. We are pleased and grateful to accept a $1,000 donation towards our scholarship program. This is the second year that the Golf Tournament benefited our scholarship program.
We just heard from member Roy Shapiro. Just like Esther Kurtz, when Roy renewed his membership, he sent us a check for $1,000 to underwrite a scholarship for an area college student. Roy was general manager and vice-president for KYW Newsradio for two decades and has served as Vice-President of Broadcast Pioneers with additional years of service on our board.
We're already off to a good start for 2013. Eleven scholarships so far. If anyone else would like to join this wonderful group, we would be delighted to hear from you.
We heard from R. Terri Harris, daughter of long-time member Harry Harris. She has just donated to us an additional 7 boxes of material that originally belonged to her dad. It included photos, scrapbooks, scripts and so much more. Previously, she had donated 67 scrapbooks of Harry's works. We are already in the process of digitizing it.
We also heard from member Rod "Storm" Phillips. He has donated to us 6 heavy boxes of audio tapes containing old radio broadcasts (with a few audio tracks from TV thrown in for good measure.) Thanks Rod, we appreciate it. By the way, he also sent us some scans of old cigar boxes and tins. Why would we be interested? Read all about in the "Did You Know" column in our September newsletter. (Yes, we work that far ahead). By the way, we received an e-mail from Storm on Saturday when the temperature reached 102 degrees. Rod said: "Satan called and he wants his weather back." LOL
We would like to thank the following members for adding a donation when they sent in their membership renewals. They include: Steve Tatz, Marie Pantarelli, Don Bustard, Dave Roberts, Marciarose Shestack, Chuck Gagliardi, Harold Sacks, Bruce Greenberg, Anthony DiFlorio, Mel Gollub, Ken Jeremiah, Tom Moran, Peggy King, Valerie Morrison, Marc Howard, Paul Gluck, Ray Fiedler, Richard Heist, Dorie Lenz, Ed Eisen, Robin Mackintosh, Ruth Weiman, Sylvia Kauders, Joe Ball, Les Waas, Norman Felsenthal, Vince Leonard, Gary Hendler, Kevin Delany, Bob Perkins, Larry Kane, Bill Kelley, Debbie Elias, Stan Elkman, Bunny Gibson, Allen Murphy, Jerry Klein, Todd Tuckey, Pam Tuckey, Phil Shuman, Sally Berlin, Nicky DeMatteo, David Rimmer, Charles McKibben, Dave Petrelius, Donald Rosenblit, Bob McCone, Beth Wagner, Dan Dinardo, Bob Backman, Merrill Reese, Terry Ruggles, Jay Lloyd, Bob Loudin, Leon Love, Gerry Wilkinson and Mike Strug. THANK YOU EVERYONE!
If you forgot to make an extra contribution (cash or memorabilia) and would like to do so now, it's never too late. We would be thrilled to hear from you at: PO Box 2886, Bala Cynwyd, PA 19004 or call us at (856) 365-5600.
A LITTLE BIT OF HISTORY!
(Left to right) unidentified, Judy Lee and Dave Garroway
Set of the NBC-TV broadcast, "The Today Show"
circa 1958
IN TOUCH WITH THE INDUSTRY:
On Friday, NBC 10 announced that Anzio Williams will be joining the station mid-month as their VP of News. He comes here from KCRA in Sacramento where he served for the past five years as News Director. "I'm so proud to be part of the hardest working news team in Philadelphia. "This is a great news town, and I cannot wait be a part of this community," he said. "We're thrilled to welcome Anzio to our leadership team," said Eric Lerner, President & General Manager of NBC10 Philadelphia. "He has a distinguished record of accomplishments as a news manager and as a proven leader. He is a great addition to our team."
We heard from a visitor to our website, Judy Schneider. She's the daughter of former Phils 2nd baseman Ford Parker Mullen (aka as Moon Mullen). She tells us that he turned 95 earlier this year. Congratulations, Moon. He and his wife, Jessie, live in the Warm Beach Senior Community in Stanwood, Washington. He is originally from Oregon and got his nickname from the popular cartoon character of the day, "Moon Mullins." His career was interrupted by a tour of duty in the U.S. Armed Forces. In Washington, he coached the high school baseball team and taught biology. The Phillies broadcasters during Moon's time with the Phils were Broadcast Pioneers' Hall of Famers By Saam and Roy Neal.
CBS3 and The CW Philly's Sixth Annual Alex Scott Phone Bank, a 14 hour on-air benefit for Alex's Lemonade Stand Foundation, raised $1,130,946 for pediatric cancer research. This was a record for the fundraiser, which began in 2007. Congratulations to all involved!
Campus MovieFest, the world's largest film festival, hosted its 11th annual red carpet CMF Hollywood Awards at the Globe Theatre at Universal Studios on Saturday, June 23. LaSalle University's 5-minute short film "Empty Pages" won best story. This is the first time a film from LaSalle has won in the competition in Los Angeles. This story was submitted by David Grzbowski, the President of our student group, the Future Broadcast Pioneers.
Effective July 1, 2012, the Temple University School of Communications and Theater was renamed the School of Media and Communication. It will include the departments of Advertising; Media Studies and Production; Journalism, and Strategic Communication, as well as the Communication Studies undergraduate program and Mass Media and Communication doctoral program. So what happened to the Department of Theater? According to Temple,"the board approved the establishment of a Center for the Arts, a new academic unit that brings more closely together and enchances Temple's programs in the arts: the Boyer College of Music and Dance, the Tyler School of Art and a newly formed Division of Theater, Film and Media Arts."
The Archdiocese of Philadelphia has announced a massive restructuring that will include the immediate closure of the archdiocesan youth office and the end of the publication, "The Catholic Standard and Times." This announcement hit very close to home for many Broadcast Pioneers as we recall recognizing Cardinal John Foley as our 2011 Person of the Year. Cardinal Foley was the editor of the Catholic Standard and Times for many years. He went on to Rome to head the Vatican office that coordinated media relations for Pope John Paul II.
ARCHIVAL NOTE: We have in our audio archive recordings of Cardinal Foley, still in high school, as a radio announcer. They date from 1951 to 1955. They are the oldest known recordings of his voice anywhere in the world.
Talk Radio WPHT announced a new weekday line-up, featuring all live and local talent. The newest addition to the station will be Pulitzer Prize-winning author Buzz Bissinger. He's doing afternoon drive from 3 to 7 pm. He's joined by Steve Martorano, currently heard on WPHT and best known to listeners for his many years on WIP radio. Morning drive will be still anchored by Chris Stigall (5:30-9:00am), followed by Dom Giordano, (9:00am-12:00 noon). The ever popular Michael Smerconish will broadcast live on WPHT from 12:00 noon to 3 pm, Rush Limbaugh's old time period.
For those of you who are wondering where Rush went, well, heis now carried live (noon to 3 pm) over WWIQ, 106.9, licensed to Camden, but serving the entire Delaware Valley. When the station was sold earlier this year, they flipped from a Christian format to conservative telephone-talk. Al Gardner and member Larry Mendte take care of morning drive. Glenn Beck (who used to work locally at WPHT) is back on Philly radio in his former time period of 9 am to 12 noon. Sean Hannity follows Rush. Both Beck and Hannity have been off Philadelphia radio for the last 15 months. The station currently repeats Limbaugh's live broadcasts during its evening hours.
ARCHIVAL NOTE: Our audio archive pertains mainly to Philadelphia broadcasting, but sometimes we extend our range to the entire state. We do have some material of Rush Limbaugh as a top 40 rock jock on Pittsburgh's rocker KQV. He broadcast under the name Jeff Christie. On one of these recordings from 40 years ago, Rush (or Jeff) was heard reading fan mail from a listener, Mary Snerdley. Today, "Bo Snerdley" is Limbaugh's producer and call screener whose real name is James Golden.
ON THE SCENE:
The Broadcast Pioneers Newsletter was "On the Scene" for the biggest event to come to Wildwood, New Jersey, in decades! A history-making live concert by country music superstar Kenny Chesney, billed as "American Express Unstaged," was performed on the beach in the Wildwoods on Saturday, June 20th, before an audience of 35,000 fans! In addition, it was estimated an additional (goal) of 20 million fans would view the concert live on You Tube.
CLICK HERE FOR THE COMPLETE STORY!
A REVIEW OF OUR JUNE 20th LUNCHEON:
"80 Years of Channel 3"
Wednesday, June 20th


Lunch with 140 of your closest friends!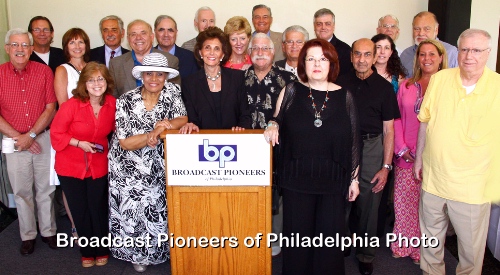 Some of the Channel 3 gang
at our Broadcast Pioneers Luncheon
Bala Golf Club, Philadelphia
Wednesday, June 20, 2012

The June luncheon, "80 Years of Channel 3" was another totally memorable event. Over 140 guests filled the main ball room at the beautiful Bala Golf Club to hear remarkable stories, highlights and insider insights of the legends of Channel 3 broadcasting. Our MC was Broadcast Pioneers member Marciarose Shestack, who was an anchor at KYW-TV for decades.
Our speakers included (in alphabetical order):
Susan Barnett, co-anchor of the main KYW-TV newscasts
Betty Kellner Davis, Channel 3 actress from a soap opera from 1942
Jim Donovan, 11 Emmys to his name, CBS 3 consumer reporter
Trudy Haynes, former KYW-TV reporter for a third of a century
Tom Lamaine, former meteorologist for decades at CBS 3, KYW-TV
Big Al Meltzer, former Eyewitness News' Sports Director and Anchor
Ray Murray, former co-host of KYW-TV's "Evening Magazine"
Dick Sheeran, former Channel 3 reporter and news anchor
Stephanie Stahl, KYW-TV's Medical Specialist Reporter and Anchor
Dick Standish, former KYW-TV, Eyewitness News reporter
And we spoke live on the telephone with former Eyewitness News anchors Vince Leonard and Mort Crim.
Plus the song-writing team of Henry and Bobbie Shaffner (both members of the Broadcast Pioneers) brought talent to sing their song, "Philadelphia (Philly, I Love You)." This is the tune's 40th anniversary. It was sung by Scott Garvin, an 18-year-old graduating Central High School senior who starred in the school's recent production of "The West Side Story."
It all took place at the beautiful and historic Bala Golf Club, 2200 Belmont Avenue (across the street from the State Police) in the Wynnefield section of Philadelphia. Only minutes away from Channels 6, 10 and 17 and the radio stations in Bala Cynwyd.
PHOTOS!
66 photos of the event taken by Jerry Klein!
These copyrighted images are protected under US Copyright.
Any usage without the express, written permission of
the copyright holder is strictly prohibited!
Usage does NOT fall under "Fair Use" of copyright laws!
COMPLETE VIDEO!
Watch the luncheon with the Windows Media Player!
PHONE CONVERSATIONS! (Audio only)
Big Al Meltzer speaks with Vince Leonard
Big Al Meltzer speaks with Mort Crim
AFTER THE LUNCHEON:
We had the opportunity to follow-up with a few of the speakers. Here's what they had to say…
"This luncheon gave me a chance to re-think about the 80 years Channel 3 was celebrating. Having Vince (Leonard) on the phone was just great. A great reunion! How many stations can say they've been on the air for 80 years, and how many guys can say they've been on the air with that station for 38 years in their hometown! It was a great and fortunate run. I never had to leave home (Atlantic City), it was the best years of my life." Tom Lamaine
"The luncheon was great. I thought everybody did a great job reliving the years at Channel 3. I have to say Marciarose was excellent, and Al (Meltzer) speaking to Mort and Vince, two of the icons of the station, was remarkable. Channel 3 WAS the pioneer voice in the marketplace." Dick Sheeran
"It went very well. All the speakers had really very interesting stories, reflecting on Eyewitness News, the changes we experienced and the successes. It was great to hear Vince and Mort on the phone. Very interesting. Marciarose did a great job moving the program along. It was her guidance and wide ranging summary that really personalized the program and made it meaningful." Dick Standish
A FINAL THOUGHT....
"Guess where I'm going tomorrow? The White House. And my wife said, 'Bring me back two cheese subs (hoagies).'"
Dick Sheeran
former Channel 3 reporter/anchor
EDITOR'S NOTE: In case the above quote didn't make any sense to you, you'll explain. Dick was off to DC to interview President Jimmy Carter. In Atlantic City, The White House is the place to go for submarine sandwiches. If you're from Philly, we know them by their correct title, HOAGIES! (On second thought, some things are better off not explained).
Please contact us by e-mail at newsletter@broadcastpioneers.com. Your stories are important, to you, to us, and your colleagues. Contact us today and we'll include your story in the next newsletter!

Photo Editor & Archival Historian - Gerry Wilkinson
© 2012, Broadcast Pioneers of Philadelphia
All Rights Reserved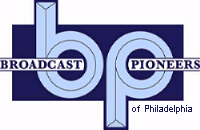 The e-mail address of the Broadcast Pioneers of Philadelphia is pioneers@broadcastpioneers.com
For luncheon reservations call (856) 365-5600 or e-mail us at: rsvp@broadcastpioneers.com