The Broadcast Pioneers of Philadelphia is a federally recognized, state chartered 501(c)(3) non-profit corporation serving Philadelphia since 1962.

Ed Eisen
News Editor

October Luncheon
The Bala Golf Club
Wednesday, October 16, 2013

Meet & Greet at 12 noon!
Lunch at 12:30 pm
Ratecard: $28 per person!

PLEASE RESERVE NOW!
CALL (856) 365-5600!
rsvp@broadcastpioneers.com
Another "Third Wednesday" Luncheon
Wednesday, October 16th
NOTE: This is at the Bala Golf Club!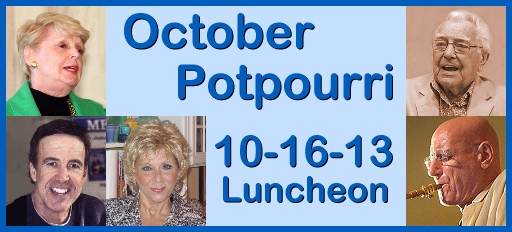 Hit after hit. Smash after Smash. Blockbuster after Blockbuster. The best in luncheons keeps on rollin' along. Join us on Wednesday, October 16th at the BALA GOLF CLUB.
We have three wonderful speakers (in alphabetical order):
Michael Pedicin, Jr., well-known jazz sax player/formerly part of the MFSB sound
Mike Pedicin, Sr., sax player/performer of the Children's Hour in the 20s & 30s
James Rosin, author, TV writer and performer and well-known man about town
Our host for this fantastic afternoon is member Karen Scioli portraying her WOGL radio character of Rere Dinucci. Plus a great afternoon of entertainment with member Peggy King and the All-Star Jazz Trio.
It all takes place at the beautiful and historic Bala Golf Club, 2200 Belmont Avenue (across the street from the state police) in the Wynnefield section of Philadelphia. Only minutes away from Channels 6, 10 and 17 and the radio stations in Bala Cynwyd. Call now for reservations. (856) 365-5600! Don't miss this one!
Meet and greet (networking) starts at 12 noon, and a full course lunch including salad, coffee or tea and dessert will be served at 12:30 pm. There will also be a crudité and cheese table. Cash bar available all afternoon!
Plenty of FREE parking. The luncheon is open to all our members, their guests and any person in the industry or associated fields, whether active or retired. You do NOT have to be a member to attend. Call NOW with your reservation(s), (856) 365-5600!
In order to speed up check-in at the luncheon, it would help if you had the $28 in exact change or your $28 check already written. Make it payable to the Broadcast Pioneers of Philadelphia.
WE WANNA SEE YOUR FACE IN THAT PLACE!


Visit Our Website Often - http://www.broadcastpioneers.com

Our 2013 Person of the Year is TOM MORAN!
Plus a star-studded cast of inductees
to our HALL OF FAME!
Annual Banquet!
Friday, November 22nd!
151 Tickets Sold Already!

Our "Person of the Year" for 2013 is our very own Tom Moran, a long-time member of the Broadcast Pioneers and air personality at WIP Radio and WPEN.
The living "Hall of Fame" inductees into our class of 2013 are (in alphabetical order):
Danny and the Juniors, legendary rock & roll group, famous for "At the Hop"
Sid Doherty, longtime WCAU-TV and WPHL-TV announcer and sports anchor
Jimmy Hirschfeld, Emmy award winner, former PD at WCAU-TV, Channel 10
Harry Hurley, 25 year veteran of the leading local talk show at the Jersey Shore
Dr. Brian McDonough, physician and longtime medical reporter for KYW Newsradio
Nora Muchanic, longtime New Jersey correspondent for WPVI-TV, 6ABC
Mike Nise, producer/director for "Dancin' on Air" and "Dance Party USA"
Kathy Orr, Emmy-winning meteorologist for KYW-TV (CBS 3) & the CW Philly
Bill Roswell, 30 year veteran at KYW Newsradio, now Director of Digital News
Vai Sikahema, former NFL player, now news/sports anchor for WCAU, NBC 10
Len Stevens, co-founder of WPHL-TV and president of Tower Economics
Louise Williams Bishop, Philadelphia's Gospel Queen Air Personality for 50 years
HALL OF FAME (POSTHUMOUS - in alphabetical order):
Dick Clayton, former WIP/WPEN radio air personality & voice-over announcer
Harry Harris, former TV reporter for the Evening Bulletin & Philadelphia Inquirer
Doug "Bud" Hibbs, in the biz for over 75 years at several different stations in town
Les Keiter, former sports director/sports anchor for WFIL-TV, now WPVI-TV
Cal Milner, former WPEN Radio co-host of the ever-popular "The 950 Club"
Rex Morgan, former TV air personality and kids host for WFIL-TV, now 6ABC
Bill Russell, stage manager, technician for WFIL-TV and later 6ABC, WPVI-TV
Jean Shepherd, former KYW Radio & later WOR talk host for many decades
Hank Sperka, former beloved WPVI-TV, 6ABC news reporter and news anchor
Dave Zinkoff, former PA announcer for the Philadelphia 76ers basketball team
Tickets went on sale September 1st. Tickets are $85 for members (each member can buy ONLY one ticket at the member price) and $95 for everyone else (including spouses, friends and guests). The event will once again take place at the City Avenue Hilton, 4200 City Avenue, Philadelphia. The date is Friday, November 22nd. The reception is at 6 pm and dinner is served at 7 pm. Doors open at 5:45 pm. Cash Bar all night long. Valet parking is $10. Event lot parking is $5. Make plans to be there! TICKETS ARE ON SALE NOW! A major portion of the ticket price may be deductible on your federal income tax. Ask your tax advisor for details!
WE'LL BE PROUD TO SEE YOU IN THE CROWD!
BROADCAST PIONEERS/WPVI COLLEGE SYMPOSIUM:
It's t ime for area college students to sign up for our 12th annual College Symposium! This year it will take place at WPVI-TV, 6ABC on Saturday, October 26th. Please check the front page of our website for more details. The symposium is for college students only.
BOARD OF DIRECTORS MEETING:
There will be a short board meeting before the October 16th luncheon for all board members. The meeting will run 10:45 am to 11:30 am at the Bala Golf Club. Board members should RSVP.
WELCOME NEW MEMBERS:
FULL MEMBERS:
Jim Glogowski began his broadcast career in 1976 at WBCB in Levittown. He has managed WVCH in Chester, WPWA, WHWH, WEEE and WTTM. Jim has been involved in the construction of dozen of radio stations. Glogowski was VP of the Children's Broadcasting Corporation and also Vice-President of Station Operations for the Catholic Radio Network. He's currently the Chief Technical Officer at Multicultural Radio Broadcasting.
Vince Giannini is the vice president and general manager of WPHL-TV here in Philadelphia. He's been in that postion for the last ten years. Before that, he was station manager for WPIX-TV in New York City. Before moving east, Giannini was Director of Finance and Administration for KTLA-TV in Los Angeles. Prior to that, he was senior financial analyst for WGN-TV in the Windy City of Chicago. An interesting sidebar, Vince was born four days after WPHL-TV came on the air.
Iris Loev was Goldie the Bunny on the Sally Starr program. She has appeared on the Grady & Hurst Show (which aired over WVUE-TV), Five Minutes More with Ed McMahon on WCAU-TV, and many others. She has acted in several films and was the assistant director on some. She is a singer and actor and has appeared in stock theater around the area. She went to Temple University and acquired her taste for entertaining as a DJ on the campus station, WRTI.
Hal Lipman started in 1963 as the general manager of Drexel University's radio station. At the same time, he was a WFIL-FM operational engineer. In 1967, he went to RCA Broadcast Products in sales. From 1971 to 1988, he was partner and GM of E. J. Stewart Film & Video. In 1988, he went to NFL Films as a Senior Production Supervisor and stayed for two decades. Currently, he is on the advisory board of TMM, Inc., a video compression and decompression company.
We are thrilled to have these new members. Now more than ever. We hope to see as many of our members as possible at our October Luncheon.
DIGITAL ARCHIVAL PROJECT NEWS:
VIDEO: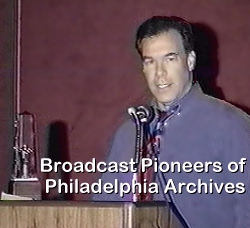 Steve Sabol
Hall of Fame Luncheon
Thursday, November 21, 1996
With everyone talking about this year's banquet, we thought it might be nice to take a look back 17 years ago to our 1996 Hall of Fame Luncheon. At that time, the Hall of Fame event was a luncheon in November and the Person of the Year event was in the spring. Now, the two have been combined into a banquet that takes place on the Friday before Thanksgiving. This year, it's Friday evening, November 22, 2013. Well, back in 1996, one of the people we inducted into our Hall of Fame was NFL Film owner Steve Sabol. Here's what he said that day.
Watch in Real Video!
Watch in Windows Media!
AUDIO:
A half century ago, the Robinson Recording Laboratories were located at the studios of WIP Radio. Many of us may remember a top ten record from the late fifties called, "Get a Job" by the Silhouettes. That hit was recorded at Robinson. Well, other things were cut there as well, such as these three jingles for "Valley Forge Beer." They were cut at 78 rpm. They date from 1953-54.
Adam Scheidt Brewing started 140 years ago. It brewed Valley Forge Beer, Prior Beer and the well-known Ram's Head Ale. The company was sold to Schmidt's in 1968. The company continued to brew Valley Forge and Ram's Head until it closed a third of a century ago.
Listen with Real Audio!
Listen with Windows Media!
Next is part of a November 27, 1973 interview with Barry Manilow. Shortly before this date, Barry issued his first solo album. Barry was in town as Bette Midler's bandleader, arranger and piano player. Midler had a big concert the night before. Barry was interviewed by Broadcast Pioneers member Ed Sciaky on his WMMR radio broadcast. Our excerpt was mastered off the original air check recorded by Ed Sciaky at the WMMR studios.
Listen with Real Audio!
Listen with Windows Media!
It's Friday afternoon, September 25, 1964. Broadcast Pioneers member Ed Harvey is originating his "Talk of Philadelphia" telephone-talk show live from the 8th and Market location of the Lit Brothers Department Store. For decades, Ed's producer was Broadcast Pioneers member Ronnie Snowden. On this particular hour of Ed's broadcast, his guest was David Levy, author of the book "The Comedians." It was a novel about the TV industry. However, there's a couple other interesting points about David.
He was the executive producer of the now classic TV series "The Addams Family." At this point the series had aired only once and the second epside was due to air later that evening. Another interesting fact is that David Levy was the twin brother of Broadcast Pioneers member Dr. Charles Lee, at the time a book and literary critic for WCAU Radio and Television. Here is that entire hour of "The Talk of Philadelphia" with the commercials, news, etc. removed. Why were these removed? They were done at Ed Harvey's request. This program was mastered off of the original WCAU Radio tape and has not been heard anywhere in over 49 years.
A LITTLE BIT OF BROADCAST HISTORY!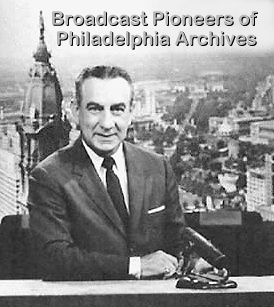 Broadcast Pioneers member John Facenda
WCAU-TV, Channel 10, Philadelphia
1959
IN TOUCH WITH OUR MEMBERS:
Broadcast Pioneers member Frank Stone was a recently featured guest on WCZT, 98.7 in front of Mariner's Arcade on the Wildwood boardwalk, where Frank has been lead banker, customer service representative and spokesperson for the past five years. The interview lasted over an hour in the midst of a torrential thunderstorm. Mariner's Arcade is a part of Morey's Piers, the preeminent entertainment organization in the Wildwoods.
We heard from Broadcast Pioneers member Mike McGrath who tells us that Thursday, October 3rd, will be the 15th anniversary of his hosting "You Bet Your Garden" on WHYY-FM. He says, "All credit to the late great Bob Bradley! It always makes me smile to see a shot of Bob Bradley, my broadcast performance instructor back at Temple (as well as Liz Matt's and many others); for better or worse, he convinced that talent-free 18-year-old to go into the business. So blame him!"
By the way, in Mike's original e-mail he mistakenly referred to his hosting as hoisting. He did tell us that it was "a typo too good to be corrected."
Baseball is a game that is played each day for six months of the year. "This Date in Philadelphia Phillies History: A Day-by-Day Listing of Events" is a new ebook that came out last month. It follows the day-by-day events of the Phillies from the team's founding in 1883 to the present. In this new and updated edition, readers will be able to relive the major accomplishments of hundreds of players, including iconic stars such as Richie Ashburn, Robin Roberts, Grover Cleveland Alexander, Mike Schmidt and Steve Carlton on their brilliant career arc to enshrinement in the Hall of Fame.
The book was written by Larry Shenk (VP of the Phillies), Allen Lewis (formerly of the Inquirer), Don Bostrom who has covered the Phils for a third of a century and Broadcast Pioneers member Skip Clayton (ABC Sports for 40 years). It available at Amazon (Kindle), Barnes & Noble (Nook), and other etailers.
Word just in from a west coat member: Bunny Gibson tells us that she she just finished working on two motion pictures. The first was called "American Beach House" and the second was "Bikini Model Academy" with Gary Busey. In the latter, she played a mystical goddess whose message is to improve the world.
Broadcast Pioneers member Maura McKinney Mastro has been keeping busy. She has been performing her "Irish Festival" throughout the Jersey shore last month. The apple never falls far from the tree. Her dad was well-known area Irishman, Broadcast Pioneers Hall of Famer Jack McKinney.
Our treasurer Pat Delsi, a former president and former chairman of the board of this organization, celebrated his 60th year in the broadcasting business a couple weeks ago. Pat has pretty much done it all - from announcer to station owner. In case you are wondering, that's about 22 thousand days in this industry.
Member Joe Ball, who runs the American Advertising Services, tells us that one of his clients, Reviva Labs of Haddonfield, New Jersey, was recently honored by the United State Congress for their 40 years in business. The company makes skin care products.
The Jersey Shore continues to cook even though we are well into fall. Kenny Jeremiah, a member of the Broadcast Pioneers, will be appearing at LaPiazza Restaurant and Night Club, Pacific and Burk Avenues in Wildwood this Friday. He'll also be there on October 11th, 12th, 19th, 25th and 26th.
New member Jim Glogowski told us that he had a meeting with the current FCC Commissioner Ajit Pai in the Commissioner's office last Tuesday. The subject at hand: The current state of AM Radio. Some of the topics discussed included the migrating all AM stations to the FM band using frequencies available from TV Channels 5 & 6. Also talked about was the upcoming opening for AM's to file for FM translators. How it needs to happen quickly. How it will be difficult for major market AM owners to take advantage of this because of band congestion. Another topic was a HD digital transition of the AM band, and Jim suggested using the expanded band for this migration, which could eventually allow all AM's to be fully digital.
On the South Jersey newsfront, our president Jerry Klein had an article written about him and his passion of playing ice hockey. What position does he play? Why, goalie, of course. Read the article!
WE REMEMBER:
Don Wade, brother of 2009 Broadcast Pioneers Hall of Fame inductee Long John Wade, passed away shortly after Labor Day weekend. He was the morning man on WLS for over a quarter of a century, first as a rock jock and then as a telephone talk host. He left the air a year ago when he announced he had a malignant brain tumor. Don worked here in Philly at WIBG. Don was born in 1941.
Long time broadcaster and community leader E. Steven Collins, 58, has passed away. He was the Director of Urban Marketing and External Relations for the Radio One group here in Philadelphia. Collins was to be one of the honorees at the prestigious Lew Klein Awards at Temple University later this month. Klein is a former President and former Chairman of the Board of this organization. E. Steven Collins worked at many radio stations including WDAS. He was one of the announcers of the live 14-hour broadcast that the station aired. What was the event? It was Philadelphia's very first "Unity Day." Collins was a WDAS newsman and the producer of that live 1978 broadcast was our very own Chairman of the Board, Gerry Wilkinson, who was Operations Manager of WDAS during that time. Read what Gerry said about Collins.
Long time broadcaster Art Curley passed away last month at the age of 90. He lived in Lewes, Delaware. He was a graduate of Dover High School and earned his associate degree from Goldey-Beacom College in Wilmington. He began his broadcasting career in North Carolina. He broadcast duties took him to WPEN, WILM, WTOP and WGMD. He was an active volunteer for Meals on Wheels, Beebe Medical Center and the Ad Hoc Readers Theater of Georgetown. Art is also known to many for his Art Curley jazz trio. In our audio archive, we have a two-minute clip from WPEN Radio dating from Sunday, October 17, 1965. Curley is heard in this excerpt from the 3 pm newscast. Listen in Real Audio!
ON THE HEALTH FRONT:
Member Robin Adelman e-mailed us about her father, member Leon Love. She says:
My Dad is coming along. He opted not to get chemo/radiation due to the side effects. He is being closely monitored because he is Stage 3 colon cancer, so he gets CT scans, lab work and colonoscopies more often than anyone would ordinarily. He's getting around slowly and goes with us most places.
Member Tom Moran had a stroke a few weeks ago. He was in Jefferson for awhile and is now in the Marlton Rehabitation Hospital. He is expected to make a full recovery and he still expected to be with us at our annual banquet on Friday, November 22nd.

Did you know...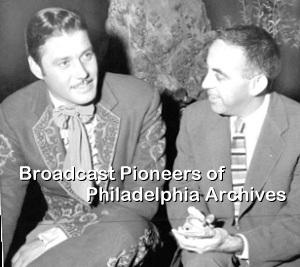 (Left to right) Guy Williams (Zorro & Lost in Space) with Harry Harris
circa 1958
Member Harry Harris wrote many unpublished books and plays. We have many (if not all) in our print archive. One of those books was called "TV Star Secrets" (Personal Revelations During Interviews.) We thought you might enjoy a few excerpts. This work is protected under US Copyright and is NOT in the public domain.
Norman Fell recounted... a Marlon Brando story. "I was walking up Broadway, carrying clippings and pictures from my performances in college (Temple University) productions, reading the show business papers for a clue on where to go next, when along came Marlon Brando, who had just done 'A Streetcar Named Desire' and 'The Men.' I followed him into a hole-in-the-wall eating place and sat down nest to him. He looked frightened, as if he thought I was a nut. I told him I was an actor from Philadelphia who didn't know what to do. He was nice. He looked at my clippings and said they were meaningless.

'Do you have any money?' he wanted to know. 'Yes, a little.' He suggested that I should study with Stella Adler and gave me her phone number. I started with her that afternoon."

Accepted by the Actors Studio, Fell was soon working on the Broadway stage and in live TV dramas. In 1958, he moved to Hollywood, for numerous TV and movie stints. When we talked in 1978, he was shuttling between two weekly ABC series: "Three's Company" and its spin off, "The Ropers."

"I really believe in happy accidents," he said. "I've seen Brando a few times at parties and I've reminded him him of our chance meeting. He doesn't remember it."

--------------------

(Left to right) Ray Walston (My Favorite Martian) with Harry Harris
circa 1963

Frankie Avalon attributed his entire career to a movie he saw when he was 9 years old, the 1950 "Young Man with a Horn," in which Kirk Douglas pretended to play a trumpet actually played by Harry James. "My father loved music," Avalon said, "but I wanted to be a fighter, until I saw that picture. I came home and said, 'Dad, I want to play the trumpet. He immediately went to South Street and bought me an old, battered trumpet. I couldn't get a sound out of it, though my sister did. So I stayed in my room and worked at it three, four hours until I could play 'Music, Music, Music.'

In a year's time, I was winning contests on the Paul Whiteman TV show (originating out of WFIL-TV) and other places. I'd practice four, five hours a day. When it was hot, I'd fill a bathtub with cold water and sit in the tub and play.

"I'd take that horn and go everywhere. I'm not really that aggressive a guy, but I even went in to audition for Tommy Dorsey. I was 11 years old and stood in line with everybody else at Local 77. After I played, the band applauded and Dorsey said, "See me when you're 18. I'll give you a job.

I never dreamed of singing until I started to play with Rocco and the Saints in Jersey. Rocco, who hired me at 15 when his trumpet player left, insisted. I said I'd sing only if he gave me a raise, from $65 to $85.

The other six guys couldn't travel, because they were going to school and I wasn't. I quit in the 11th grade, so they sent me out to do the promoting. It was Elvis time. The kids were looking for idols. I got a big reaction. They kept writing and screaming. But our records weren't selling. We decided to do just one more, 'De De Dinah.'

"Later, when 'Venus" was out and going great, I went to New York to do "The Perry Como Show' and there in the lobby of my hotel was Kirk Douglas. I looked at him in awe, then went up to him and introduced myself. 'If it weren't for you,' I said, 'I wouldn't be in this business. You were my inspiration.' He looked at me, and you know what he said? 'No bleep?'"
Next month, our "Did You Know" Column will have more from Harry Harris' unpublished Book, "TV Stars Secrets." In that issue, Harris talked with Ed McMahon who worked here in Philadelphia early in his career. Don't miss next month's "Did You Know" Column.
MORE DIGITAL ARCHIVAL PROJECT NEWS:
VIDEO:
the Bethlehem Steel Plant
Bethlehem, Pennsylvania
1992

Broadcast Pioneers member Malcolm Poindexter
outside the Bethlehem Steel Plant
1992
Here's a package from 21 years ago. It aired on KYW-TV, Channel 3, and the reporter was Broadcast Pioneers member Malcolm Poindexter. Malcolm reports on the final days of the Bethlehem Steel plant. This recording was donated to us by Broadcast Pioneers member Dick Standish, who was a colleague of Poindexter's.
Watch with Real Video!
Watch with Windows Media!
AUDIO:
It is 7 am on a spring day in 1984. The newcast is playing on WIP Radio. Doing the news is Broadcast Pioneers member (and inductee into our Hall of Fame) Nat Wright. This audio clip was one of his broadcasts for the station. While the sound quality is not the best, we are still delighted to have it.
Listen with Real Audio!
Listen with Windows Media!
Our next piece of audio is from KYW Newsradio. The date is Saturday, July 19, 1969, shortly after 11 am. The crew of Apollo 11, intent on being the first Americans to walk on the moon, had taken off three days before. The first landing would take place on Sunday, the day after this excerpt. We hear an unidentified KYW news anchor read a story about Luna 15, the third unmanned Soviet attempt to land on the surface of the moon. The spacecraft crashed on the lunar surface shortly before theApollo 11 left the moon.
What you will hear is all we have. First is Jim Slade who did all the space coverage for Group W. Next is a KYW Newsradio anchor that is believed to be Art Lane. Broadcast Pioneers member Bill Roswell ventured a guess that it was Art Lane. He also asked Bob Witten, who worked at the station during that era. Here's what Witten said:
I think you're right, Roz. It does sound like Art Lane. More importantly, it doesn't sound like any of the other guys that were anchoring there at the time. I arrived in August of '69, and Art was there. I sent the list of anchors who were there when I was hired in my last email. Great to hear Slade. He was at the Group W Washington Bureau at the time, but always did all the space stuff. I worked with him for years at Mutual Radio.
Listen with Real Audio!
Listen with Windows Media!
Our final audio piece in this newsletter is the semester sign off for WRTI-FM in November 1967. Back then, WRTI was much different than it is today. Then, it was a student run station and operated only while school was in session. For example, for a fall semester, broadcast would start mid to late September and go to just before Thanksgiving. Daily operation would be about 9 hours a day, normally from 3 pm to midnight. As you can hear in this piece, the station is signing off the air in November and would not return until February. Today, WRTI is a 24 hour operation.
Back then, the station's signal was not strong. You needed an FM radio with an antenna to pick it up. Today, they cover large parts of the tri-state area. Our Chairman of the Board Gerry Wilkinson was in Lancaster a couple weeks ago and the station was beaming in loud and clear on its 90.1 frequency.
Mike Biel, who was the assistant manager of the station, did this live sign-off. At the time, it was believed that it might be the last broadcast from Thomas Hall, which had been home to WRTI since it began in 1948. However, WRTI would not originate from its new home in Annenberg Hall September of 1968. By then, Biel had graduated and his college roommate Jerry Klein (our current president) became the last student station manager in WRTI's history. Some other WRTIers would also manage to see the opening of the station's new facilities: Gerry Wilkinson (our current Chairman of the Board), Ed Cunningham and Ed Sciaky.
Biel went on to get his masters and his Phd and to teach college students at Morehead State University in Kentucky. He has become a leading broadcast historian. Listen to the last sign off for WRTI-FM for 1967.
Listen in Real Audio!
Listen in Windows Media!
As sort of a footnote to all this, in June of 1998 the current leaders of the Broadcast Pioneers, Gerry Wilkinson and Jerry Klein, talked in front of the Philadelphia Historical Commission. At that time, neither were involved with the management of this organization. Each spoke (along with several other WRTI alum - all now members of Broadcast Pioneers) to the commission asking them to save Thomas Hall, which was originally the Park Avenue Methodist Episcopal Church. Parts of the building dated back to 1873, and the the main sanctuary was erected in 1886. Dr. Russell Conwell spoke in this historical building several times. Its Tiffany-styled stain glass windows were removed. We were told that their value was in the millions of dollars. You can read Jerry Klein's remarks here. Gerry Wilkinson spoke extemporaneously and no record of his comments exist today. Thomas Hall was destroyed the next month. At that time, it was the oldest building on the college campus and predated Baptist Temple, which was built in 1891. Hundreds of photos of Thomas Hall exist today in the photo section of our archives.
Remember, History is ONLY What Gets Saved!
(If there were no portraits of George Washington, how would we know what he looked like?)
A LITTLE BIT OF HISTORY!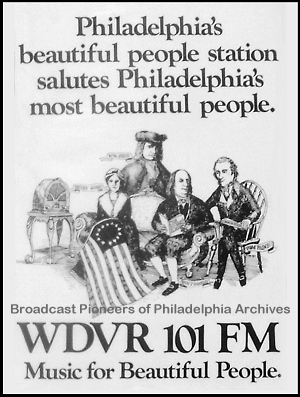 WDVR Ad
Originally donated by Broadcast Pioneers member Esther Kurtz
(Esther's husband, David Kurtz, founded WDVR in 1963)
THANK YOU:
As we do every month, we want to thank Broadcast Pioneers member Johnny B. Hall for his monthly cash donation to our DAP, Digital Archival Project. Johnny donates $250 every month. The amount totals $3,000 yearly and really helps us to underwrite this much needed but expensive project. By the way, that's a $600 increase over his contribution from last year.
We already have a good start for the April 2014 scholarships. We already have pledges and/or funding for fifteen $1,000 scholarships to be awarded in April of 2014. We received $1,000 for a scholarship in the memory of Broadcast Pioneers Hall of Famer Mac McGuire. The contribution came from member R. Alan Campbell. Also, the final $1,000 scholarship (part of a five year package) from Broadcast Pioneers Hall of Famer Sylvia Kauders. We also have pledges for seven $1,000 scholarships from member Johnny B. Hall and his wife, Ginny. That's one more than last year. Also, a scholarship from the Adelman family for a $1,000 scholarship and also one from Robin Adelman's dad, member Leon Love. Member Harry Hurley has donated a $1,000 scholarship from the proceeds of this year's Hurley in the Morning Golf Tournament.
Broadcast Pioneers Vice-President Kal Rudman started underwriting scholarships for our organization several years ago. He was the person that underwrote our first scholarship way back when. Now, there are many following in his footsteps. Kal has just said that he'll be underwriting two more scholarships for the coming 2014 year. Thanks, Kal. Another contribution came from Esther Kurtz. Included in her membership renewal was a $1,000 for a scholarship in memory of David Kurtz (founder of B101).She has been doing this now for 8 years.
We also just received a $1,000 check from member R. Alan Campbell. It is for a scholarship to be given in April of 2015 in the memory of Fred Ruggieri, who used the air name Fred Randall. Thanks, Alan.
And, again, we wish to thank member Jerry Del Colliano for his $1,000 contribution to our DAP fund. This is the second year in a row that Jerry has done this. We thank him so much for his gift to this most important project.
A little while ago, Robin Adelman (on behalf of the entire Adelman family and Leon Love) presented us with a $1,000 contribution to be split between of our DAP project and our general fund.We welcome other gifts for these and other projects in the form of money and/or donated items like video tapes, audio transcriptions and photos.
Special thanks go to members Valerie Morrison and Peggy King, who each sent us a contribution, and thanks to Bill Kelley and Gerry Wilkinson, who gave us a donation at the September luncheon. We thank them very much.
We also wish to thank WVCH Radio in Chester for donating a couple van loads of audio tape from the seventies for our audio archive. In the video archive category, we thank members Ed Bloch, Lynne Barrett, Dave Abramson, Larry Mendte and Dawn Stensland for their contributions of video. Thank you.
Also, our special thanks to members Bill Gellhaus, Brad Seecof, Steve Tatz and Gerry Wilkinson for working in our physicial storage installing shelving and reorganizing our material.
Our special thanks go to TUTV and The Kal & Lucille Rudman Media Production Center.

They have underwritten a grant to be used to fund an entire year of all our newsletters for calendar year 2013. We thank them so much for their support!
If you forgot to make an extra contribution (cash or memorabilia) and would like to do so now, it's never too late. We would be thrilled to hear from you at: PO Box 2886, Bala Cynwyd, PA 19004 or call us at (856) 365-5600!
A LITTLE BIT OF HISTORY!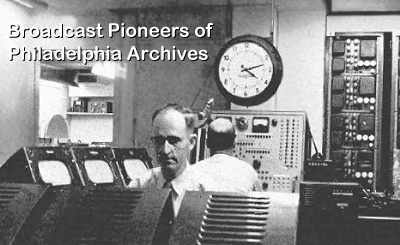 WCAU-TV Master Control Room
(as seen through the Projection Room window)
WCAU-TV, Channel 10, Philadelphia
1949
IN TOUCH WITH THE INDUSTRY:
The 98.1 WOGL Loves Our Kids Radiothon raised $662,428.33 in two days for The Children's Miracle Network at The Children's Hospital of Philadelphia. In the past twelve years, 98.1 WOGL has raised $6,247,185.33 for Children's Hospital.
A high point of the two-day Radiothon included Harvey Holiday's Street Corner Sunday program. In 3 hours, Harvey Holiday's Heroes came together to pledge $16,680.33 towards the 98.1 WOGL Loves Our Kids Radiothon grand total. To date, Holiday's Heroes have raised $98,911 for The Children's Hospital of Philadelphia.

Another highlight was a donation of $10,000 by Broadcast Pioneers member Bob Pantano and his listeners during the 98.1 WOGL Saturday Night Dance Party at Adelphia Restaurant and Nightclub. Pantano's listeners donated $5000 and he matched their donation.

The 98.1 WOGL Loves Our Kids Radiothon aired Thursday, September 5th and Friday, September 6th on WOGL-FM. Donations were taken by phone, on line and in person.

WOGL-FM Vice President and General Manager Jim Loftus (a Broadcast Pioneers member) said "For the twelfth year, we're overwhelmed and humbled by the unmatched generosity of our 98.1 WOGL listeners. Our incredible listeners call in pledges and our sponsors step up to add to such an impressive total. We thank them for their generosity, for allowing us into their hearts and homes, and for making 98.1 WOGL a part of their lives. The 98.1 WOGL Loves Our Kids Radiothon is one of the shining moments for our staff."
Charolette Huffman joined KYW-TV, CBS 3 yesterday as an investigative reporter for the Eyewitness News team. Huffman comes to Philadelphia from WNCN-TV in Raleigh, North Carolina, where she has been a reporter since 2010. While in Raleigh, Huffman was honored with the 2013 regional Edward R. Murrow Award for her "Poison in the Water" investigation which revealed 2,000 contamination sites across North Carolina. Her reporting prompted state legislative change and a statewide water safety campaign.
Previously, Huffman reported for KETK-TV in Tyler, Texas, where she was the weekday morning anchor and host of "East Texas Live." She began her journalism career as a general assignment reporter at KFDX-TV in Wichita Falls, Texas.
A LITTLE BIT OF HISTORY!
WFIL-TV Master Control
Third Floor Center, adjacent to studios
WFIL-TV, City Avenue and Monument Road, Philadelphia
1964
THANKS FOR THE MEMORIES:
Liz Matt and AM Philadelphia!
Last month, this newsletter ran a video clip of Broadcast Pioneers member Liz Matt on AM Philadelphia, a show that aired daily on WPVI-TV. In that newsletter, we ran some paragraphs written by her about being on the show. If you remember, she used the air named Lizabeth Starr. Here's some more of what Liz said about being on WPVI.
There's no question that the quantum leap in my TV career happened at age 32 (actually, just shy of my 33rd birthday) when I was cast to co-host AM/Philadelphia with (Broadcast Pioneers member) Wally Kennedy. The month we debuted together was August of 1984. We were introduced at the end of the Friday, August 17th show by Action News anchor (and temporary "AM" co-host) Harry Martin and Wally and I took the reins together the following Monday, August 20th. There were no billboards screaming about the new kids in town. No bus wraps. The genius of the Channel 6 way was to let the viewers meet us and let us grow on them, with little advertising or fanfare. This is a business model that other broadcasters could learn from.

I had met several members of the programming team of Channel 6 a few years before, while working as a print reporter/TV critic for the barely-remembered tabloid, The Philadelphia Journal. When previous "AM" show host Janet Davies decided to move her career to Chicago and 'PVI started looking at audition reels, my tapes, which included several segments of arts and entertainment pieces from my years at KYW and NJN, had local Delaware Valley resonance baked into the material and there was an existing relationship with local viewers. Plus, there was a definite bonus: Channel 6 decision makers like Art Moore had met me years before when I did print reporting and remembered liking and trusting me. I think every one of those factors played an essential role in them giving me my shot at the biggest station in my hometown.

My audition involved interviewing Captain Noah. I dropped my notecards and tried not to get flustered. I never met Wally until we were both signed. It was like the broadcast version of "Fiddler on the Roof," an arranged "marriage" and we met at the chapel.

The Channel 6 way was always to focus on the viewers' experience, so I have not really given a lot of thought about what it meant to me personally. But the Broadcast Pioneers have asked for a few memories and I'm happy to reflect.

I stayed over ten years, having the privilege of reporting from Europe three times, Alaska, Hawaii, the Caribbean, Graceland and the 1988 Winter Olympics in Calgary. We took a "live" crew to the 42nd floor of Liberty Place when it had no walls yet, and took the first TV crew though the then-new and wondrous Pennsylvania Convention Center. I flew in an F106 fighter jet with the Air National Guard in NJ. We took cameras into local neonatal hospitals to meet generous "huggers" who held preemies so their exhausted, worried parents could get a restorative break. I had a speaking part on the soap opera "Loving"!

During those years, we competed against lots of locally-originated "talk" shows. Wally's incredible gifts for creating exciting live interview moments and Marilyn Phister's tremendous producing carried us to #1, past shows hosted by guys who would go on from Philly to become nationally famous, Richard Bey (at KYW) and Matt Lauer (at 'CAU). But here, it was AM/Philly that captured the hearts of viewers.

The viewers liked and trusted me. Somehow they picked up on my sincere love for the city we shared and the people who live here. And I will always be very grateful for them giving me, via "AM/Philadelphia," such singular opportunities to connect us all.
A LITTLE BIT OF HISTORY!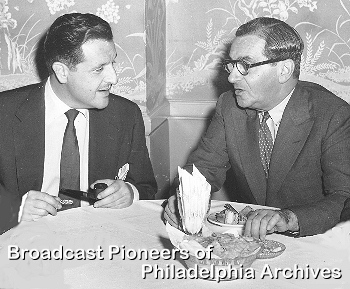 (Left to right) Broadcast Pioneers member Frank Ford with Irving Berlin
circa 1958
Getting Ready for the Mummers in the Good Old Days!
Broadcast Pioneers member Steven Sacks, a mainstay of the Channel 6 for decades, recalls for us what it took to get a live broadcast of the Mummers Parade on the TV. He said:
What was it like to work on the early broadcasts of the Mummers Parade for WFIL-TV, better known today as 6 ABC or WPVI-TV? Without further ado, allow me to take you back to the years 1966 through 1973, my years of participation in this unforgettable endeavor, so I might paint a general picture of what Vince Gassbaro (cameraman) would call a "Quo Vadis," (after the title for the movie spectacular) and I would call a "Shakespearian comedy," meaning there could be plenty of drama, as long as it had a happy ending. And so it was, the Mummers had it all, especially the happy ending.

The production cast for this parade included just about everyone involved with WFIL along with several other support companies and the city of Philadelphia, all coming together with a huge amount of equipment so you, the viewer, could sit in your living room and enjoy this 12 hour amazing spectacle marching down Broad Street and broadcast to your house, live and "in living color!"

Usually the set up for the parade started about 3 days before the event when equipment, scaffolds, cables, and huge lights were assembled and built. Often, the weather was inclement and the equipment had to be placed without the benefit of lifts. Throughout the years, the locations I most remember working were at Broad & Snyder Avenues followed by a move across from St Agnes Hospital then finishing at City Hall.

The day before the great event the 6 RCA color cameras which weighed well over a hundred pounds would be set up with their long zooms and heavy tripods and viewfinders. Hundreds of feet of camera cable, which weighed about a pound a foot, would be put in place along with the other types of power, audio, and video cables. Since the weather was always in question, we never knew for sure if the next day would be shooting or striking the set, only to come back and do it all over again.

Writing now from a Broadcast Pioneers point of view, the crew, talent, and producers were young, enthusiastic, and didn't know any better. Many of the people involved in the Mummers broadcast were, and are today, active members of the Pioneers. To name a few: Lew Klein, Irv Ross, Marie Pantarelli, and Connie Roussin Spann. Two members who recently passed away and had a lot to do with the production in those days were Ed Elias, and Bill Russell. They, along with many other talented engineers and production staff, created magic by using their ingenuity and imagination.

On parade day the call for the crew was 4:00 a.m. and traditionally began with breakfast at the Melrose Diner. We would then wait until 6:00 a.m. when "the city" or the Mummers would let us know if the parade was "a go" or "no go" due to weather conditions. If the decision was a "no go," what to do with the equipment depended on the reschedule date for the parade. If it was "a go," we could plan on being at the site until approximately 11:00 p.m. when most of the equipment was "struck" (disassembled) and put back in the trucks. What was left could be retrieved the next day with a fresh crew.

Working on the parade was always a fun experience. There have been many changes since WFIL-TV put those old RCA TK 42's on the street, not just technically but socially, and creatively. Gone are the "good old boys" marching down Broad Street loaded with JATO (jet assisted take off) coffee along with the comics jumping up and down in front of the cameras, and the fancy brigades strutting up Broad Street from Two Street doing their shtick. Who can forget the string bands marching and greeting their fans while playing those wonderful tunes with their unmistakably silky sounds? Today the parade is smoother, more efficient, but still maintains the excitement and love of the crowds. The fans were always excited and cheering for their neighborhood Mummers & Shooters as if they were one of Philly's favorite sports teams. Often, there were celebrities in the crowd. I do remember once, while on camera, having Linda Lovelace pointed out to me as she sat in the bleachers with friends enjoying the show.

I don't miss the cold damp weather or the 3:00 a.m. wake-up calls or the set and strike of the show. What I do miss though is the excitement, the camaraderie of the crew, and the wonderful warmth and community spirit that the parade brought to us all, all "us Philly people." Yea, I certainly do miss that.
The 1980 Phillies Parade!
Broadcast Pioneers member Fred Woskoff liked our September newsletter screen capture of Johnny Callison with Bob Bradley in the WPHL studio during the 1980 Phillies World Series Parade. Fred said to us:
I was very happy to see the screen shot you chose from the WPHL archives, with the great Bob Bradley, and my all-time favorite Phillie, Johnny Callison.

That particular program, our WPHL-TV coverage of the Phillies Victory Parade in 1980, is still the highlight of my entire broadcasting career. I produced and directed the channel 17 coverage of the parade, hosted by Bob Bradley in the Studio, and Gene Hart at Kennedy Stadium where the parade would end and the ceremony was to take place. Yes, the Flyers Gene Hart.

Not wanting to jinx the Phillies in any way, I waited until the day before what would be the final game of the World Series, game six, to begin discussing the possibility of a parade and any coverage. I went to Zvi Shoubin, then the WPHL-TV Program Director, and said, "There could be a parade, and we need to think about covering it." He of course said go ahead, and we started making plans.

Since WPHL didn't have any "live trucks," I made a deal with WPVI to be able to use their live shots when they weren't on the air, in exchange for WPHL's four cameras at Kennedy Stadium. Then to fill the time where we wouldn't be able to see the parade, I got Howard Eskin to be on the phone from an office on Kennedy Blvd where the parade would start to give us a voice while we used the WPVI coverage, including some helicopter shots. Sid Doherty, the "voice of WPHL Philadellllllllphia," was near the Academy of Music to go live on camera when WPVI wasn't using that shot, and Phillies PA announcer Dan Baker was in a friend's home on South Broad Street to describe that scene.

But, since Harry, Richie, Andy, and Tim McCarver, our announcers, and Steve Silverman, the WPHL Executive Producer, would be in the parade, I needed somebody to host from Kennedy Stadium. So I called Gene Hart, figuring he was involved in the Flyers parades, to see if he would host for us. Gene said of course. I told him, "I have no idea what to offer you." Gene said, "A million dollars, a trip to the Bahamas, or two tickets to tonight's game." I immediately went to GM Gene McCurdy and told him Hart would do the parade show with us, but I needed a couple of tickets. Gene reached in his pocket and handed me two WPHL Superbox seats. I knew Gene could fill time, and he did just that brilliantly, as it took quite a bit of time for the players to get off the trucks and onto the stage, and until Harry could begin hosting that part of the show.

So then we needed to get folks into the studio to be with Bob Bradley and help us fill. We could show highlights of the World Series games and playoff games, but I figured we also needed some guests for Bob to talk to. I gave Kathy Yungmann a list, and she got on the phone to have Johnny Callison (for the 1964 heartbreaker season), Stan Lopata of the 1950 Whiz Kids, and Thatcher Longstreth, the ultimate Phillies fan come to the studio.

The WPHL crew did a great job, as we did the post-game show after Tug ended 97 years of fan frustration, by tearing down the remote setup at the Vet and moving the truck and cameras over to Kennedy Stadium.

We went on the air with just a few commercials scheduled, but the sales guys were on the phone with clients calling to ask "are you watching this," and were selling spots as the parade went on. Joel Levitt was directing at Kennedy Stadium, with the regular WPHL baseball crew. Bill Egbert, Charlie O'Gara, Rick Schultz, and Art Sczykalski on camera, and the whole gang. Dave Abramson was our coordinator over at WPVI, keeping things going so we could use that video source.

It was over 2 and a half hours of truly seat of the pants fun. And, of course the masterful Bob Bradley kept it all going as we threw things at him left and right. And then as soon as it was over, we started editing it down to a 90 minute program to air that evening.

In November, WPHL aired a week of replays of the clinching game in Montreal, the five NLCS games against Houston, and a recreation we did with Harry, Richie, and Andy of the World Series Game 6, followed by the replay of the parade show. Too much fun to have been paid for, actually, but one of the most exciting things I've ever been involved with.

Anchor Jack Jones!
Last month, we ran a TV clip about the passing of TV Anchor Jack Jones. We received this e-mail from member Roger Hendler who says:
I first met Jack and his father in 1967. I believe he was about to begin classes at LaSalle. I had placed an ad in the Inquirer selling my 1962 Ford Falcon as I was now working in Center City and taking the train from Fox Chase. My late wife Ginny and I felt one car was sufficient. Jack and his father answered the ad and visited our apartment in Fox Chase. They liked the vehicle but it was outside of their budget plans. Years later, I was in Jack's company at an event and mentioned the meeting of years prior. He remembered meeting me concerning the car sale and was now in a position to purchase a much more expensive vehicle.
Sue Marella at WFIL during 1947 to 1951!
Linda Penney wrote a nice piece for us about her mom, Sue Marella Friedberg, who worked at WFIL Radio and TV from 1947 to 1951. Part of what she said is:
In 1942 when Uncle Sam called on the Bell Telephone Company to recruit switchboard operators for highly classified jobs at the Philadelphia Naval Ship Yard, 18-year-old Sue Marella answered. After the F.B.I. interviewed Sue, her family, and even her neighbors in South Philly, her station for the duration of the war was mysterious Building 83, where no one entered without a security clearance.

"Everyone was always on high alert and we carried our ID cards everywhere," recalls Sue Marella Friedberg, now 89 (in 2013). "It was a very exciting, very high energy time, with mobs and mobs of people. You really felt like you were doing something important," she says. When her job at the Navy Yard was eliminated with the reduction in force after the war (along with her weekly paycheck of $14.62), Sue went from a secured station in Building 83 to a very different kind of station in The Widener Building at 13th and Chestnut Streets. That station was WFIL, now WPVI-TV.

"I think I answered an ad in the paper," she says. "Irene (Rene) Smith was in charge of the switchboard and reception desk and she did the hiring. She interviewed me and I guess she liked me because she told me I could start the following week."

From 1947 to 1951, Sue Marella's was the face that welcomed visitors, guests and talent to the WFIL offices and studios. Among them were publisher Walter Annenberg, the owner of station who became U.S. Ambassador to the United Kingdom in 1969, and up-and-comers such as Dick Clark, Bobby Rydell, and Eddie Fisher. Local programming featured Paul Whiteman's TV Teen Club, a forerunner of "American Bandstand," and personalities Skipper Dawes and The Magic Lady. Read the entire story!
A LITTLE BIT OF HISTORY!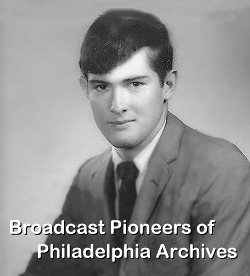 Broadcast Pioneers member Rob Jennings
High School Photo
circa 1966
A FINAL THOUGHT....
"Ask me what time it is and I'll tell you how the clock was made. I love to talk."
Jack Klugman
Philadelphia born actor
as told to Broadcast Pioneers member Harry Harris
in Harry's unpublished book, "TV Star Secrets"
unknown date
Please contact us by e-mail at newsletter@broadcastpioneers.com or by mail to: Ed Eisen, 1110 Longshore Avenue, Philadelphia, PA 19111. (215) 725-7253. Your stories are important, to you, to us, and your colleagues. Contact us today and we'll include your story in the next newsletter!

Photo Editor & Archival Historian - Gerry Wilkinson
© 2013, Broadcast Pioneers of Philadelphia
All Rights Reserved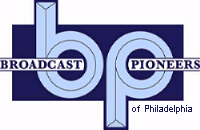 The e-mail address of the Broadcast Pioneers of Philadelphia is pioneers@broadcastpioneers.com
For luncheon reservations call (856) 365-5600 or e-mail us at: rsvp@broadcastpioneers.com