Visit Our Website Often - http://www.broadcastpioneers.com

A WRAP-UP ON OUR JANUARY LUNCHEON:
Our January Sports Spectacular luncheon was a tremendous success! Everyone who's anyone was there. Moderating this exciting event was Broadcast Pioneers member Joe Pellegrino who did a wonderful job.
Our panelists were:
Michael Barkann, Sports Anchor for Comcast Sportsnet
Bill Campbell, Dean of Philly Sports, heard on KYW Newsradio
Leslie Gudel, Sports Anchor for Comcast Sportsnet
Jim Murray, former General Manager of the Philadelphia Eagles
Merrill Reese, the voice of the Philadelphia Eagles
Bill Vargus, Sports Anchor for Fox 29 in Philadelphia
Plus we had a Philly sports trivia quiz featuring audio from our archives. What a luncheon! They seem to get better and bigger every month.
ATTENTION BOARD MEMBERS!
There will be a Board meeting before the February luncheon at 10:15 am at the Bala Golf Club. Please make sure you include in your RSVP whether you will attend the board meeting, the luncheon or both!
WELCOME NEW MEMBERS !
"King" George Michael, former WFIL Boss Jock and the station's music director later became an NBC-TV Sports Host. George was inducted into our "Hall of Fame" last November and he's a new member.
Michael Barkann of Comcast SportsNet is now part of our organization. Voted Pennsylvania's Sportscaster of the Year more than once, he has won five local Emmys. Previously, Michael worked at KYW-TV.
Amy Buckman of WPVI-TV, Channel 6 is our newest member. She started as a coordinating producer for "AM Philadelphia" and in 1999 became a general assignment reporter for Action News.
Ernest Schmidt, a technician and engineer with WFIL and WCAU from 1949-1960 has joined. He always has outstanding stories about broadcasting during the fifties.
Welcome everyone! We're delighted to have you with us. Hope to see you at a luncheon real soon!
ON THE HEALTH FRONT :
We've heard from Ilse Poindexter, wife of member and 1996 Hall of Fame inductee Malcolm Poindexter that Malcolm has been very ill with Alzheimer's disease. Malcolm has many friends in our industry. Ilse said, "On behalf of my dear husband, I thank you for all the years of friendship you have shown him, the camaraderie, and the joy of being together." Ilse can be contacted at: Ilselp@yahoo.com We'll be thinking of you Malcolm.
IN TOUCH:
After 60 years in the business, Sid Doherty retired in December. During the past 21 years, Sid was the weekend announcer at ABC-TV in New York City. Sid tells us that not only does he not have to make the weekend commutes to NYC, but can finally enjoy the weekend parties he's been missing for the past two decades. And Sid, we were glad to see you at the January luncheon.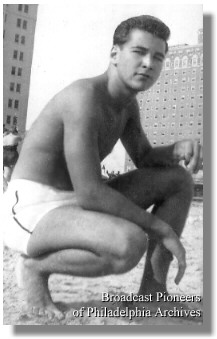 Hy Lit
Atlantic City, NJ
Summer 1950
Sam Lit, son of the legendary Hy Lit, is inviting you and everyone in the Delaware Valley to join him for a Live dance party on HyLitRadio.com, every Friday night from 5 pm to midnight, at the Quality Hotel, Philadelphia International Airport. For reservations to the dance, call (610) 521-2400. By the way, Sam will be the moderator of our WIBG Reunion at our May luncheon.
Broadcast Pioneer member and well-known television host across the Philadelphia region, Wally Kennedy is back on television after a few years' hiatus. This time on a national and global stage as the first co-host of Comcast's "Seeking Solutions with Suzanne," joining creator and host Suzanne Roberts. Wally said, "being able to contribute to Seeking Solutions with Suzanne, as well as continuing to anchor at KYW Newsradio, makes me feel very blessed and I'm thrilled to have this unique opportunity." Nice going Wally!
A FUN THING:
For those of you who watched the Super Bowl this past Sunday, e-mail the newsletter editor with your favorite Super Bowl Commercial. We'll publish the results next month. E-mail him at: newsletter@broadcastpioneers.com
MORE IN TOUCH:
Pioneers member Jonathan P. Casey tells us that he's celebrating 42 years in the business, 37 of them with WSNJ, 1240 AM and WSNJ.com heard worldwide. This month will be his 5th year of broadcasting "Harmony" with Broadcast Pioneers members, Al and Stella Alberts. Also this month. he will be completing year one of "Rock and Roll with Danny and The Juniors." During the last year of Hy Lit's life, he created special features, "Hy Lit's Music and Moments in Time." He also does a "Legends Series" of interviews. Many are in the Broadcast Pioneers Archives. Notably, he did the last interview with Dick Clark before his stroke. Good to hear from you Jonathan!
Just a word on the Broadcast Pioneers scholarship front.... We have received an all-time record of applicants for our Broadcast Pioneers scholarships. We have over 210 students applying with a week still to go on our deadline. The generous gifts from Broadcast Pioneers member Esther Kurtz, widow of David Kurtz, founder of B-101 and Broadcast Pioneers Vice-President Kal Rudman (who is underwriting FOUR scholarships) plus revenue raised from our annual banquet allows us to award twelve $1,000 scholarships this year. That is also a club record!
Two days after appearing at our Sports Spectacular luncheon, Broadcast Pioneers member Michael Barkann was involved in a minor car accident while broadcasting live on WIP Radio that morning. Barkann is fine.
Broadcast Pioneers member Ray Didinger's father has passed away. Ray, Sr. was responsible for Ray, Jr.'s love of football and sports. While other kids were vacationing at the Jersey shore, Ray and his dad went to the Eagles' training camp in Hershey. Didinger is a Senior Producer at NFL Films and is heard weekends on WIP Radio.
MEMORABILIA ALERT!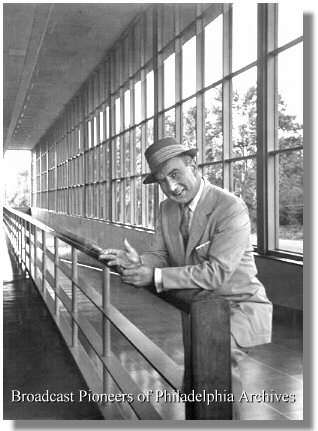 John Facenda
WCAU-TV Official Photo
1952
Here's a rare find from our archives. It's complete audio from a John Facenda, WCAU-TV newscast. Remember, the newscasts at that time were 10 minutes long. It's 11 pm on Wednesday, September 18, 1957.
By the way, WPVI-TV, 6abc is looking for memorabilia that would be appropriate for a collection area in the new 6abc building. They anticipate moving late April or early May and need to know what people have ASAP. Contact person is Mike Monsell, Creative Services Director. Email: mike.monsell@abc.com
A final thought...
" It's impossible to reach good conclusions from bad information."
Mort Crim

© 2009, Broadcast Pioneers of Philadelphia
All Rights Reserved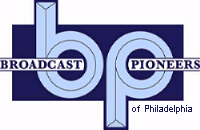 The e-mail address of the Broadcast Pioneers of Philadelphia is pioneers@broadcastpioneers.com
For luncheon reservations call (856) 365-5600 or e-mail us at: rsvp@broadcastpioneers.com