Visit Our Website Often - http://www.broadcastpioneers.com

A WRAP-UP ON OUR FEBRUARY LUNCHEON:
The February Eyewitness News luncheon was a wonderful success. If you missed it, you missed a big one! Our moderator for the panel discussion was Broadcast Pioneers member Dick Sheeran who worked on Eyewitness News for over three decades. Introductory remarks, made by Michael Colleran, President and General Manager of CBS3 and Philly CW57, provided a special treat. He was introduced and welcomed by Pioneers Board member W. Carter Merbreier, our very own Captain Noah.
Our panelists were Susan Barnett, Dave Huddleston, Chris May and Susan Schiller. Plus, Broadcast Pioneers member Trudy Haynes spoke LIVE on the telephone with member Al Primo who created the Eyewitness News format in 1965. And, Pioneers member Marciarose Shestack spoke LIVE on the telephone with George Sells, known as George Caldwell here in Philadelphia. He was her former co-anchor. The dialogue was animated, fact filled and fun as the panelists shared their insights, personal opinions and knowledge about the future of broadcasting.
WELCOME NEW MEMBERS !
Dave Huddleston, anchor of the 10 pm Eyewitness News on CW57 (and one of our panelists in February). Dave has been in the industry since 1987. Previously, he was co-anchor of the Fox 29 10 pm news.
Jennifer Honess, audio technician at NBC10. Jennifer has been in the business for 10 years, working at NBC Universal, WJCL-FM Savannah, WCOJ, West Chester and Greater Media in Bala Cynwyd.
Welcome to Broadcast Pioneers. We hope to see you at a luncheon soon!
ON THE HEALTH FRONT :
We note with sadness the passing of Board member Alan Tripp's daughter Barbara, after a long and courageous battle with breast cancer.
Paul Rust, former WIP News Director (1960's-70's) passed away on February 7 in Daytona Beach, Florida, where he was retired. He was active in the Pen & Pencil Club in Philadelphia and in Sigma Delta Chi, now the Society of Professional Journalists.
Also, we regret to note the passing of Susan Rhoades, daughter of 1998 all Hall of Fame inductee and former Broadcast Pioneers Board member, Ed Harvey. He helped establish an orphanage in Brazil.
We mourn the loss of Harrison Ridley, Jr., Philadelphia's Jazz Musicologist and radio host. His program was on Temple University radio WRTI-FM (90.1) on Sunday evenings. He was a DJ at WRTI for 38 years. It was the longest running program in the history of the station.
This news came in time for this issue of our electronic newsletter. The legendary Paul Harvey, a broadcaster for seven decades has passed away. Paul's commentaries on ABC Radio lasted 58 years. He was 90. His wife, Angel died last year at age 92. She too was a pioneer broadcaster.
Also, our condolences to Broadcast Pioneers member Paul Big Bear on the passing of his mother, Nancy O. Swanger on the last day of February. She was feeling fine but took ill quickly and passed away at Abington Hospital. She was 77.
IN TOUCH:
Heartiest congratulations go out to Pioneers Board member, Treasurer, and 2001 Hall of Fame Inductee, Pat Delsi, for his recent induction into the Drexel University Hall of Fame. Pat has called over three decades of men's and women's basketball and is the only person who was not a player or coach to be inducted. As Pat approaches his 55th year in broadcasting, we salute you. Congratulations Pat!
Congratulations also go out to Pioneers member John Brown. John will be celebrating 40 years in radio and 30 years doing traffic, all but two in Philly! John has won four AIR awards for traffic reporting and three for weather forecasting. John believes he's the only traffic reporter that has done at least one report on every station in the market. His burning question is, "where did my black hair go?" Well done, John!
Want to know more about vintage television? There's a new link produced by Pioneers Board member and Temple University Associate Professor, Paul Gluck. The site is called KINNESCOPE HD. It's a non-controversial, non-political and no advertising site. Paul said, " I think our members, given their professional achievements… will like the material I post." Here's the link: http://kinescopehd.blogspot.com. Thanks Paul! Good luck!
As part of his autumn tour, The Wearin' Of The Green, Charlie Gracie will be performing in the United Kingdom in mid-October and be performing on the Emerald Islefrom October 9 through the 12th. Unique for Philly's Pioneer rocker…for all the years he's performed in the United Kingdom, this will be his first engagement in Ireland. Way to go Charlie!
As a follow-up to the February "Did You Know" hot lights story, we've heard from Pioneers member Joel Albert, a "survivor of the Children's Hour and WFIL-TV News." Joel explained that on the Horn and Hardart show, the sponsor loved to showcase its food, especially pie and ice cream. Obviously, the vanilla ice cream melted before the commercial ever aired. Some unsung hero came up with substituting mashed potatoes for the ice cream. It worked perfectly! When RCA sponsored the news on WFIL-TV, the commercials featured their latest products. One night, a plastic radio wilted under the lights during the commercial. Thanks for the memories, Joel!

The Children's Hour
Circa 1951
WCAU Radio & TV
The Children's Hour ran for more than 30 years on radio and ten years on television. We have a few excerpts in our archives of this historic program.
More on "The Children's Hour" front, Broadcast Pioneers member Michael Muderick went with his dad (Mike was 9 at the time) to see the broadcast. From the audience, they took some photographs, which you can look at here! These pictures were just added to our website a couple days ago.
MORE IN TOUCH:
Radio legend, and Pioneers Board member, Bill Wright was recently special guest with Sam Lit at HyLitRadio.com. The event occurred at the Quality Hotel PHL Int. Airport, Essington, PA. At the regular Friday evening gathering and dance party. Bill was one of the original "WIBBAGE" Good Guys at Philadelphia's legendary WIBG Radio 99 in the 50's and 60's. He shared many great stories from the early days of Rock and Roll to his present status as Board member Broadcast Pioneers. Go get 'em, Uncle Billy!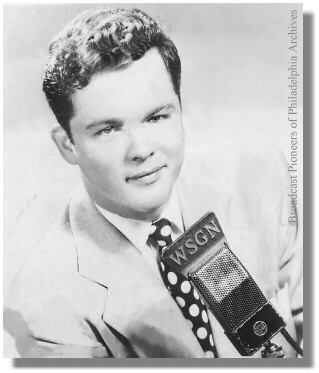 Bill Wright, Sr.
WSGN Radio
1951
Editors note: Watch for our WIBG reunion at our upcoming Pioneers luncheon in May. Already confirmed are Bill Wright, Sr., Frank X. Feller, Jerry Stevens, Dean Tyler, Don L. Brink, Ray Gilmore and Rod Carson.
Congratulations to Broadcast Pioneers President Gerry Wilkinson on finally accomplishing the move he has been working on for over 15 months. Gerry was totally involved in the rehab of his mother's house and then the process of relocating. The new address is already in the current membership directory. His phone numbers and e-mail remain the same. Good luck with the new digs Gerry!
SCHOLARSHIPS!
Among other topics discussed at the recent Board meeting, we are particularly proud to note that this year we will be awarding twelve $1,000 scholarships (a record). Committee chair Dr. Diego Castellanos reported we received over 250 applications (another record) and the selection task was challenging and fulfilling. We note with tremendous appreciation, Board member Kal Rudman has funded four of the scholarships. Special thanks to the hard work of the committee and Kal.
A final thought...
"Have a nice night tonight and a good day tomorrow. Goodnight all."
John Facenda
The Voice of Channel 10

© 2009, Broadcast Pioneers of Philadelphia
All Rights Reserved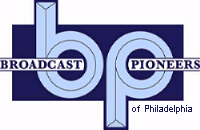 The e-mail address of the Broadcast Pioneers of Philadelphia is pioneers@broadcastpioneers.com
For luncheon reservations call (856) 365-5600 or e-mail us at: rsvp@broadcastpioneers.com