| | |
| --- | --- |
| | Broadcast Pioneers of Philadelphia is a federally recognized, state chartered 501(c)(3) non-profit organization serving the Philadelphia Broadcast Community since January of 1962. |
September Luncheon
The Bala Golf Club
Wednesday, September 16, 2015

Meet & Greet at 12 noon!
Lunch at 12:30 pm
Ratecard: $28 per person!

PLEASE RESERVE NOW!
CALL (856) 365-5600!
rsvp@broadcastpioneers.com
Another "Third Wednesday" Luncheon!
Wednesday, September 16, 2015!
50 Years of KYW Newsradio!
A Celebration & Reunion!

Spectacular, sensational, informative, magnificent, dramatic, impressive…these are just a few of the words being used to describe our next luncheon. This September gathering is certain to be right up there where the air is rare! 50 Years of KYW Newsradio will be full of great stories, memories and tales of this legendary radio station. Can you hear the teletype in the background?
It all takes place on Wednesday, September 16th at the beautiful Bala Golf Club, 2200 Belmont Avenue in Philadelphia! Just minutes away from Channels 6, 10 and 17 plus the radio stations in Bala Cynwyd. Tons of free parking. Our moderator will be Jay Lloyd, long-time KYW Newsman.
Our speakers will include (in alphabetical order):
Harry Donahue, former KYW Newsradio morning news anchor
Ralph "Bud" Galow, former 1060, KYW Newsradio Technician
Lauren Lipton, current KYW Newsradio morning news editor
David Madden, current KYW Newsradio reporter, anchor & editor
Warren Maurer, former General Manager of KYW Newsradio
Bill Roswell, KYW Newsradio's Director of Digital News & Media
Bob Witten, former 1060, KYW Newsradio anchor and reporter
David Yadgaroff, Senior VP/Market Manager for CBS Radio Philadelphia

PLUS, A LIVE PHONER WITH ANDREA MITCHELL OF NBC NEWS!
(Left to right) Sam Katz, Bill Bransome and Richard Maloney
Atlantic City remote covering the opening of the first Jersey casino
May 1978
Photo taken by Warren Maurer who was GM at the time
Picture sent to us by member Sam Katz
Meet and greet (networking) starts at 12 noon with a full-course lunch including salad, coffee or tea and dessert being served at 12:30 pm. There's also a snack table. Cash bar available! The cost is still only $28 per person and is open to all our members, any person in the industry or associated fields; both people now active and retirees. You do NOT have to be a member to attend. Make your reservations early by calling (856) 365-5600. It's going to be a great turn out. Attending this luncheon is the biggest "no-brainer" on the planet! Be there and say hi to old friends (and make some new ones).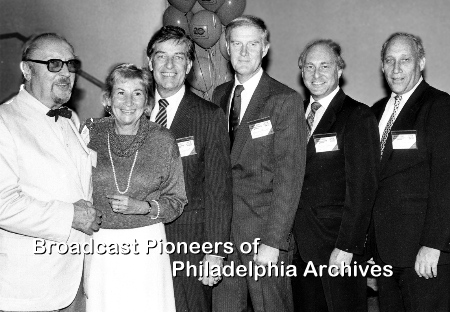 (Left to right) Westinghouse Vice-President Franke Tooke, General Manager's Secretary Muriel Ettlinger), General Managers Frank Oxarart, Warren Maurer, Nelson Cohen, Roy Shapiro
Photo courtesy of Warren Maurer
Picture sent to us by member Jay Lloyd
If you miss this one, you will have missed an extraordinary experience and a good time! But don't worry. Your friends and colleagues will tell you about it. RESERVATIONS ARE CRUCIAL! Don't wait until the last minute, reserve now! This is sure to be another blockbuster turn out. Make your reservation now by calling (856) 365-5600. This is THE place to be on Wednesday, September 16th!
Plenty of FREE parking. Our luncheons are open to all our members, their guests and any person in the industry or associated fields, whether active or retired. You do NOT have to be a member to attend.
The cost is only a donation of $28 (or more) per person! In order to speed up check-in at the luncheon, it would help if you had exact change or your check already written. Checks can be made payable to the Broadcast Pioneers of Philadelphia.
If you would like to add a few dollars extra, we would appreciate it. It would help us with all the important work we are doing. Thanks!
We'll Be Proud to See You in the Crowd!

Visit Our Website Often - http://www.broadcastpioneers.com
You should check our website often on the front page (above) for important information!
Check out our Facebook Page - http://www.broadcastpioneers.com/facebook
There are things on our Facebook Page that are NOT on our website (like our vintage photo of the week)
Tune in to our YouTube Channel - http://www.broadcastpioneers.com/youtube
Our YouTube Channel has all our luncheons, exclusive interviews and archival material

REMINDER!
IF YOU HAVEN'T PAID YOUR DUES BY NOW...
YOU'RE OVER TWO MONTHS LATE!!!
WE DON'T WANT TO DROP YOU FROM MEMBERSHIP!
Please note that over a quarter of a year ago, we snail-mailed your membership renewals. If you haven't paid by now, you are at least two months late. 10% of our members haven't sent their renewals in yet! Are you one of them? If you believe that you didn't get a renewal, please let us know and we'll send you another one (this time by e-mail). Can't remember if you paid? E-mail us! The 2016 membership directory will be printed next month.
WE DO NOT SEND YOU MULTIPLE SNAIL-MAIL NOTICES! THIS WILL BE THE ONLY RENEWAL NOTICE THAT YOU WILL RECEIVE.
VERY IMPORTANT!
If you haven't already done so, kindly return your form and check at your earliest convenience. Please also note that on the form is an important little box that you can check if you would like to make an extra contribution. Our archival project is becoming an expensive activity. It costs us over $8,000 a year just to store all our material. That averages out to about $16 per member. Preserving local broadcast history is very important! If you can can afford it and wish to do so, please help us in this important project. Any additional amount will be greatly appreciated! Large or Small!
If you are not sure whether you paid the 2015 - 2016 dues, e-mail us and we'll let you know whether you are up to date. Thanks. We hope to keep you in membership.

WELCOME NEW MEMBERS:
FULL MEMBERS:
Cecil "Moon" Mullen started in broadcasting in 1944 when he worked at WWBZ in Vineland, NJ. Three years later, he went to WCAU where he was a transmitter engineer and later engineering chief. In 1951, he switched over to TV and then became their Assistant Supervisor for Television. Cecil then headed south for lots of sunshine and worked at WPLG-TV in Miami, Florida until 1989. He served our industry for over a half century.
Bob Kelly started in our industry in 1986 when he worked at WMGK as an on air personality. Then he went to WIOQ and then to WOGL. Then Kelly moved to KYW Newsradio as on air traffic reporter in 1995 and stayed for the next half dozen years. For 15 years, he was on the air television anchor for CBS 3's traffic reports. A year ago, he moved over to Fox 29 in the same position. He's a communications graduate of Temple University.
We are thrilled to have these new members. Over 500 Members. More than ever. We hope to see as many of our members as possible at our September luncheon.
DIGITAL ARCHIVAL PROJECT NEWS:
VIDEO:
Broadcast Pioneers member Rob Jennings
Action News - WPVI-TV
Sunday, September 13, 1987

Broadcast Pioneers member Cathy Gandolfo
Action News - WPVI-TV
Sunday, September 13, 1987
In 1987, Pope John Paul II was on a nine-city trip throughout the United States. Broadcast Pioneers member Cathy Gandolfo was the only Philadelphia TV journalist who traveled with the Pope to all the cities. Here's her report from Sunday, September 13, 1987. It was broadcast on WPVI, 6ABC here in Philadelphia. Mastered from the station's 3/4" tape, it's our feeling that the Real Video version is sharper and clearer and also loads faster.
Watch with Real Video!
Watch with Windows Media!
Broadcast Pioneers member Cathy Gandolfo recalls for us some of the events of that journey:
In September of 1987, I covered one of the most extraordinary stories of my career, the pilgrimage of Pope John Paul II to the United States. I was one of hundreds of journalists from around the world to report on the event but I was the only Philadelphia area reporter on the U.S. leg of the tour from start to finish.

The trip took us to 9 cities in 10 days, Miami, Columbia, South Carolina, New Orleans, San Antonio, Phoenix, Los Angeles, Monterey, San Francisco and Detroit. It was logistically difficult and required a great deal of planning but for the most part this exhausting and exhilarating trek went off without a hitch.

Every stop saw huge crowds that filled arenas usually reserved for sporting events and rock concerts, including the Superdome, the Coliseum, Dodgers stadium, a motor speedway in Monterey and Sun Devil Stadium in Tempe, Arizona.

At times the weather was a challenge. There was a violent thunderstorm during the Papal Mass in Miami and 100 degree heat in San Antonio. Through it all though I can still see the hundreds of thousands of faithful gathered and their outpouring of love and respect for the Holy Father and the way he connected with them.

There were lots of laughs along the way, many on our plane, which was renamed "Shepherd 2" for the occasion. "Shepherd 1" was of course the Pope's jet. Someone made tee shirts that read "Vatican Road Crew" on the front and the list of cities on the back, like you would see on a shirt from a rock concert.

I have many wonderful memories from that whirlwind trip and it will always be one of the highlights of my 36 years at channel 6.
AUDIO:
On Tuesday, September 21, 1965, the owners of KYW Radio (Group W, Westinghouse Broadcasting) took a bold step in Philadelphia by instituting a new format for our market, a 24 hour news service. It would soon to be known as "All News, All the Time." Earlier that year, Westinghouse had started a similar programming format in New York City (WINS). Today, both WINS and KYW Newsradio have a similar sound.
In June of that year, 1965, there were industry reports that the station would go all news instead of Top 40 or MOR. While KYW officials had no comment at that time, a former high source with Westinghouse Broadcasting said that the all news decision had already been made.
In the waning moments of the old format, Million Seller Tunes, Broadcast Pioneers member Bill (Wee Willie) Webber was on hand to help make the transition. He was live. At 11:47 am, Bill introduced a million seller by Billy Williams.
11:47 am
Listen in Real Audio!
Listen in Windows Media!
After that selection, Bill introed what he thought would be the last song of the old format. The clock was ticking down the seconds and minutes.
11:50 am
Listen in Real Audio!
Listen in Windows Media!
When the song was finished, there was still enough time for one more, so Bill introduced Frankie Randall singing "A Wonderful Day Like Today." It would be the last song ever to be played on KYW Radio before starting the all news format.
11:52:15 am
Listen in Real Audio!
Listen in Windows Media!
More KYW Audio in our second audio section elsewhere in this newsletter!
Today's News Becomes Tomorrow's History!
(This is what our Digital Archival Project, DAP, is all about!)
IN TOUCH WITH OUR MEMBERS:
Member Bob Perkins told us what's been going us with him. At the end of 2014, Bob was honored by The Jazz Bridge Project in Philadelphia. He won the organization's "Making a Difference" Award. It was the fifth time the group gave the award.
Well, Jason Fifield, owner of Slife Productions made a video about Bob and the award. That video was nominated a few months ago for "Best Short Form Jazz Video" by the JJA (Jazz Journalists Association) Jazz Awards. We thought you might enjoy a look at that 8 minute video Watch Here!

Many people who Bob as a guy who loves jazz. However, are you aware that he was New Director and Editorial Writer for WDAS AM & FM during the seventies? It's true. We thought you might enjoy this WDAS News Special. We have an audio from that program, which aired on both WDAS AM & FM (at different times within the same week). It's about the United States Supreme Court. Member Bob Perkins was the writer, producer and air talent of the show. It dates from March of 1971. We offer you a condensed version of the program. Listen in the Windows Media Format!
Last month, Broadcast Pioneers member Maura McKinney Mastro had performed at a free concert in the Cape May Rotary Park. It was Country, Pop, Celtic, Rock, Gospel and Patriotic...something for everyone in the family. Maura is the daughter of Broadcast Pioneers' Hall of Famer Jack McKinney.
Don't miss Maura at the Irish Festival at the outdoor main stage at Chestnut and Old New Jersey Avenues in Cape May. It's Friday evening, September 25th and Saturday evening, September 26th from 6:30 pm to 8:30 pm.
No pop culture figure equals Frank Sinatra. Actor, singer, dancer, director and more, the multi-award winner is the gold standard against which all are measured. Film historian, and lifelong Sinatra aficionado, Broadcast Pioneers member Steve Vertlieb, delves into the legendary entertainer's 50 + films: comedies, musicals, dramas and more, with a lovingly detailed analysis of "The Chairman's" 40 year filmography of hits, misses, and more than a few daring thematic risks. The perfect companion piece to HBO's SINATRA documentary mini-series, SINATRA: ALL THE WAY is illustrated with over 100 stills (many rarely seen), and features film clips, trailers, archival interviews, documentary excerpts, and nearly one hour of music by Jerry Goldsmith, Elmer Bernstein, Sammy Davis, Jr., and (of course) by Sinatra himself.
Broadcast Pioneers member Bunny Gibson is keeping busy on the west coast. She's in a new film called, "Safe House." Bunny plays a Mafia wife. Also, she tells us that her "United Healthcare" and "Goya" commercials are running. Bunny, of course, was a well known dancer on "American Bandstand" decades ago.
Saint Charles Borromeo Seminary (where the Pope will spend the evening during his visit) is revitalizing its music program. They have appointed Rudolph Lucente as Director of Sacred Music and Broadcast Pioneers member Michael Stairs to the new position of Artist in Residence.
Lucente was a long-time assistant with the Wanamaker Grand Court Organ and was associated with Longwood Gardens and the Kimmel Center. Stairs is the organist for the Philadelphia Orchestra, held the Buck Chair of Music at the Haverford School and was Director of Music at the Church of the Redeemer in Bryn Mawr.
Broadcast Pioneers member Marlin Taylor retired from Sirius XM Radio this past Friday, after nearly 15 years with the Company as one of its many Program Directors. Marlin joined predecessor XM Satellite Radio in late 2000 as a member of its start-up team to create its 1940's/Big Band era channel.
In 2002, with its subscriber numbers growing rapidly, there came a demand for a Beautiful Music channel. Of course, with his experience at WDVR in 1963, it was natural for Marlin to take on that channel as well. In 2004, there came a call for someone to launch a Southern Gospel music channel. Always ready for a new challenge, he also took on that responsibility. He's proud to say that all three became among the most-listened-to channels the Company has ever had. On Friday, November 20th, Marlin will be inducted into our Hall of Fame.
A LITTLE BIT OF BROADCAST HISTORY!
(left to right) Johnny Carson, Billy Banks and Carl Ballantine
circa 1965
Johnny Carson at the time of this photo had been host of "The Tonight Show" for only about three years. On the right is Carl Ballantine who played Lester Gruber on "McHale's Navy" during its primetime run.
Born in 1908, Broadcast Pioneers member William A. Banks, known to his peers as "Billy," started as a time salesman for WELK Radio (now WDAS) in 1928. The next year, he moved over to WIP Radio. He started there in 1929 and worked with Broadcast Pioneers member (and former Broadcast Pioneers President and founding member) Max E. Solomon. In fact, Solomon told us that Max and Billy had a real fist fight over an account. Both, according to Solomon, almost lost their jobs.

Later, Billy decided to buy his own radio station when Ben Gimbel called him into his office. Gimbel's complaint was that Billy was selling too much radio time. Ben told Billy that Banks was making more in commission that Gimbel earned as General Manager. Billy got his commission reduced and Banks swore he would never let it happen again. The only way was to own a station. On February 12, 1944, Bill and his sister, Dolly, purchased WHAT Radio.
That Dolly Banks would find herself in a part of "show business" is not surprising. Not many knew that she longed for a career as a professional dancer. She performed with both the Philadelphia and the Littlefield ballets.

Did you know...
that the Pope came to Philadelphia in 1979? He did but that was over a third of a century ago. Thirty-six years to be exact minus a few days. Two million people lined the streets of Philadelphia to greet the Pontiff. Mayor Frank Rizzo (later a telephone talk show host on WCAU Radio) was at the airport to greet the Holy Father. Governor Richard Thornburgh was also there.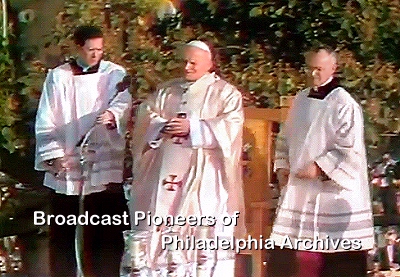 Pope John Paul II
celebrating Mass
Logan Circle, Philadelphia
Wednesday, October 3, 1979
John Cardinal Krol boarded the aircraft (nicknamed Shepherd One) to welcome John Paul II to the Delaware Valley. Krol and the Pope were both from the same part of Poland.
The plane set down at Philadelphia International at 3:05 pm (65 minutes behind schedule) on October 3, 1979. There was good weather during the visit even though just hours before there were heavy downpours.
2,000 area Catholic elementary school students sang for the Holy Father at the airport. 2,500 people watched the Pope drive by Island Avenue from the Strawbridge and Clothier warehouse. His motorcade went up Broad Street to the Cathedral of Saints Peter and Paul and Logan Circle for a celebration of Mass in front of thousands in person and millions via television. All the major stations carried it.
Since everyone has been talking about the Pope for months, we thought you might like to see part of the Channel 6 (WPVI) coverage of the Pope's visit to Philly on October 3, 1979. This footage was shot at about 4:40 pm and features Action News Anchor Jim Gardner, Jim O'Brien and Father Charles Hagan live from high atop Logan Circle in Center City. Mastered from the station's 3/4" tape, the Real Video version is sharper and clearer and also loads faster.
Watch in Real Video!
Watch in Windows Media!
Pope John Paul II stayed overnight with Cardinal Knol after visiting St. Charles Borromeo Seminary. The next day, the Holy Father visited the shrine of St. John Neumann at 5th and Girard Avenue at 8 am. From there, on to the Ukrainian Cathedral of the Immaculate Conception, 816 Franklin Street, for a Mass Celebration and then to the airport.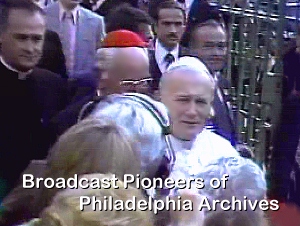 John Cardinal Krol with Pope John Paul II
in the foreground wearing headphones is
WPVI reporter Hank Sperka who is speaking with the Pope
outside of the Ukrainian Catholic Cathedral of the Immaculate Conception
North Franklin Street in North Philadelphia
Thursday, October 4, 1979
According to Channel 6's Hank Sperka, one of the biggest thrills of his career was speaking with Pope John Paul II in front of "Action News" microphones outside of the Ukrainian Catholic Cathedral in Philly. After the service, Sperka yelled across the courtyard to the Pope in Polish, the native language of the Holy Father. Sperka's parents came from Poland, so Hank was familiar with the language. Upon hearing it, the Pope came over to the Channel 6 news reporter and spoke briefly into WPVI microphones. We are proud to archive this historic footage for future generations.
This file was mastered off of original WPVI archival material, encoded from 3/4 inch video tape. In our opinion, the Real Video version is clearer.
Watch in Real Video!
Watch in Windows Media!
This regular monthly column is written and researched by Gerry Wilkinson

MORE DIGITAL ARCHIVAL PROJECT NEWS:
VIDEO: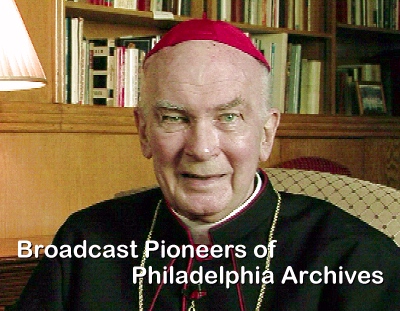 Cardinal John P. Foley
Still from his video acceptance
November 2011
Hilton Hotel City Avenue, 4200 City Avenue, Philadelphia
and played at our banquet on Friday, November 18, 2011
Our Person of the Year for 2011 was His Eminence, Cardinal John P. Foley, a member of the Broadcast Pioneers of Philadelphia and a native to this area. Cardinal Foley recorded a message for us to be played at the banquet as he was too sick to appear in person. It could have been the first time that a video received a standing ovation.
Cardinal Foley while in high school started his broadcast career as an announcer on WJMJ Radio (owned at that time by Broadcast Pioneers founding member Pat Stanton who was our Person of the Year for 1972. For those interested in hearing John Foley as an announcer on WJMJ (he was also a participant on the program), you can hear the show's introduction here.
Cardinal Foley was the Pope's right hand man for many years. In the video below, he tells not only about his broadcasting career, but sidebar stories about the Holy Father.
AUDIO:
Continuing on with the start of Newsradio here in Philadelphia...
11:54:30 am
Listen in Real Audio!
Listen in Windows Media!
The time had come for the all news format to take to the air. Many of you may be familiar with KYW Newsradio today, which had its roots in this initial broadcast on September 21, 1965 at 12 noon. The anchor was Steve Porter and the engineer was Broadcast Pioneers member Ralph "Bud" Galow. At the editor's desk was Fred Walters.
12 noon
Listen in Real Audio!
Listen in Windows Media!
Broadcast Pioneers member Bud Galow mentioned that shortly after 12 noon, he noticed that Broadcast Pioneers member Marciarose Shestack was looking through the studio glass reporting on Channel 3's Eyewitness News (the noon broadcast from 12 noon to 12:30) which had just started three weeks earlier. Marciarose and a camera operator were reporting to the TV audience the beginning of KYW Newsradio. Tom Snyder was anchoring the TV news from Channel 3's air studio.
By the way, Steve Porter left KYW Newsradio to go to WCBS Newsradio. On August 28,1967, Steve was the first voice heard on that all news operation.
On our next audio clip, you'll hear two members of the Broadcast Pioneers, Reggie Lavong and Pat Delsi. It takes place seconds before 5 am on June 19, 1965. This is the on air switch for 1060 on AM radio, when WRCV became KYW Radio. Reggie is the musical host and Pat does the news. In retrospect, it is also fitting that the first bit of programming after the sign-on announcement is a KYW Radio newscast. This is a slightly edited version.
Listen in Real Audio!
Listen in Windows Media!
Remember, History is ONLY What Gets Saved!
(If there were no portraits of George Washington, how would we know what he looked like?)
IN TOUCH WITH THE INDUSTRY:
Alexandria Hoff has joined CBS 3's Eyewitness News team as a general assignment reporter. Hoff has been a freelancer at the station since March. Hoff was most recently a reporter/anchor at WHTM-TV, the ABC station in Harrisburg, Pennsylvania, since 2013. Previously, she worked as an anchor/reporter for WHAG-TV in Hagerstown, Maryland during 2010-2011, where she founded the station's Northern Virginia Bureau.
Hoff's reporting earned her a Mid-Atlantic Emmy Award in 2014 for Health. A native of South Jersey, Hoff is a 2010 graduate of Quinnipiac University in Hamden, Connecticut where she earned a Bachelor of Arts degree in journalism and political science.
Lauren Casey, a Pennsylvania native and Rutgers graduate, joins CBS 3's Eyewitness Weather team of meteorologists this month. Casey comes to CBS 3 from sister station WCCO-TV in Minneapolis where she has been the weekend meteorologist since 2011. Previously, she was the morning meteorologist at WINK-TV in southwest Florida. Casey was born in Lancaster, Pennsylvania, but considers South Jersey, where her family resides, her home. She is a 2006 graduate of Rutgers University where she earned a Bachelor of Science degree in meteorology. Casey holds the Certified Broadcast Meteorologist (CBM) designation by the American Meteorological Society.
Greg Argos has joined CBS 3's Eyewitness News team as a general assignment reporter. A New Jersey native who grew up in Dover, Delaware, Argos comes to CBS 3 from KPHO-TV in Phoenix where he has been a reporter and back up anchor since 2012. Previously, he was a reporter at WCNC-TV in Charlotte, North Carolina and WMBF-TV in Myrtle Beach, South Carolina. Along the way, Argos has earned three regional Emmy Awards and three Associated Press Awards for his reporting.
Argos began his career as a freelance photojournalist and assignment editor at New York 1 cable news in Manhattan in 2007 where his most memorable story was covering the Papal Mass of Pope Benedict XVI at Yankee Stadium in 2008. Argos returns home just in time to cover Pope Francis' historic visit to Philadelphia this September.
Townsquare Media (who owns a dozen radio stations in New Jersey) has made some changes in its corporate management. Filling the newly created Senior Vice-President of Operations are Rob Williams (who came from Greater Media in Boston) and Todd Lawley who was previously Regional VP for Townsquare.
Pinky Kravitz is one of the legends in Jersey Shore broadcasting. For 56 years, Kravitz was the host of "Pinky's Corner on WOND. His last broadcast was this past May 14th just before his heart surgery. Pinky started in broadcasting on WLDB, today known as WBSS, 1490. A couple of years later, he moved to WOND where he stayed for the next half century. Kravitz also had a weekly TV show for a long time on WMGM-TV, Channel 40 in Atlantic City.
WPHL, Channel 17 will air an one-hour 50th Anniversary Special on Thursday, September 17th from 8 pm to 9 pm. The special is a comprehensible history of the station with segments dedicated to each decade - including the years as The Great Entertainer, touching upon Bill "Wee Willie" Webber, Dr. Shock, and Mike Nise's Dancin' On Air (to name a few), the years as The WB with shows like 7th Heaven, One Tree Hill, and Dawson's Creek, and references to their success with sports, news, and the Mummers Parade. There will also be interviews and shout-outs from past employees, radio personalities, and other fun guests.
THIS AND THAT! Little Bits of Information....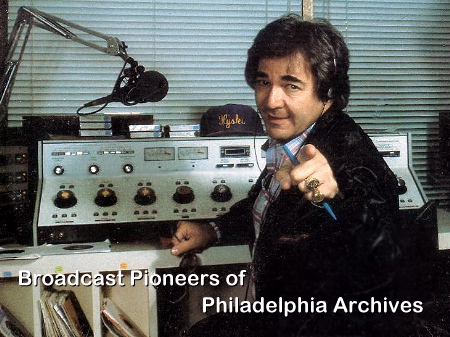 Broadcast Pioneers Member Hy Lit
WRCP Radio, Philadelphia
circa 1982
A WIBG Promotional piece from the sixties said that Hy's favorite type of girl "was one who was up to date with styles." His favorite color was blue and he loved steaks and Caesar salads.
We heard from Broadcast Pioneers member Phyllis Ariano-McGinnis who liked our topics in our last newsletter. She e-mailed:
I just read your Newsletter and had the greatest trip Down Memory Lane that I have had in 50 years! The Handyman Book is that the one I sent you with Jack Creamer's autograph saying something like "To my Cousin," in it. He did exhibit a rather hidden sense of humor at times. Howard Jones, dear soul who used to come to my office and offer such fatherly and helpful advice to this youngster! And gentle Joe McCauley. One of my first duties in the Program Department (at WIP) was to handle all the scheduling and rotating of the Pep Boys' commercials and courtesy announcements after I edited the copy for his Dawn Patrol. Such an easy-going, pleasant person to work with!

Last but not least Tony DeSimone, speaking of talent! He was a great musician. And I liked him so much that twenty years after working with him, I hired his combo to play at my wedding in 1964 at the now defunct Haverford Hotel. As I approach my 90th (birthday) in September, I am so grateful to have known all of them and many more, and it makes me very happy to be able to remember all these wonderful people. I always marvel that there are actually still some around who may remember that far back.
Broadcast Pioneers Vice-President Bill Kelley tells us:
Our own Michael Stairs, Organist with the Philadelphia Orchestra, is involved with musical events during the visit of Pope Francis. In 1971, Michael was an Organist for the 41st International Eucharistic Congress in Philadelphia. Michael is a graduate of the Westminster Choir College in Princeton, and the Curtis Institute here in Philadelphia. He majored in both piano and organ. In addition to studying organ with Dr. Alexander McCurdy, Michael served as accompanist for the Philadelphia Singers, Music Director of the Church of the Redeemer in Bryn Mawr, and Chairman of the Music Department of the Haverford School. Michael was appointed Organist for the Philadelphia Orchestra by Music Director, Ricardo Muti, during his tenure in the 1980's.
Broadcast Pioneers member Don Bustard worked for many years at KYW-TV as a technician. However, the first time he ever visited a television studio (just happened to be WPTZ, Channel 3) was as a paid actor. He was involved in a half-hour drama presentation (done live) of "The Taming of the Shrew." That was July 2, 1947. This may have been the first TV production of this play. By the way, the amount of his check for his acting duties was ten dollars. Of course, ten bucks bought a lot more two-thirds of a century ago.
In the latest issue of Catholic Radio Update, issue 770 that came out yesterday, Mike Dorner wrote a wonderful, historical piece about WJMJ Radio and Broadcast Pioneers founding member Pat Stanton. The publication also reprinted Pat's bio and pix from our website (with our permission, of course). Mike likes to share his knowledge and has given us his blessing and permission to reprint his article in our newsletter. It will start with next month's Broadcast Pioneers Newsletter.

WE REMEMBER:
Josie Lecks, 86, of Haverford, passed away at the end of July. She was the widow of Leonard E. Lecks, a cardiologist who practiced at Thomas Jefferson University Hospital for more than 30 years. Josie was the granddaughter of Joseph Salus, a banker. The Salus family also produced several prominent lawyers, including Samuel W. Salus, a Pennsylvania state senator from 1911 to 1938. She was involved in some early television productions during the forties.
Tony Verna, 81, passed away earlier this year at his Palm Desert, California home. Tony worked at WFIL-TV on the original Bandstand shows and at WCAU-TV where he worked on such programs as "The Big Top." Tony made history on December 7, 1963. It was the classic Army-Navy game. Verna came up with the idea to re-play a key game play. This was the beginning of the instant replay. Verna didn't know whether it would work until they played it on the air. It changed TV sports forever.
Singer and songwriter Danny Sembello drowned in the Schuylkill River last month. He wrote songs for Patti LaBelle, Chaka Khan, the Pointer Sisters and Jeffrey Orborne and won a Grammy for the Beverly Hills Cop soundtrack. He was 52 years old.
Former WFIL Boss Jock Dave "The Rave" Parks passed away last month after a short illness. Dave was one of the original DJ's on Famous 56. Parks later went on to be the program director for KS103 in San Diego, California. At press time, no further details were available.
ON THE HEALTH FRONT:
Broadcast Pioneers Vice-President Bill Kelley tells us:
Les Waas, a faithful and talented member of Broadcast Pioneers and Board Member for more than 40 years, has taken a fall in his home and fractured his pelvis. He is now recovering at the Sunrise Assisted Living located at 1801 Susquehanna Road in Abington, Pa. 19001. Les can be reached at 267-808-4567. In the seventies, Les served as President and later Chairman of the Board of this organization.
VCRs AND OTHER EQUIPMENT:
We are still looking for a few, good VCRs to be donated to us. Without good playback equipment, we cannot continue to digitize our video archive. Major companies like Sony and Panasonic no longer make stand alone VCRs. We are waiting for someone to donate a good condition playback machine so that we can continue the our digitalization process. The cheap VCR/DVD player combos that are on the market today do not contain the proper electronics to correct record errors during playback, so we must rely on older machines to get good dubs.
If you have a VCR to donate, contact us at (856) 365-5600 or e-mail us at: pioneers@broadcastpioneers.com. Remember, for the next twenty years or more, we will be receiving donations of VHS tape for our archival project. You have to have something to play them on, you know. So, please keep us in mind as you continue move over to HD and DVRs.
THANKS FOR THE MEMORIES:
Broadcast Pioneers member Frank Ford with Pope John Paul II
The Vatican, Rome
Spring 2000
Spokesman for Two Popes!
With all the news about the current Pope visiting the City Brotherly Love, Broadcast Pioneers Board Member Ed Eisen recalls this for us:
When my grandson was nine, he asked me: "Grandpop … who do you know who's famous?" Jacob knew I had been a journalist. But he didn't understand how my work had given me a front row seat to history.

I rattled off a long list of names —among them a president, two popes, a world boxing champion, a Nobel Prize winner and more. Jacob looked at me blankly. He didn't recognize any of them. Yet one story keeps prompting questions. People ask me: How did an Orthodox Jew, son of a janitor, become a spokesman for two popes?

The two popes were Pope Paul VI and Pope John Paul II. Truth be told, I never met either of them, never sought to kiss their rings. Yet I had everything to do as their spokesperson delivering the messages that brought a million pilgrims to Philadelphia from August 1 to August 8, 1976. Among them, Mother Teresa, President Gerald Ford, Princess Grace Kelly of Monaco and some of the world's most outspoken critics of the former Soviet Union. The event for which I labored for 18 months was the 41st International Eucharistic Congress, the first time in 50 years this huge spiritual assembly was held in the United States.

While for many, the events of 1976 were focused on the events of the Founding Fathers in 1776, Catholics worldwide celebrated their faith with the week-long Eucharistic Congress. The theme: Hungers of the Human Family. Because of failing health Pope Paul VI remained in Rome. In his place came the papal legate, a man not quite yet a household word, Polish Cardinal Karol Wojtyla. The week's events included lectures, workshops, exhibitions, and Eucharistic liturgies conducted at the city's civic center, and JFK Stadium. In all, one thousand members of the news media gathered from all over the world including major national and foreign TV networks and media from as far away as Australia.

My involvement with the Congress became an odd confluence of circumstances. In 1974, I joined one of the largest advertising and public relations agencies in the city, Gray & Rogers. The workforce — from graphic designers to corporate PR personnel — were primarily from Catholic backgrounds. I was the token Jew. The agency was a major contributor to Catholic charities but when the Vatican announced that Philadelphia would be the host city for the event, Gray & Rogers was required to bid on the contract like scores of other agencies throughout the country. Gray & Rogers won.

In so doing the company charged me with the responsibility for worldwide media relations for the Congress. When I was asked to take on this assignment, I pictured my Polish immigrant father — janitor at night, cantor without portfolio on weekends — asking what propelled me to accept such an offer. "But Eddie," he would say. "You had your Bar Mitzvah in an Orthodox Jewish synagogue in Camden. "You were always devoted to our traditions. How could you suddenly decide to go outside your faith?"

Yet Pop never forgot that in his youth, growing up in Detroit, it was a Catholic priest who took him in and fed him when he was homeless and destitute. He never forgot this charity and would retell the story frequently.

What prompted Gray & Rogers to single me out for such a role, a role perhaps better suited for those who went to confession, attended Mass regularly, had undergone infant baptism?

Dave Ferrell, Vice President for Public Relations at the firm, put it this way: "Ed, the church agreed that you were the right man for the job because you would be dealing with the news media on a regular basis. They were not looking for someone seeking to kiss the ring of the Pope. They were looking for someone who
could deliver instant credibility in that role." My years as a reporter with The Philadelphia Inquirer and earlier as an editor and bureau chief with The Ft. Lauderdale News, accomplished that, he said.That, he explained, along with the fact that Jesus, the founder of the faith that grew into Catholicism, was a Jew."

As it turned out, it was not me, but Dave Ferrell, a Catholic, who traveled to Rome, to meet Pope Paul VI. Nevertheless, if history bears me out, I became the first person of the Jewish faith to represent the Vatican. My mission: to create a worldwide buzz about the Congress that would propel people to journey to Philadelphia during the Bicentennial year, to fill hotel rooms, to participate in a huge final Mass on August 8th. In all one million participated.

Yet something unexpected happened on the night before the Congress was to launch. Something that had the potential to throw into a tailspin 18 months of planning and millions in expenses. On the night before the Congress, my colleagues and I were preparing the media headquarters in the basement of the cavernous Civic Center. I took a telephone call from CBS-TV.

The male voice on the other end of the phone proceeded to ask if we were making any plans to cancel the event. I was stunned by the question. It was a question posed from the most respected broadcast journalist in the business, Walter Cronkite. "Six people are already reported dead from Legionnaires' disease in your city. There may be more," he said.

Cronkite said the source was apparently coming from those staying in rooms at the Bellevue-Stratford Hotel. Later, we would get the news that 29 people had died ingesting bacteria emanating from the cooling systems of the hotel. The contagion came to be called American Legionnaires Disease.

It was the first time I had ever spoken to Walter Cronkite. And also the last. I told him that we had no plans to cancel the Congress. The miracle of all this is that none of those booked at the Bellevue for the Congress contracted the disease.

Several months before the Congress I received an unexpected visit at Archdiocese by two Secret Service agents. We were anticipating a visit by President Ford on the day of the final Mass on August 8. The agents wanted to know how carefully we were vetting members of the news media.

Two assassination attempts had been made on the President's life in September of 1975. Nearly 1,000 reporters and cameramen had applied for access to restricted seating at JFK stadium and use of our media facilities at the Civic Center. Using nuns as part of our press team, we were scrupulous in checking credentials. And there were no incidents.

Air Force One arrived at Philadelphia International Airport on the morning of August 8. I was there overseeing a throng of newsmen and photographers as the 38th president disembarked. He had become known as the "accidental president" for two reasons.

One was his pardoning of Richard Nixon two years earlier in the Watergate scandal, a decision that lost him considerable public support. The other was that Ford was constantly doing clumsy and awkward things in front of the TV cameras. For example, he slipped on the steps coming out of Air Force One. Several times when he was playing golf, he hit the ball into the gallery of spectators—once hitting a lady on the head. While playing doubles in tennis, he hit his partner on the head with the ball. Even SNL did a piece spoofing the president for his clumsiness.

On this particular day the media was looking to catch Ford in another oops moment. That didn't happen. He was asked whether he believed he would beat his rivals in the election that November. Ford grinned. But in the end Jimmy Carter defeated the "accidental" president, keeping him from becoming the 38th president on his own right.

Perhaps the most memorable moment in my experience with the Congress occurred a year earlier when I shared a bowl of chicken soup with Mother Teresa in a private meeting at the Archdiocese of Philadelphia. The beloved Roman Catholic nun from the streets of Calcutta was in the city raising funds for the Missionary Sisters of Charity. At 65, she looked tired but as she spoke of her work, of the needs of the poor all over the world, I sensed her passion, her singular mission, the earnestness of her appeal.

"There are thousands of people right here in Philadelphia who are forgotten, unwanted, hungry for love. Love them," she said. I remember telling Mother Teresa that I was Jewish. "That's wonderful," she smiled. "The founder of our faith was also a Jew. As Christians we have much with which to thank our Jewish friends."

It was still in the room after that. For me, it was a life defining moment to hear from the nun from Calcutta speak so. And for a moment in time I imagined a halo about her head. "The good you do may be forgotten tomorrow," she said. "Do good anyway." Meeting Mother Teresa on that cloudless day in April defined my mission for the Congress as if sirens had just gone off in my soul.
The Girl Next Door!
This was written by Broadcast Pioneers member Bob Jawer almost two-thirds of a century ago. Bob served on our Board of Directors for many years. He was inducted into our Hall of Fame in 1995. Bob passed away in 2013. He was married twice. The first time to Broadcast Pioneers member Lynne Barrett (who will be inducted into our Hall of Fame on Friday, November 20th). Lynne told us that Jawer wrote this in 1950.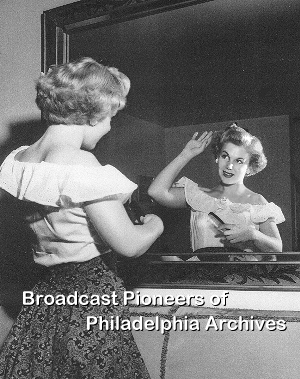 Here's what Bob wrote:
I Married the Girl Next Door
...........A True Confession

Bob Jawer, Sales Representative, WPTZ

I hasten to point out however, that during the ten month courtship period, that title hardly applied. You see, Lynne Barrett was living in Jenkintown and this gay blade was residing way out in Merion. I think it was my Chevy that first planted the idea of marriage in me, when it turned and said "Listen, Mister, why don't you marry the girl and stop chasing me back and forth."

Marrying Lynne was the best thing that could have happened. You can easily see the reasons why when you tune in her program (The Girl Next Door) on Channel 3 any Sunday at 1:00 P.M. There's warmth, sincerity and a me-to-you approach that is so important in this field of entertainment called television. And I don't believe I'm being prejudiced, either!

Broadcast Pioneers member Lynne Barrett
5 Years Old at a Dance Studio
1932

That same natural, friendly personality that you see on your screen invades our home life as well. There are several things that one must become adjusted to, however. For example, Lynne loves to practice her songs in the bathroom with the water running full blast! I've never questioned her reasons why. Just so long as it's not the hot water that's turned on.

Then too, Lynne is completely mad for ice cream any time of the year. Preferably chocolate and vanilla mixed. If it weren't for my wife, I do believe the neighborhood drug store would have been out of business long ago.

You'd think that tending to household chores, keeping a husband happy and preparing a weekly television show were enough to keep any girl busy. But no, there's the matter of McFuffen P. Jawer, our cocker spaniel. We call him "Fuff" for short, but I think the name "Little Devil" would be more appropriate.

Our biggest disappointment with this little imp is the fact that, while he is extremely affectionate to both of us, he simply ignores his mistress' voice and picture every Sunday afternoon at 1:00 P.M. The only concession Fuff has made to television in general is his handing us his paw when we say, "Howdy Doody."

Broadcast Pioneers members Bob Jawer and Lynne Barrett
with children Bruce and Judy (and dog Fuff)
at the home in Elkins Park, Pennsylvania
1954

A number of people have asked me from time to time how it feels to be married to a television star. (Lynne would make a sour face at the mention of that word). My answer to that question is simply this; "wonderful." But between you and me, however, there is one small problem. It's the competition I have with Lynne's fans.

They range from college fraternities who have made her TV Campus Queen, to the small fry. For example, a day would not be complete if Lynne didn't have to get up from the dinner table to receive a handful of flowers presented to her by a neighborhood child, or be asked to give the visiting guest an autographed photograph. During these moments, I am completely ignored by one and all.

The payoff came several days ago, however. I was taking Fuff for his evening airing, and we had stopped at one of his favorite trees. It was then I had the strange feeling that somebody was watching me. Sure enough, across the street stood a little tyke staring intently at me. "Say," sez he, "aren't you Lynne Barrett's father?"
What was on TV on Saturday, July 14, 1956!
7:55 am
WRCV-TV - Thought for Today with Rev. D. Ingram Cloud that day
8 am
WRCV-TV - Farm Report with Pat Landon
WCAU-TV - The Saturday Morning Western (Wild Brian Kent from1946)
8:30 am
WFIL-TV - The Christophers
9 am
WRCV-TV - Scott and the Mechanical Man (Alan Scott and Mr. Rivets)
WFIL-TV - TV Garden Club with Howard Jones (aka Happy the Clown)
WCAU-TV - Our Gang Theater
9:30 am
WFIL-TV - Serial Theater
Space Soldiers Conquer the Universe, Chapter 9 (Flash Gordon)
9:45 am
WCAU-TV - Superman (Cartoons not the live action TV Show)
10 am
WRCV-TV - Howdy Doody (with the Gumby adventure, "Mirror Land")
WCAU-TV - Carny the Clown (Space visitors land at Carny's playground)
10:15 am
WFIL-TV - Fun at the Zoo
10:30 am
WRCV-TV - I Married Joan (episode was "The Business Executive")
WFIL-TV - It Happened This Week
WCAU-TV - Mighty Mouse (3 cartoons shown)
11 am
WRCV-TV - Fury (with Peter Graves)
WFIL-TV - Tom's Foolery with Tom Moorehead
WCAU-TV - Cartoon Theater (including Heckle and Jeckle)
11:30 am
WRCV-TV - Uncle Johnny Coons (with 1929 silent film "Crazy Doings")
WCAU-TV - Tales of the Texas Rangers (episode was "Man from Sundown)
12 noon
WRCV-TV - Captain Gallant (with Buster Crabbe)
WFIL-TV - Favorite Film Playhouse (with 4 different feature films) (5 and a half hours long)
WCAU-TV - The Big Top (featured acts included The Skytones, The White Clouds & The Ferroni Duo)
12:30 pm
WRCV-TV - Charm School (Show for Women)
1 pm
WRCV-TV - Hollywood Playhouse ("Once a Thief" from 1950)
WCAU-TV - The Lone Ranger (episode was "Buried Treasure")
WPFH-TV (Channel 12) - Movie
1:30 pm
WCAU-TV - The Adventurer
1:45 pm
WRCV-TV - Invest in America (discussion show)
2 pm
WCAU-TV - Excitement Theater (British movie double feature) (runs 2 hours)
WPFH-TV (Channel 12) - The Mitch Thomas Dance Show
2:15 pm
WRCV-TV - Baseball Preview with Herb Carneal (later became the voice of the Twins)
2:30 pm
WRCV-TV - Baseball - Phillies & The Redlegs in Cincinnati
4 pm
WCAU-TV - Boston Blackie (with Kent Taylor)
4:30 pm
WCAU-TV - Gene Autry (episode was "Portrait of White Cloud")
5 pm
WRCV-TV - Horse Race - (Maurice Tobey reports from Oceanport, NJ)
WCAU-TV - Sky King (episode was "Designing Women")
WPFH-TV (Channel 12) - Matinee Theater ("Torture Ship" from 1939)
5:30 pm
WRCV-TV - My Little Margie (episode was "The New Freddie")
WFIL-TV - The Gabby Hayes Show (last show of the series)
(Note on the NBC-TV version of this series, the floor manager was Fred Rogers (Mr. Rogers)
WCAU-TV - Annie Oakley (episode was "Annie Gets Her Man")
6 pm
WRCV-TV - The Fun House with Pete Boyle
WFIL-TV - News with John Roberts
WCAU-TV - The Count of Monte Cristo (episode was "The De Berry Affair")
6:10 pm
WFIL-TV - Weather with Dr. Francis Davis
6:15 pm
WFIL-TV - Sports with Tom Moorehead and Harry Wismer
6:30 pm
WFIL-TV - Mr. and Mrs. North (episode was "Maternity, Third Floor")
WCAU-TV - Headline (with Mark Stevens and Trudy Wroe)
WPFH-TV (Channel 12) - News and Sports
6:45 pm
WPFH-TV (Channel 12) - Industry on Parade (3 short films)
7 pm
WRCV-TV - Assignment: Philadelphia
WFIL-TV - Studio 57 (episode was "Vacation with Pay")
WCAU-TV - Name That Tune (with George DeWitt) (Red Benson hosted this show previously)
7:30 pm
WRCV-TV - Down You Go (Game Show with Bill Cullen, Jayne Mansfield and Arthur Treacher)
WFIL-TV - Ozark Jubilee with Red Foley
WCAU-TV - Beat the Clock with Bud Collyer sponsored by Sylvania
8 pm
WRCV-TV - The Julius LaRosa Show (with Georgie Gibbs and Captain Kangaroo)
WCAU-TV - The Jackie Gleason Show (The Honeymooners) (Re-run of episode "A Matter of Record)
WPFH-TV (Channel 12) - Feature Theater (Double Feature)
8:30 pm
WCAU-TV - The Stage Show with the Dorsey Brothers Orchestra & the June Taylor Dancers
9 pm
WRCV-TV - People Are Funny with Art Linkletter
WFIL-TV - The Lawrence Welk Show
WCAU-TV - Two for the Money - Sam Levenson fills in for host Herb Shriner
9:30 pm
WRCV-TV - Festival of Stars (episode was "!2 to Eternity")
WCAU-TV - The Russ Morgan Show (Summer replacement show)
10 pm
WRCV-TV - Encore Theater (reruns of the previous season of the Ford Theater series)
WFIL-TV - Masquerade Party (Jeanette MacDonald fills in for Ilka Chase)
WCAU-TV - Gunsmoke (episode was "Chester' Mail Order Bride")
10:30 pm
WRCV-TV - Adventure Theater (starred Paul Douglas, former WCAU announcer)
(summer replacement for "Your Hit Parade")
WFIL-TV - Ford Film Theater (Passport to Destiny from 1944) (runs 90 minutes)
WCAU-TV - Turning Point with Gig Young and Peter Graves
11 pm
WRCV-TV - Confidential File (Documentary - series ran for 6 years)
WCAU-TV - News with John Facenda
WPFH-TV (Channel 12) - News and Sports
11:05 pm
WPFH-TV (Channel 12) - Evening Playhouse ("The Rossiter Case" from 1951)
11:10 pm
WCAU-TV - Sports with Bill Campbell
11:15 pm
WCAU-TV - Summer Festival ("The Flame" from 1947)
11:30 pm
Continental (Rerun of the CBS series aimed at women starring Renzo Cesana)
11:45 pm
WRCV-TV - Tooner Schooner Party (music with Charlie Dobson, Lynne Barrett and Tony De Simone)
12 midnight
WRCV-TV - Saturday Night Playhouse ("Lucky Nick Cain" from 1951)
WFIL-TV - News with John Roberts
12:10 pm
WFIL-TV - Weather with Dr. Francis Davis
12:15 pm
WFIL-TV - Night Owl Theater ("Mr. Wong, Detective" with Boris Karloff from 1938)
1 am
WRCV-TV - Thought for Today with Rev. Joseph Waldron

Our Annual Banquet!
Friday, November 20, 2015!
Our "Person of the Year" &
"Hall of Fame" Inductees!
TICKETS ON SALE NOW!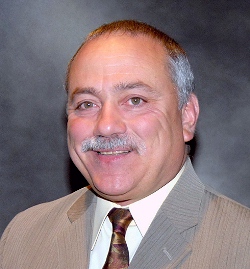 Bob Pantano
Broadcast Pioneers' 2015 "Person of the Year"
Broadcast Pioneers member Bob Pantano is the host of the Saturday Night Dance Party in Philadelphia on 98.1 WOGL. This is the first and longest running radio dance party in the nation, now celebrating 38 years.
Bob Pantano, a South Philadelphia native, started spinning at the record hops in the late 1960s and then the nightclubs in the 70s. His professional radio career began on WCAM in Camden, New Jersey in 1971. Bob pioneered the live-radio broadcast, The Saturday Night Dance Party, in 1977, which airs every Saturday night live from 7:00 p.m. to 2:00 a.m. and has enthralled and entertained Philadelphia audiences with its upbeat dance music.
"Hall of Fame" - Living Inductees
Lynne Barrett, TV personality & voice over announcer from the 40s to the 70s
Tracy Davidson, NBC 10 News Anchor & Reporter & 6-time Emmy Winner
Jim Donovan, CBS 3 Consumer Affairs Reporter & 13-time Emmy Winner
Harvey Holiday, 98.1, WOGL Air Personality for the last quarter century
Dick Kearney, former WCAU Cameraman Extraordinaire & Emmy winner
Lauren Lipton, currently, the KYW Newsradio Morning Drive News Editor
Marian Lockett-Egan, advertising guru & former leader of Broadcast Pioneers
Al Primo, the person who changed television news across the nation forever
Pierre Robert, long-time radio DJ & air personality on 93.3, WMMR Radio
Karen Rogers, morning Traffic/Weather Anchor for Action News, 6ABC
Joe Tarsia, founder/owner of Sigma Sound Studios with 100s of Gold Records
Marlin Taylor, father of the "beautiful music radio format & former PD at WDVR
"Hall of Fame" - Posthumous Inductees
Don Cannon, former radio air personality at several different stations in town
Mark Drucker, KYW Newsradio reporter, former newsman for John DeBella
Aldo Farnese, former TV Children's Air Personality on WKBS & Channel 29
Dick Heist, suburban station announcer/air personality for many decades
Helen Pulaski Innes, WIP's first female Program Director & that was in 1922
Lee McCarthy, former NBC correspondent & Channel 29 news anchor/reporter
Wynn Moore, former radio talk show host at several stations in Philadelphia
Cozy Morley, popular Southern New Jersey entertainer, musician and comedian
Karin Phillips, former KYW Newsradio, 1060, community affairs reporter
Art Szcykalski, former WPHL, Channel 17 Manager of Engineering & Operations
Tickets on SALE Now!
Prices are $88 for members (each member can buy ONLY one ticket at the member price) and $98 for everyone else (including spouses, friends and guests). The event will once again take place at the Hilton City Avenue, 4200 City Avenue, Philadelphia. The date is Friday, November 20th. The reception is at 6 pm and dinner is served at 7 pm. Doors open at 5:45 pm. Cash bar all night long. Valet parking is $10. Event lot parking is $5. Make plans to be there! A major portion of the ticket price may be deductible on your federal income tax. Ask your tax advisor for details! Tickets must be purchased in advance. Absolutely no tickets available at the door.
We Wanna See Your Face in That Place!

OUR HATS OFF TO YOU:
Special Thanks for April 2016 Scholarships:
Member Dan Lerner - 5 scholarships
Member Sylvia Kauders - 1 scholarship (from a grant for 5 yearly scholarships running until 2019)
Member Harry Hurley's Golf Tournament - 1 scholarship (for a South Jersey resident or student)
Member Johnny B. Hall and his wife, Ginny - 7 scholarships
Member Kal Rudman - 5 scholarships (for Temple University students)
Members Robin and Ira Adelman and Robin's Dad, Leon Love - 1 scholarship
Special Thanks for contribution of $1,000 or more to our DAP, Digital Archival Project:
Member Johnny B. Hall and wife Ginny - $3,000
Member Marlin Taylor - $1,000
Member Harry Hurley's Golf Tournament - $1,000
Member Glenn "Hurricane" Schwartz - $1,000
Special Thanks for a contribution of $500 or more to our DAP, Digital Archival Project:
Member Esther Kurtz - $500
Member Art Moore - $500
Member Rod "Storm" Phillips - $500
Underwrite a complete scholarship and we'll give you credit in the electronic newsletter until the scholarship is awarded in April of 2016. Give us a donation of $1,000 or more and we'll list you in our "Thank You" column for a year. Give us a donation of $500 or more for our Digital Archival Project and we'll list you in our "Thank You" column for six months.
More Thanks:
Special thanks to member Johnny B. Hall who donated an extra $250 this month to our Digital Archival Project. He already donates $250 each month to the project on a regular basis.
Members have been including an extra contribution when they send in their membership dues. This month, those members include: John Kahler and Bob Perkins.
A growing portion of the revenues that fund the different activities of the Broadcast Pioneers comes from donations. This includes our archival project and our scholarship program. Now, we are making it even more beneficial for our donors. Broadcast Pioneers is now able to accept gifts of appreciated stock, which provides a significant tax benefit to you. By giving appreciated stock (stock which is worth more now than what it cost when it was purchased), you can get a charitable contribution tax deduction based on the current market value of your stock. At the same time, you avoid the capital gains
tax that would arise if you simply sell the stock. So if you'd like to support our educational mission or our archival project and save money on taxes too, please consider making a gift of appreciated stock. We are a federally recognized, state chartered charity with a 501(c)(3) status. Contact us at (856) 365-5600 or e-mail pioneers@broadcastpioneers.com for more details.
Don't be left out. You too can make a pledge. It's never too late. You can earmark it for scholarships, our Digital Archival Project or our general fund. Thanks so much for your support.
Our special thanks go to TUTV - Temple University Television and The Kal & Lucille Rudman Media Production Center.

They have underwritten a grant to be used to fund an entire year of all our newsletters for calendar year 2015. We thank them so much for their support!
If you forgot to make an extra contribution (cash or memorabilia) and would like to do so now, it's never too late. We would be thrilled to hear from you at: PO Box 2886, Bala Cynwyd, PA 19004 or call us at (856) 365-5600.
A FINAL THOUGHT....
"Shortly after KYW Radio switched to all news, a lady called the station and spoke with me. She asked if I could play a specific record for her, and I told her, 'Sure, we'll get it on right after the news.'"
Broadcast Pioneers member Dick Covington
at a Broadcast Pioneers Luncheon
2002
Please contact us by e-mail at newsletter@broadcastpioneers.com or by mail to: Broadcast Pioneers of Philadelphia, PO Box 2886, Bala Cynwyd, PA 19004. Your stories are important, to you, to us, and your colleagues. Contact us today and we'll include your story in the next newsletter!

© 2015, Broadcast Pioneers of Philadelphia
All Rights Reserved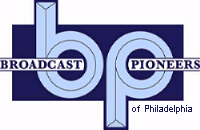 The e-mail address of the Broadcast Pioneers of Philadelphia is pioneers@broadcastpioneers.com
For luncheon reservations call (856) 365-5600 or e-mail us at: rsvp@broadcastpioneers.com