Visit Our Website Often - http://www.broadcastpioneers.com

The October luncheon was a fascinating glimpse into the world of "How Broadcast Stations Cover Elections." The panel hosted by Jay Lloyd featured Bill Baldini, Irv Homer, Bill Roswell, Terry Ruggles, Marciarose Shestack, and Dawn Stensland. They shared their memories of election coverage with over a full house of Pioneers and guests. The audience thoroughly enjoyed the valuable insights, some frank, and often humorous as they described, "how it was done back then" and "how it's done today."
At our October Board meeting, we updated our officers & board on the success of our organization and we wish to share this information with our members too.
A report was presented regarding our 7th annual College Student Symposium hosted by NBC 10. A sell-out crowd of students participated in the event co-hosted by Associate Professor Paul Gluck of Temple University and former news director at Channel 10 and Broadcast Pioneers Chairman of the Board Bill "Wee Willie" Webber. Gluck serves on our board. The students listened to a variety of presentations by NBC 10 staffers and on-air personalities that contained powerful messages for the students. Complete audio is available on our website.
Attention students and friends of students. Broadcast Pioneer scholarships can now be applied for online. Scholarships are available to college students majoring in communications, public relations, journalism, advertising, promotion and other associated fields. Each grant is for $1,000.
The new 2008-2009 Membership Directory is printed and has been mailed to all our members.

Membership is at an all-time high with 327 members.

Just like last year, the new year of 2008-2009 showed no increase in either dues or the cost of our luncheons.
In touch…
Broadcast Pioneer Jim Nettleton has checked in to let us know he celebrated his 50th anniversary in broadcasting in September. He continues to do voiceover work and running the Internet radio station, RadioPhillyStyle.com, featuring oldies of the 50's and 60's and lots of Philly music. The station now has listeners in 61 different countries and 205 American cities. Congratulations Jim!
Pioneer Dave Michaels, President of DMO Productions (and our luncheon sound board guru) is headed to Cancun, Mexico for some R&R. Dave tells us that he's "going to interview the dolphins for 10 days." Enjoy Dave!
Pioneers Captain and Mrs. Noah, a.k.a. Pat and Carter Merbreier have been busy as they helped the Phillies luck dramatically change for the better on the night of August 22nd, when they threw out the "first-ball" to the Philly Phanatic for the LA Dodgers-Phillies game. And look what happened, now they're World Champs!
Our favorite Captain and his first mate were among those honored at the "Celebration of Grandparents" at the Hyatt Regency on Sunday, October 5th. Couldn't have happened to two nicer people!
The dramatic arrival of Mrs. Noah's puppet crew at the new Please Touch Museum in Fairmount Park, was featured on a Channel 6 special on Sunday October 19, at 7 pm. Arriving in their own limo, the six television star puppets were paraded on red-silk cushions to their new lifetime home in the rebuilt, original archived TV set, in the extraordinary Magical Ark exhibit in the museum for children at Memorial Hall. "Maurice the Mouse" speaking to the press, noted, "it's so thrilling to be museum-ized while one is still alive!" The "magical ark" will continue to thrill thousands of children for many, many years. The legends continue!
On the Health Front!
Terry Ruggles, a reporter for NBC 10, 2007 Hall of Fame Inductee and Broadcast Pioneer is battling testicular cancer. What he thought was a pulled muscle pain from his daily 3 mile, run turned out to be a hard spot on one of his testicles. He has undergone surgery and is considering whether to proceed with chemotherapy. A confident Ruggles puts it best. "Cancer is treatable and beatable." The Pioneers are pulling for you Terry!
We've heard from Bud Galow's step-son Steve, who tells us, "Bud is doing wonderfully with his new hip. Bud was in Willow Ridge Rehab Center in Willow Grove and was expected to return home in early October." Keep up the good work Bud!
Bobby Kravitz is back to work as an NBC10 "sky high" camera- person, after recovering from bladder cancer. The tumor was removed on 10/10/08 and Bobby's back in the sky! He tells us, there is a 98% recovery rate and 4 out of 4,000 men in the U.S. will contract the disease, however it is still one of the least known cancers. Bobby and his bride Sue just celebrated 36 years of "wedded bliss". Go Bobby Go!
More in touch!
Broadcast Pioneers Chairman Bill "Wee Willie" Webber was featured at a Japanimation Retrospective on Saturday October 11. Bill was the original host on Channel 17 back in the 60's and 70's, showing Speed Racer, UltraMan, Tobar the 8th Man, Marine Boy, the Japanese Spiderman and many others. He shared anecdotes about his days as a kids cartoon host and took the audience back to their childhoods, while introducing a new generation to these wonderful cartoons. Be sure to catch Bill's radio show on 1340AM, Martini Lounge Radio. Way to go Wee Willie!
Broadcast Pioneer member R.A. Campbell tells us what he's been up to. Now retired to Mexico, he was an announcer at WFLN (AM and FM) in the 1960's and 70's. He helped to establish Hawaii Public Radio. In the 70's and left in the mid 90's to manage a station in Texas. Currently, he's presenting classical and beautiful music on the Internet via LIVE365.com. Glad to hear from you!
In our October newsletter, we noted the release of Broadcast Pioneers member Al Primo's book, "Eyewitness Newsman." We recently received a copy for the Broadcast Pioneers archives and are pleased to report it's a fascinating read. The introduction to the book is written by James Brady, who is also an author and writes regularly for Parade magazine and Forbes.com.
In the introduction Brady writes, "Albert T. Primo took his undergraduate BA degree from the University of Pittsburgh and as a kid was hired by KDKA-TV. At KYW-TV in Philadelphia in 1965, he came up with his inspired idea (Eyewitness News), which allowed reporters on the set to report their own stories directly to the audience instead of feeding information for the anchor…. In 1968, he departed for New York's WABC-TV... By 1972, Primo was the youngest corporate VP ABC ever appointed and two years later joined ABC News as executive producer of "The Reasoner Report." The book is available at Amazon.com and at eyewitnessnewsman.com.

More In Touch...
It was October 1967. Bill Wright Sr. was a 29 year old successful deejay known as one of the "Wibbage Good Guys." Liz Matt was a 16-year old junior at St. Basil Academy in Fox Chase, PA. The beginning of her broadcasting career was still 7 years into the future.
Bill and Liz met on the stage at the (now demolished) Sears St. Davids' store, where Bill was the host of the Miss Teenage Philadelphia Pageant and Liz was a finalist competing for the "big show"- the chance to represent the region at the Miss Teenage America pageant to be held in Dallas, Texas a month later. Liz did not win. But the winner, Barbara Sigel of Rosemont, went on to Hollywood after coming in 3rd at the national pageant.
Fast forward almost 41 years, to the Broadcast Pioneers meeting in May. Bill and Liz chat briefly and she mentioned she had found a copy of the pageant program among her high school memorabilia and promised to send a copy to Bill. Prior to doing that, with her curiosity piqued, Liz began research on Google the other finalists from the contest. By August, Liz had found all 16 contestants. Bill, Liz and three other finalists had a mini reunion at a restaurant in Bala Cynwyd. At the reunion, Bill brought his own pictures of the pageant, which he had after 41 years. We understand that Bill was very happy to be surrounded by women who never forgot his part in a big night from their teenage years. Nice going, Bill and Liz!
We are happy to report that Pioneer member Charlie Gracie has had his name added to the Philadelphia Walk of Fame on the Avenue of the Arts! Others inducted that day were Dee Dee Sharp, Billy Paul, Tammi Terrell and Clifford Brown. Charlie is now headed for England where he headlines the Liverpool Empire and will receive more honors from that city famous for his influence on Rock's biggest group, The Beatles. Congratulations Charlie!
StudioTEN Creative Group, NBC 10's brand new full service production company is having an open house on Thursday November 6 ,2008, 4-8pm in their new facility at 10 Monument Ave., Bala Cynwyd, Pa. Register by e-mail at: rickg@vcafusion.com or call Rick Gamble, 732-236-3876. The event is free.
A final thought...
"Are we a baseball town or a football town? Who cares, we're a great sports town."
Bill Campbell
2008 Broadcast Pioneers Person of the Year

© 2008, Broadcast Pioneers of Philadelphia
All Rights Reserved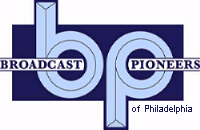 The e-mail address of the Broadcast Pioneers of Philadelphia is pioneers@broadcastpioneers.com
For luncheon reservations call (856) 365-5600 or e-mail us at: rsvp@broadcastpioneers.com