The Broadcast Pioneers of Philadelphia is a federally recognized, state chartered charity. We are a 501(c)(3) non-profit corporation serving Philadelphia since 1962.

Frank Stone
Newsletter Editor

March Luncheon
Bala Golf Club
Wednesday, March 17, 2010

Reception at 12 noon
Lunch at 12:30 pm
Ratecard: $25 per person
RESERVATIONS REQUIRED!
(856) 365-5600
rsvp@broadcastpioneers.com
If you think the February luncheon was a smash hit, hang onto your hats and get ready for "40 YEARS OF ACTION NEWS" on Wednesday, March 17th. So Make your reservations now! Sure to be another blockbuster luncheon, you just can't miss this one! It's bigger than the other one!
Our moderator will be Broadcast Pioneers member Larry Kane, who anchored the very first Action News broadcast on Monday, April 6, 1970..
The panel will feature:
Mike Davis, the genius behind those promos like "There Goes That News Van"
Marc Howard, Action News anchor for a quarter of a century
Lew Klein, longtime Channel 6 Executive/co-owner of Gateway Communications
Steve Levy, Anchor and Sports Reporter for Action News, 1975 to 1981
Monica Malpass, currently, the 5 pm WPVI-TV "Action News" Anchor
Matt O'Donnell, current weekday morning Anchor for "Action News"
Joe Pellegrino, former Sports Director for the station, 1976 to 1982
Don Tollefson, former Sports Director and anchor for 15 years at WPVI-TV
Broadcast Pioneers Board Member Bob Kravitz, photojournalist for Action News for decades will provide introductory remarks. Plus, live on the phone from his home in South Carolina will be "Action News' First Meteorologist," Dr. Francis Davis. Make your reservations now by calling (856) 365-5600! Snooze and you loose!
Plus laughs a minute with Les Waas telling us all about the "Best Kept Secret of the Broadcast Pioneers." Les is a former president of this organization so he should know (but in reality, does he?)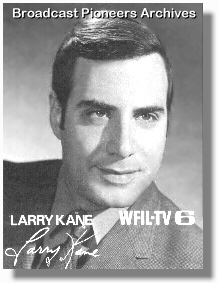 Broadcast Pioneers member Larry Kane
Official WFIL-TV Publicity Photo
circa 1970
It all takes place on Wednesday, March 17th at the beautiful Bala Golf Club, 2200 Belmont Avenue, Philadelphia. Just minutes away from Channels 6, 10 and 17 and the radio stations in Bala Cynwyd. Tons of FREE parking! Come on out and see some old friends and make some new ones! Recent luncheons have broken all previous attendance records and we expect this one to do the same. The Bala Golf Club is the place to be on March 17th.
Meet and greet (networking) starts at 12 noon with a full three-course lunch including salad, coffee or tea and dessert. Lunch is served at 12:30 pm. There's also a cheese & crudité table. Cash bar available! The cost is still ONLY $25 per person and is open to all our members, any person in the industry and all associated fields; both people now active and retirees. You do NOT have to be a member to attend. Make your reservations now by calling (856) 365-5600. Get Driving Directions! Don't forget to reserve.
Queue up for this once in a lifetime celebration and be part of the Action as we celebrate 40 Years of Action News! This is sure to be another great turn-out! Be there and become a part of history in the making! Make your reservations today. Sure to be a great time! Be There or Be Square!
By the way, Broadcast Pioneers member Monica Malpass is expecting in less than three months from this luncheon so it would especially nice for everyone to come out and congratulate her and to wish her well. We hear that they may be twins!

Visit Our Website Often - http://www.broadcastpioneers.com

FEBRUARY LUNCHEON REVIEW :
The Al Alberts Talent Hour
WKBS-TV, Channel 48, Philadelphia
circa 1967
With well over 100 folks in attendance, the February luncheon was another huge record breaker! Our "Tribute to Al Alberts" was truly a memorable event. Former kids (now adults) showcased their special talents for an enthusiastic and appreciative crowd. One of the many highlights of the afternoon was live call ins from Al Alberts, Jr. and Broadway Star Jarrod (The Jersey Boys) Spector. There were many memories shared and some happy tears shed remembering a great performer and his countless contributions to the industry. To hear audio excerpts, see video and view photos from the event go right here!
HEARD AFTER THE LUNCHEON:
By the way, all the people quoted here were on the Al Alberts Show when they were kids.
"I had a fantastic time. Brought back a lot of memories and what an important part Al Alberts was to my childhood. The love in this room and the great talent was amazing." Ira Brown
"I thought it was wonderful. Just like the live shows. It was a happy and sad day." Michelle Lawson
"An amazing afternoon. I haven't had this much fun in 30 years. What a great tribute." Sandee Clark Bengel
"It was wonderful. There is something warm and wonderful the way you guys put these programs together." Eddie Bruce
"I am honored to be here to pay tribute to Al, and seeing so many familiar faces was very special." Donna-Lynne Dalton
"It was great! A wonderful luncheon and nice tribute. My pleasure to be here." Dr. Brian McDonough
"It was a culmination of decades of admiration and association with a great man." Rick Bossman
"This show is the reason I'm doing what I'm doing. Uncle Al gave me the experience I needed." Erica-Anne Bossman
"This was a marvelous tribute to Al. I was touched to be a part of it." John Primerano
Note: A celebrity golf outing and a memorial service is being organized to underwrite a scholarship fund in Al Alberts' name. For information contact: zippi@artemisproductions.net.
Did you know...
That Broadcast Pioneers member Harry Harris was on Sgt. Bilko?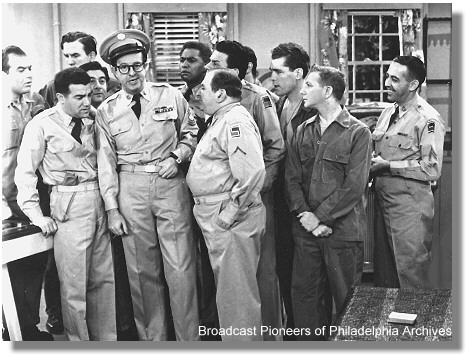 "The Phil Silvers Show"
on the far right is Broadcast Pioneers member Harry Harris
February 1956
Harry was a longtime member of this organization and was the TV critic for the Inquirer and previously wrote for the Evening Bulletin (as early as 1940).
Running for four seasons, "The Phil Silvers Show" (originally titled, "You'll Never Get Rich") was a hit on CBS-TV. It was cancelled while still at the top because the 22 regular cast members' salaries was just too big of a drain on the network. They pulled the plug in order to get it into syndication while the show was "still hot" and the going price was high.
Broadcast Pioneers member Harry Harris, a TV columnist for the Philadelphia Inquirer was given a cameo appearance on the show. This was often done for major market columnists so that they would write about their experiences on the program and thus generate publicity for the series.
Harry was in the episode called, "Bilko and the Beast," which aired on Tuesday, March 27, 1956. He said that he wore "corporal stripes, a phony regimental patch, blank dogtags and strictly non-regulation blue socks." The program was filmed at the DuMont studios, 205 East 67th Street in New York City. Only the first season was shot at this location. Later they had their own sound stage with CBS at 221 West 26th Street in New York. The last season was shot in Hollywood.
The show is shot chronologically. Nat Hiken, the program's creator told Harris: About every eight minutes, we have to take a break for about four minutes while the three cameras change film magazines. Other than that, we never turn the cameras off, even when they're being rolled from one set to the next. It takes about an hour to film a half-hour show."
Rehearsal for this episode started on Monday, February 20th. There were major script revisions and finally a dress rehearsal on Friday morning. At 2:45 pm that afternoon, the studio audience of 350 arrived. There were 74 people working on the show, 71 men and 3 women. The series' announcer did the warm-up. At 4 pm, the film started to roll. An hour later, it was finished.
If you look for Harris if you're lucky enough to see the show, he's in the scene in the recreation center. That scene is the very first one in the show. While he doesn't have a speaking role, the scene he's in runs about 8 minutes and he's shown in it several times. Films of the series do exist today, unlike many shows that were aired live. We have that very episode in our DAP, Digital Archival Project.
Harris also was a script writer in the late thirties for WCAU Radio's Powers Gouraud, the ol' night owl who broadcast on 1210 AM from 1929 to 1954. Last November, we inducted Gouraud into our "Hall of Fame." Powers was no stranger to recorded audio.
His father, George Gouraud, was the foreign sales agent (based in London) for Thomas Edison's wax cylinders. There are about a dozen known, surviving recordings of George's vocal messages to Edison. Powers would gather around the machine every time his dad received a new one. Powers was seven years old at the time and the year was 1888. That was more than a third of a century before the first broadcast station would exist in Philadelphia.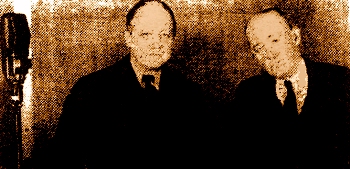 (Left to right) Powers Gouraud and George M. Cohan
WCAU Radio
early 1934
Powers Gouraud holds the record for having the oldest, complete Philadelphia broadcast in our archive. It dates from Friday, July 3, 1936 and was sponsored by the Yellow Cab Company. It's an interview with George M. Cohan from a dressing room in Baltimore.
WERE YOU ON "THE HORN & HARDART CHILDREN'S HOUR?"
If so, we would like to hear from you. On Wednesday, May 19th, we are planning our luncheon around "The Horn & Hardart Children's Hour." It ran for more than 30 years on WCAU Radio and more than a decade on WCAU-TV. The host was Stan Lee Broza, this organization's very first president. If know someone who was on the program, please ask them to contact us. Broadcast Pioneers member Gene Crane (who lives in Mexico) will be with us portraying Broza. Help us reach out to former kids (now adults) who were on this historic program. Please e-mail us at pioneers@broadcastpioneers.com.
WELCOME NEW MEMBERS:
Allan Hotlen started in the industry in 1961. A successful writer, producer and director of dozens of TV commercials and jingles for radio stations, Allan was VP/GM of radio stations in Los Angeles, New York, Washington, DC , San Francisco and Sacramento. He was Program Director at WIP Radio and then VP/GM at WPEN.
From our archives:
Listen to Allan being interviewed!
March 6, 1969,WRTI-FM
Florence Weiss, host
Broadcast Pioneers VP Jerry Klein was also on the program
Anthony "Tony" C. Macrie started his career with WDVL-FM, (now WVLT) Vineland, New Jersey in 1971. He later moved on to WFIL Radio, WMID and WBSS (which is now WENJ, 97.3, in Millville). Currently he heads up "Tony Macrie Productions, " a company specializing in remote and mobile live sound production services.
Maura McKinney Mastro began her professional singing career as a teen in a local band called "Secret." Maura performed the National Anthem for Philadelphia sports teams as well as at our 2009 banquet. She has 4 CDs on the market and her music was encouraged by dear old dad, Jack McKinney, who was inducted into our Hall of Fame last November.
Ray Murray is president of Banyan Productions, a local firm making national TV shows like "A Makeover Story" and "Trading Spaces." He's been there since 1992. Previously, we'll all remember Ray as the host of the ever-popular KYW-TV Magazine, "Evening Magazine" which Murray hosted for decades.
From our Archives:
Watch Ray Murray on Evening Magazine from 1985 - The Story of KYW Newsradio!
René Tetro is the Director of Engineering at WFIL Radio and WNTP. In the business since 1967, He has worked at four New York City radio stations including WNEW. He was also with WZZD in the early eighties. WZZD is now WNTP and at one time, it was the rock and roll power house, WIBG, Radio 99.
We hope to see you at a luncheon right soon. Welcome aboard!
IN TOUCH:
Hats off to Sally Starr who endured two days without power in the freezing cold during the recent February snow storms. Sally was asked to evacuate, but refused because she didn't want to desert her three cats that couldn't go with her to a shelter. We also hear that one of her four legged friends is a tom cat weighing 26 pounds. That's the Cat's Meow!
Broadcast Pioneers member Joe Pellegrino
Official WPVI-TV Publicity Photo
circa 1976
Temporarily seeking out the warmer weather, Broadcast Pioneers Board member Joe Pellegrino is off to Arizona visiting with his two grandsons. Plus, he'll make a stop along the way to Myrtle Beach and play some golf with his brother. Joe says: "I think I'm still the same guy and same age as I was when on the air… I'm one of the lucky guys to be standing vertically." Joe will be back in time to be on our March 17th luncheon panel.
FYI... Joe Pellegrino appeared twice on "The Al Alberts Showcase," once shortly after coming to WPVI-TV in 1976 and the second time, 20 years later, in 1996. For those who don't know, Joe has a wonderful voice and has sung professionally throughout the Delaware Valley. As part of our DAP, Digital Archival Project, we have Joe's 1996 appearance in our TV archive and have already preserved it into a digital format. We also have 125 masters of "The Al Alberts Showcase," all on the original one inch tape, thanks to the good people at 6ABC, WPVI-TV. The digitalization process of those shows is scheduled to start later this month.
Staying in an Al Alberts vein, we heard from 6ABC Action News reporter Amy Buckman (a member of the Broadcast Pioneers) who tells us she appeared twice on the Al Alberts Show. Her first performance was with the Penn Wynne Elementary School Chorus. Her dad was in the audience and Al asked him to sing a chorus of "When the Saints Go Marching In," his only television appearance. He's currently 91 years old! Amy appeared again while in high school as a member of a ballet group that traveled to Romania and Bulgaria. Amy said, "Al was responsible for my television debut, which I suspect contributed to my making a career in the business all these years." Thanks for sharing Amy!
Broadcast Pioneers member and living rock and roll legend Charlie Gracie is about to begin another 5 week tour of England. Sometimes called the "Energizer Bunny" of Rock, he will be beginning his tour on March 19th. Charlie, keep on rockin' 'cause you only rock once!
And speaking of rocking, member Ken Jeremiah and his Jeremiah-Hunter Band will be appearing on March 19th and 20th at the Trump Plaza Casino, Jezebel Lounge in Atlantic City. Two shows, 9:30 pm and 1:30 am. Then on March 25th, he'll be at Harrah's Casino, Eden Lounge. Two shows, 8 pm and 11:45 pm.
Jerry Wells checked in to give us an update on his activities. After 32 years at WDAS and four at WRTI, he is certainly pioneer material. Jerry still does some free-lance voiceover work and is looking for more. His email address is: jwells1233@aol.com. Jerry's DJ career got kick started by our President, Gerry Wilkinson, who was Operations Manager of WDAS at the time. Wells was working in the news department when someone didn't show up for an early Saturday morning disc jockey air shift on the AM station. Wilkinson called Wells and asked him to fill in. The shift became permanent and shortly thereafter, Wells moved over to FM to do morning drive (for decades). Wells became an "overnight success" that really took him years to achieve. Good to hear from you!
WE REMEMBER :
Broadcast Pioneers member Michael Spack informed us of the passing of Henry Tronco. Hank was in sales at WFIL Radio, WYSP and B-101. He was Sales Manager at WOGL-FM and worked for the Philadelphia Daily News. He served in the US Army and was a graduate of Central High School. Tronco suffered from Parkinson's Disease.
Juan Antonio Leon died at age 56 after a long fight with cancer. Juan was a media pioneer, highly regarded cameraman, documentarian, producer and editor, first for WPVI-TV, 6ABC and later for KYW-TV, CBS3 as well as a dedicated activist in the Hispanic community.
The father of NBC 10 reporter Deanna Durante, Montgomery County Sheriff John P. Durante passed away at the age of 60. He was Sheriff of Montgomery County for the past decade and had a distinguished 28 year career as a Montgomery County detective.
ON THE HEALTH FRONT:
Broadcast Pioneers Board Member, past president and Person of the Year (1987) John Roberts has been transferred to the "special care" unit of the complex where he lives. John does not have email but would enjoy hearing from fellow pioneers, friends and former students, via a card or note. Send to: Rydal Park Hillside, 1515 The Fairway, Rydal, PA 19046-1435.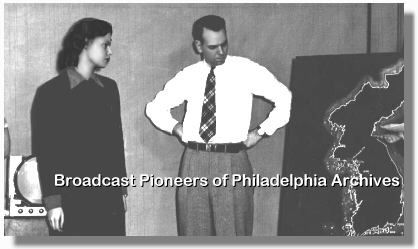 (left to right) Claire Coleman and John Roberts looking at a map of Indochina
(previously unreleased photo)
WFIL-TV Studios
circa 1951
About the photo: John Roberts in an instructor of radio and television at Temple University. Claire Coleman, class of 1953 was one of his students. The Temple classes were held at WFIL. After graduation, Coleman became "Miss Claire," host of "Romper Room" on Channel 6, and her director was Lew Klein. She later married Richard Schweiker who went on to be a US congressman, US Senator from Pennsylvania and Secretary of Health and Human Services. While doing "Romper Room," Coleman shared an office with a WFIL Radio disc jockey named Dick Clark.
MORE IN TOUCH:
Broadcast Pioneers member Barry Reisman celebrated his 45th Anniversary of his popular Jewish/American radio program. "The Barry Reisman Show" is broadcast Monday-Friday from 9 am to 10 am and Sundays from 4 pm to 5 pm on WNWR, AM 1540 in Philadelphia. It can also be heard worldwide both live and "On Demand" at www.wnwr.com. What are his plans for the future? Reisman answered, "Just wait for the next 45 years!" Congratulations Barry! Enjoy the next 45!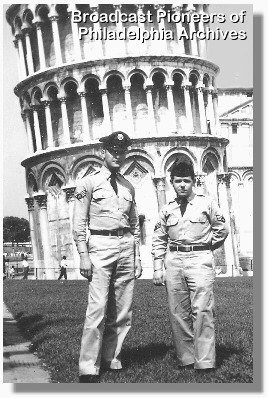 (left to right) Jim Wilkinson & Tom Moran
(previously unreleased photo)
Pisa, Italy
Friday, June 14, 1957
About the photo: Jim Wilkinson is no relation to our President, Gerry Wilkinson. Tom Moran says:
Jim was from Boone, Iowa and we were stationed together as USAF Weather Observers at Laon AB, France. Our tour was 1954-57. I haven't kept in touch. I regret that. Jim had a Philadelphia connection. I didn't, going from Jersey City to the Air Force. His brother-in-law, Jackie Brandt, was an outfielder for the Phillies for a couple of years. This was one of many "lets try to get on this plane" trips that I availed myself of as a member of Air Weather Service. The Leaning Tower of Pisa in fantastic for a building that dates back to 11 something (1173).
Broadcast Pioneers member Tom Moran tells us that Board Member Les Waas, "did it again." During the February 21st broadcast of CBS-TV's "Sunday Morning," Charles Osgood mentioned/plugged the world famous Procrastinators Club during a segment that dealt with our obsession about time. Leave it to Les to get a mention like that! By the way, a few years ago, the Procrastinators Club was featured on Osgood's radio feature, "The Osgood File." Les hasn't seen the TV show yet, but thinks he'll get around to watching it sometime during the summer, hopefully the one in 2010.
Pianist, composer and writer John Primerano, who was with us for the Al Alberts tribute has a CD entitled "Somewhere South of Heaven," which among others contains five original songs. In November of 2007 a British International record magazine chose it as a pick of the month. The CD can be found at Barnes & Noble, Neshaminy Mall, Willow Grove Mall as well as on Amazon. Continued success John!
Broadcast Pioneers Board member Sheree Goldflies tells us, that by day, Eileen Matthews, a nine-time Emmy award winner, is the Production Manager for StudioTEN Creative Group at NBC 10. By night through April 18th, she's currently starring in the lead role as author Dorothy Marcie's "Narrator" in the Society Hill Playhouse's new play, "Respect." The play is a musically-based look at women's roles from the turn of the 20th Century to the present day. Thanks for letting us know Sheree!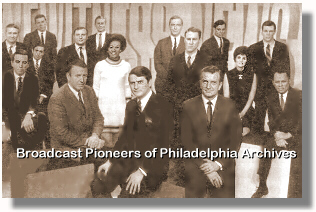 The Eyewitness News Team
(lower center - Al Primo &Vince Leonard)
KYW-TV Studios
circa 1967
A recent article in the New York Times described in detail how the local evening newscasts on four New York television stations have been starting a couple of minutes early to catch the top of the hour channel surfers. "Each of the stations is trying to get a jump on the others," said Al Primo, a consultant (and Broadcast Pioneers member) who brought the "Eyewitness News" format to local Philadelphia television in 1965. The goal, perhaps an unsurprising one in an industry that lives and dies by ratings, is hold on to the audience any way possible. So don't set your watch, by the start of the morning or evening news, or you could be off.
Broadcast Pioneers member Rich Gunning has been heard lately on two of the CBS Radio Group stations in town, KYW Newsradio and WPHT. He's doing the traffic reports and passing on needed information to motorists.
Kudos go out to Broadcast Pioneers member Glenn "Hurricane" Schwartz. We have heard him numerous times explaining why the snow at the end of February melts much faster than the same amount of snow with the same air temperature in December. It has to do with the height of the sun in the sky. At the end of February and the beginning of March, the sun is higher and thus the rays are stronger (and warmer) and thus the sun at the end of winter melts snow faster.
BROADCAST PIONEERS COLLEGE CAREER NIGHT:
On Tuesday, March 23rd, from 6 pm to 8 pm, the Broadcast Pioneers will present a College Student Career Night on the campus of Temple University. Bill Webber, our Chairman of the Board, will be the moderator. Pat Delsi will be on the panel and well as people from the WPVI-TV family including Broadcast Pioneers member Linda Munich, VP of Public Affairs for 6ABC. While this event is on Temple's campus, it is open to all college and university students in the Delaware Valley. Admission is free.
DIGITAL ARCHIVAL PROJECT NEWS :
Karl Linden of Chicago (his real name begins with a K but professionally he uses Carl) donated to our Digital Archival Project a DVD of a Gene London Show from May of 1963. It contains about 11 minutes of audio which was recorded off air by holding the microphone to the TV speaker. He also shot some silent 8mm film from an old spring-loaded camera. There's about 60 seconds of video. He also synchronized the sound with the video and where there was none, the screen dips to black. This is an exciting find and one of the oldest surviving Gene London shows and the only known recording (either audio or video) of this particular broadcast. Members Gene London and Jimmy Hirschfeld (who produced the show) were thrilled to hear of this recent donation.
Broadcast Pioneers member Mike Davis is head of New York Communications and the creative genius for all those "Action News' promos" that we have all seen for decades. Well, we just added about 150 of those spots into our DAP, Digital Archival Project. They all have been transferred into digital format. Incredible stuff going all the way back to the 70's when Larry Kane was anchor.
Sue Wright, Nat's widow, is donating several boxes of old audio reel to reel tapes for us to digitize as part of our digital archival project. She's also including some old transcription discs. These recordings take in several decades of Nat's career and will add greatly to the WIP years in our archive. We are delighted to receive these priceless broadcasts.
From our Archive: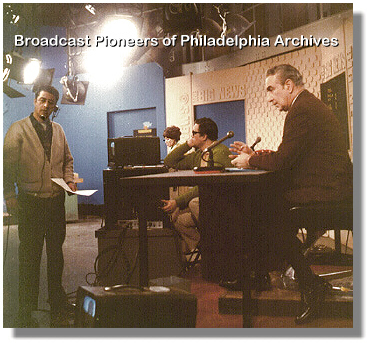 (left to right) Jesse Schooley, Edie Huggins, Peter Klein and John Facenda
WCAU-TV Studios, Philadelphia
(previously unreleased photo originally donated by Broadcast Pioneers member Edie Huggins)
circa 1968
Audio from the Archive:
Listen to John Facenda tell us about the death of Adlai Stevenson (July 14, 1965)
(This is previously unavailable audio)
Listen in Real Audio!
Listen in Windows Media!
Broadcast Pioneers has started the digitization process for the 67 Harry Harris scrapbooks that are in our archives. Member Joel Albert has joined us in this endeavor and is busily scanning away. Harry was a longtime member of this organization and was the TV critic for the Inquirer and previously wrote for the Evening Bulletin (as early as 1940).
We received a couple dozen audio cassettes from Dr. Brian McDonough of KYW Newsradio. For a couple of decades, he did a one hour telephone talk show over WRTI-FM about medical issues. We have digitized half of them as of now and expect to have the rest done by mid-March. We are also in the process of putting some VHS tapes belonging to Broadcast Pioneers Board member Joe Pellegrino into a digital format
Two aerial shots of the old WPVI Round Building
taken by Broadcast Pioneers member Bob Kravitz
Monday, March 1, 2010
This is sort of a sidebar. We received an e-mail from member Roger Hendler:
I taught a 5th grade class today at the World Language Academy Charter School in Hall County, GA.
I used the Broadcast Pioneers website for social studies and we listened to the audio of FDR's funeral train going through 30th Street Station. It was well received by the students. We will use this more.
Listen in Real Audio to WCAU Radio coverage of President Frank Roosevelt's funeral train pulling into Philadelphia's 30th Street Station. The cut is almost 18 minutes long and contains interviews with many officials including Philadelphia Mayor Bernard Samuel. By the way, the first voice on that cut was Bill Hart who we inducted into our Hall of Fame in 2006. Before the funeral train arrived in Philadelphia, another train called "The Congressional Special" rolled in. We have 2:50 of that audio available which includes Katharine Clark (WCAU War Correspondent) speaking with US Senator from Pennsylvania, Francis J. Myers. This audio is simply an amazing part of American history that we have preserved for future generations. That's what our Digital Archival Project is all about.
We are still looking for volunteers to assist us with our DAP, Digital Archival Project. We're searching for people who have a digital camera with at least 10 megapixels of quality to take pictures of scrapbooks, plus members with scanners to help scan photos and other items. Also, people interested in writing bios and other stories for our website. Plus many other volunteers. PLEASE! WE NEED YOUR HELP! If you're interested, please e-mail at pioneers@broadcastpioneers.com.
Remember, History is ONLY What Gets Saved!
(If there were no portraits of George Washington, how would we know what he looked like?)
BROADCAST PIONEERS SCHOLARSHIPS:
Our deadline has passed for college students to enter our 2010 scholarship competition. This go round, we will be giving thirteen $1,000 scholarships. Last year, we received 253 applications. This time, we have surpassed that figure with 302 entries. On Tuesday, February 23rd, our Scholarship Committee met at WPVI-TV to select 26 finalists, who have been notified and are actively preparing there materials for their next deadline. The committee will meet on the 30th to final selection.
A final thought...
"I have interviewed every president since LBJ, governors, mayors, kings and queens and stars, and the first question people ask me is, "What are the Beatles really like?"
Larry Kane
2005

We welcome your input regarding content, future stories, suggestions, etc. Please contact newsletter@broadcastpioneers.com. Contact us today and we'll include your story in the next newsletter!
Photo Editor & Archival Historian - Gerry Wilkinson

© 2010, Broadcast Pioneers of Philadelphia
All Rights Reserved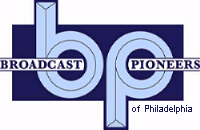 The e-mail address of the Broadcast Pioneers of Philadelphia is pioneers@broadcastpioneers.com
For luncheon reservations call (856) 365-5600 or e-mail us at: rsvp@broadcastpioneers.com