Visit Our Website Often - http://www.broadcastpioneers.com

BOARD MEETING:
FOR BOARD MEMBERS: There will be a Board of Directors meeting before the luncheon beginning at 10:15 am. Please call and make your luncheon reservation and confirm your attendance at the meeting. Board meetings are scheduled for October, February and June.
WRAP-UP OF THE SEPTEMBER LUNCHEON:
On Wednesday, September 16th, we presented our first luncheon of the new season. We talked about the Philadelphia Eagles, past and present. We had an outstanding panel that included: Bill Baldini, former NBC 10, WCAU-TV newsman and total Philly sports fan; Tom Lamaine, former KYW-TV sports anchor and play-by-play announcer; Al Meltzer, sports director/anchor and Play-by-play on Channels 3, 6, 10, and 17; Jim Murray, former General Manager of Philadelphia Eagles Football Team; Vince Papale, former Eagle, sportscaster & inspiration for the movie, "Invincible" and Bill Vargus, former sports anchor at WTXF-TV, Fox 29 here in Philadelphia. Our moderator was Joe Pellegrino, former WPVI Sports Director & WCAU-TV Sports Anchor.
Plus live on the telephone was Broadcast Pioneers member Merrill Reese, the voice of the Philadelphia Eagles. Shortly before our panel discussion, there was an Eagles press briefing with the coaches. Merrill reported what happened at the meeting including all the details about Donovan McNabb's condition and how soon we could expect him back on the playing field. Also, former KYW News Anchor Don Lancer said a few words about his long-time friend and co-worker Fred Sherman, who passed away last month. If you missed this luncheon, you fumbled the ball. Don't miss October's songfest.
HEARD AFTER THE LUNCH:
"It was fun hanging out with a bunch of older guys…everybody had great stories." Member Bill Vargas
"The panel was great! Everybody had something significant to contribute…I miss seeing a lot of these guys on the tube. Hell, I miss seeing me on the tube." Member Joe Pellegrino
"I liked the diversity of the different eras. All of their perspectives were wonderful." Member Sue Serio, Weathercaster for Fox 29.
"It's an honor to be here…every time is a great experience…this is great…good stuff!" Member Vince Papale
"There's more love in this room than you'll find anywhere else. For me it was one of the better times I've had since I retired." Member Big Al Meltzer
HALL OF FAME/PERSON OF THE YEAR BANQUET (TICKETS ON SALE NOW):
On Friday, November 20th 2009, Broadcast Pioneers will host our annual Person of the Year/Hall of Fame Banquet. Early indications are this year is going to be a blockbuster SELLOUT! Be sure to make your reservations NOW by sending in the reservation form and your payment. This is an event you don't want to miss. The banquet is a consistent memory maker, bringing together broadcast legends then, now and future! If you want to be part of this history making event, be there! It all happens at the Bala Golf Club, 2200 Belmont Ave. Philadelphia, Pa. Social and "get to know you" at 6 pm; dinner at 7 pm.
Our "Person of the Year" for 2009 is: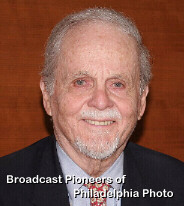 Bill Wright, Sr.
July 21, 2009
Photo by Broadcast Pioneers Board Member Bob Kravitz
Bill Wright, Sr., former WIBBAGE "Good Guy" & WPEN jock
Our 8 inductees into our "Hall of Fame" will be:
Elliot Abrams, Accu-Weather's Senior VP, mornings on KYW Newsradio
Joanne Calabria, VP of Public Affairs for CBS 3 and the CW Philly 57
Renee Chenault-Fattah, co-anchor of the NBC 10 News at 11 o'clock
Mort Crim, former "Eyewitness News" TV Anchor on KYW-TV, Channel 3
Gene London, former Philadelphia TV Children's Celebrity and Host
Al Meltzer, sports director/anchor and play-by-play on Channels 3, 6, 10 & 17
Irv Ross, Channel 6's very first Director of Engineering, there for 50 years
Lisa Thomas-Laury, 6ABC "Action News" Co-Anchor and Reporter
We will also be inducting 12 persons into our "Hall of Fame" posthumously. They are:
Joey Bishop, nationally known comedian from South Philly
Jay Cook, former Program Director & Boss Jock at WFIL, Famous 56
Hugh Gannon, former sportscaster for WCAU (Radio & TV) and Prism
Powers Gouraud, the ol' nightowl, who ruled the airwaves in the 30s & 40s
Florence Hanford, Philly's pioneering TV chef who started in 1947
Wally Kinnan, the Weather Man, the city's well loved meteorologist
Siani Lee, former news anchor on WCAU, NBC 10 and CBS3 (KYW-TV)
Tony Mammarella, the producer for ABC-TV's "American Bandstand"
Jack McKinney, the telephone talk show host on both TV and radio
Jack Pyle, air personality extraordinaire for Philadelphia broadcasting
George Thomas, former announcer for the WCAU broadcast stations
Long John Wade, the pleasing voice of WFIL, Famous 56 and WIBG Radio
Broadcast Pioneers member Florence Hanford (center)
WPTZ, Channel 3
circa 1954
Tickets are on sale now. The reservation card is available here. Members can buy a ticket for themselves at $70. Spouses, friends and everyone else pay $90. This fundraiser benefits our scholarship program. In April of this year, we awarded to area communications students $12,000 in scholarships. Members should have already received an invitation and reservation card in the mail during the week of September 21st. If you didn't, use the reservation card link above.
ATTENTION ADVERTISERS:
The 2009 Person of the Year/Hall of Fame Banquet program book is the ideal media for your memorable ad. Join our prominent group of advertisers and promote your organization, agenda, corporate message, logo and value, to a select, impressive one-of-a-kind group of decision makers! Don't miss this unique opportunity to create awareness in your own backyard! Full page ads are just $250. Half page ads are bargain priced at $175. Copy deadline is Friday, October 23, 2009. Forward copy and details to: Vice-President Frank Stone at newsletter@broadcastpioneers.com. Don't wait! Time is running out!
WELCOME NEW MEMBERS!
Vince Papale worked with Channel 10 from 1976 to 1979 and with WFIL Radio from 1980-83. He played professional football with the Philadelphia Eagles from 1976 through 1978, playing in 41 of 44 regular season games. He is the subject of the Disney movie "Invincible," that starred Mark Wahlberg. In 2001, he was diagnosed with colorectal cancer and has fully recovered. Currently he is Regional Director of Marketing and Senior Account Executive for Sallie Mae.
Peter DeFeo worked with Grady & Hurst, Bob Horn and Bandstand. Peter is a recognized SAG actor, appearing in over 10 popular films, as well as producer, writer and director. Peter is owner and innovator of IAS (International Artist Studio) involved in bringing movie production back to Philadelphia and the Delaware Valley utilizing the historic aspects of our region and the vast resources of the east coast.
Brad Seecof is proud owner of Meta Media Studios located in Ivyland, PA. Brad is well-known as a producer of television commercials, music videos, web broadcasts, documentaries and other broadcast related material. A graduate of the Temple University School of Communication and Theater, Brad Seecoff worked during his college days in Public Broadcasting in while out on the west coast in California.
Louis Beccaria is President and Chief Executive Officer (CEO) of the Phoenixville Community Health Foundation and holds a Ph.d degree. He has nine years experience in local area public access cable television as a talk show host, plus additional excellent credentials in Coatesville, Pennsylvania on WCOJ Radio (which serves all of Chester County) as radio talk show host.
Dan Baker is Coordinator of Broadcast Relations for Drexel University. Dan started in the business in 1967, and calls play-by-play for Men's basketball. He was Executive Secretary of the Philadelphia Big 5 from 1981 to 1996. Dan is also the public address voice of the Philadelphia Eagles Football Team since 1985 and the Philadelphia Phillies Baseball Team for the last four decades.
Gary Hendler is President and proud owner of Suburban Real Estate. Gary worked for the Universal Record Company in Philadelphia from 1968 to 1980. He was one of the top record promoters in the world and based right here in the Delaware Valley. Later, Gary served as Business Manager from 2004 to 2007 for Broadcast Pioneers member Hy Lit, one of the true legends of this market.
Monica Avery started in the business during 1965 as a production assistant at KYW Newsradio after her college years at Temple University. She was Associate Editor of Gazette Leader Publications, an anchor on WOND radio in Pleasantville, New Jersey (serving Atlantic City and the shore points) and WILM in Wilmington. Currently, Monica is a television producer for CBS 3, KYW-TV where she has been for the last decade.
Ed Kasuba worked in the late sixties for WSDM-FM in the windy city of Chicago, and WNDU-TV, AM, and FM in South Bend, Indiana. Ed is probably best known here in the Delaware Valley for his outstanding work for KYW Newsradio from 1975 to 2008. That's a third of a century. Currently, he is the Director of Corporate Communications for the Delaware River Port Authority.
A hearty WELCOME to each of our new members. We hope to see you at upcoming Broadcast Pioneers luncheons! By the way, that sets an all-time high in membership, now at 345. Each month, we keep on breaking the old records.
MORE IN TOUCH: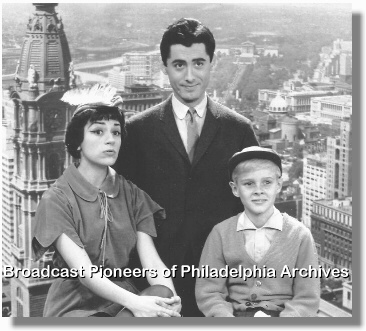 (Left to right) Pixanne, Gene London & Jay North
WCAU-TV
Singer/TV personality Jane Norman (Pixanne) has just released a "single," "Gone Too Soon," originally recorded by Michael Jackson. Jane's version of this wonderful song is being played on radio stations nationwide. Philadelphia's favorite pixie just keeps flying and singing. Bravo, Jane!
Broadcast Pioneers Board member, Vice President and Newsletter Editor Frank Stone is pleased to announce his engagement to Barbara Farley of Cheltenham, PA. Barbara has worked in the medical records department of Fox Chase Cancer Center for 26 years and plans to retire. The couple will be married at St. Ann's Church in Wildwood, New Jersey, June 2010, and will reside in West Wildwood. Editor's note: Barb is a big Broadcast Pioneers fan. She attended the June 2009 luncheon and is planning to be there for the Person of the Year/Hall of Fame banquet. She's looking forward to meeting everyone!
Polish Television Center (PTC, New York, Chicago, Philadelphia) interviewed Broadcast Pioneers member Frank Stone (announcer and part-time lead banker at Morey's Piers/Mariners Landing Arcade) about working during the summer months with Polish college students. He said; "The students were fantastic! Have never been involved with such an enthusiastic, dedicated, hard-working group as these folks!" Sounds like a fun summer!
Members Steve Ross & Jim Murray host "Remember When" Saturday evenings on WPHT Radio. Last Saturday, they announced on their program that the show will now be heard an hour later. New time is 11 pm to 1 am and starts on Saturday, October 10th.
Member Bob Pantano has moved his WOGL "Saturday Night Dance Party" to a new location. It's now at the Adelphia, 1796 Clements Bridge in Deptford, New Jersey. The program airs on both WOGL and WTTH at the shore. The broadcast is now 32 years old.
Broadcast Pioneers member Corky Warren has been named Program Director of WSNJ, 1240 radio in South Jersey. He's also the new "Morning Man" with a show called "Coffee with Corky" from 6 am 'til 8:45 am, weekdays. The program is also televised on QBC-TV, Channel 2 on the local cable outlet and can also be heard via the Internet, www.wsnjam.com. Good luck Corky!
COLLEGE STUDENT SYMPOSIUM:
This is the event that college students wait for all year! Once again, it's time for our annual Broadcast Pioneers Symposium. Area college students will see first hand a major market television station and will listen to advice from their staff. This year, our 8th annual event will again be held at the studios of CBS 3/The CW Philly 57. The date is Saturday morning, October 24, 2009. If you know of a college student who would like to attend, please let them know. Space is still available. Get the details!
A final thought...
"The only Maybelline I knew was the name of a cow!"
Chuck Berry

© 2009, Broadcast Pioneers of Philadelphia
All Rights Reserved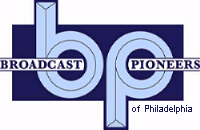 The e-mail address of the Broadcast Pioneers of Philadelphia is pioneers@broadcastpioneers.com
For luncheon reservations call (856) 365-5600 or e-mail us at: rsvp@broadcastpioneers.com