The Broadcast Pioneers of Philadelphia is a federally recognized, state chartered charity. We are a 501(c)(3) non-profit corporation serving Philadelphia since 1962.

Frank Stone
Newsletter Editor

January Luncheon
The Bala Golf Club
Wednesday, January 18, 2012

Reception at 12 noon
Lunch at 12:30 pm
Ratecard: $25 per person

PLEASE RESERVE NOW!
(856) 365-5600
rsvp@broadcastpioneers.com
Our Next Luncheon is January 18th!
IT'S ALL ABOUT SPORTS!
Make plans to be at the Bala Golf Club on Wednesday, January 18th, for our next luncheon, "All About Sports!"
Our moderator and emcee for the afternoon is Broadcast Pioneers Board Member Joe Pellegrino. Our panel will include these fabulous sports experts (in alphabetical order):
Ray Didinger, award winning sportswriter and broadcast commentator
Jim Melwert, street reporter for KYW Newsradio and avid sports fan
Vince Papale, former Eagles player and broadcast sportscaster
Beasley Reece, lead sports anchor for CBS 3 and the CW Philly 57
Merrill Reese, co-owner of WBCB and the voice of the Eagles
Bill Vargus, former WTXF-TV (Channel 29) lead Sports Anchor
Join us on Wednesday, January 18th, at the beautiful and historic Bala Golf Club, 2200 Belmont Avenue (across the street from the State Police) in the Wynnefield section of Philadelphia. It's only minutes away from Channels 6, 10 and 17 and the radio stations in Bala Cynwyd.
Meet and greet (networking) starts at 12 noon, and a full-course lunch including salad, coffee or tea and dessert will be served at 12:30 pm. There will also be a crudité and cheese table. Cash bar available all afternoon!
The cost is still only $25 per person. This is our 7th year without a price increase! Cash bar available all afternoon. Plenty of FREE parking or valet service. The luncheon is open to all our members, their guests and any person in the industry or associated fields, whether active or retired. You do NOT have to be a member to attend. Call NOW with your reservation(s), (856) 365-5600!

Visit Our Website Often - http://www.broadcastpioneers.com

ANOTHER WAY TO GIVE TO BROADCAST PIONEERS:
Do you have a credit card that offers you cash back on purchases as a reward? Well, some of those cards (Bank of America, for example) allow you to donate that cash reward to charities. Broadcast Pioneers of Philadelphia is a federally recognized, state chartered charity with a 501(c)(3) status. Check with your credit card company to see if they permit it. Your tax advisor can tell you if this donation can be claimed as a deduction for federal income tax purposes.
DIGITAL ARCHIVAL PROJECT COMMITTEE MEETING:
There will be a meeting of the Digital Archival Project Committee before the luncheon on Wednesday, January 18th, from 10:30 am to 11:30 am. You do not need to be on this committee to attend this meeting. Any member interested is welcome, but please let us know that you plan to attend when you make your reservation(s).
WELCOME NEW MEMBERS:
FULL MEMBER:
Paul Zavinsky started in the business in 1989 working at WITF-TV and Radio, public broadcasting in the state's capitol of Harrisburg. He worked there for 22 years as their Media Fundraising Coordinator in Non-Profit Development. He was also their on-the-air pledge producer and talent. Zavinsky likes to sing and play his guitar. Paul volunteers his time by serving on the Hummelstown Planning Commission and is a neighbor of Broadcast Pioneers member Johnny B. Hall.
ASSOCIATE MEMBER:
Alan Boris started in the business in 1992. He worked for three years at member Jerry Lee's station, WEAZ/WBEB, as a board op and engineer. He also worked for Garden State Cable TV (owned by Comcast) in television production and was employed by member Joanne Harmelin at her company, Harmelin Media. He now runs Alan Boris LLC, a computer technology company. Alan is the author of the book, "Philadelphia Radio," which came out in 2011.
We are thrilled to have these new members. They've helped to bring our total membership up to 458 (an all-time record). Six years ago, this organization had 200 members. This type of growth is what makes Broadcast Pioneers the largest organization of its type anywhere on the planet.
BROADCAST PIONEERS' SCHOLARSHIPS:
Thanks to the success of our November banquet and our generous underwriters, this year Broadcast Pioneers will offer a total of seventeen $1,000 scholarships. That's the most we ever have given out. AN ALL-TIME RECORD! If you know of any college student who might be interested, please let them know. You can find all the information at right here!
Board member Diego Castellanos will interview Broadcast Pioneers Treasurer Pat Delsi on "Puerto Rican Panorama." The show will be recorded this coming Sunday and aired Sunday morning, January 15th, at 5 am on WPVI-TV, 6 ABC. Pat will be discussing our scholarship program. If you're not awake at 5 am, we suggest that you record it for playback at your convenience.
DIGITAL ARCHIVAL PROJECT NEWS: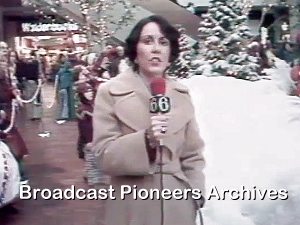 Broadcast Pioneers member Cathy Gandolfo
The Gallery in Center City Philadelphia
December 1977
Here's a piece done by member Cathy Gandolfo fairly early in her career. In fact, the story aired more than a third of a century ago over WPVI-TV on one of their "Action News" newscasts. Our video is about unemployment during the Christmas season. Note that the unemployment rate at that time was almost two points lower than it is today.
Cathy Gandolfo retired from WPVI-TV and Action News last Friday, December 30th. She joined the station in September of 1975 as a writer and two years later became a reporter. Gandolfo was inducted into our "Hall of Fame" in November of 2008. We thought you would enjoy seeing some of the early work of this gifted journalist.
Our transfer comes direct from a WPVI-TV 3/4" video tape. However, it is a generation down. Why? Well, this 3/4" recording consisted of various reports. This was taken from an aircheck and then dubbed onto the final 3/4" tape. In our opinion, the Real Video version is slightly clearer and cleaner.
Watch in Real Video!
Watch in Windows Media!
On Friday, April 26, 1963, Malcolm X visited Red Benson on his evening radio talk broadcast over WPEN Radio. What we have here are two excerpts from that program.
Listen in Real Audio!
Listen in Windows Media!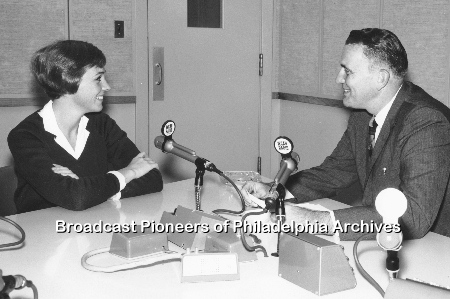 Julie Andrews with Broadcast Pioneers member Ed Harvey
WCAU Radio Studios
Wednesday, October 19, 1964
This is one of the radio studios of WCAU. Julie Andrews (left) was being interviewed by Broadcast Pioneers member
Ed Harvey
on his telephone conversation show, "The Talk of Philadelphia." The picture dates from Wednesday, October 19, 1964.
Long-time WCAU tech Charlie Higgins e-mailed:
Because of the placement of the door into the sound lock and the window frame that looks out into the hallway you can just see behind Ed plus the type of soundproofing on the wall. I'd would say this is the new Studio "A."
We have in our audio archive an interview that Ed did on Wednesday, October 19, 1964. Actress Julie Andrews appeared on "The Talk of Philadelphia" program on WCAU Radio. The show was hosted by Broadcast Pioneers member Ed Harvey and the interview took place during the 1 to 2 pm hour of the broadcast. This is from a reel to reel tape recorded at WCAU Radio. Ed always asked the engineer to stop the tape during the commercials. Because of this, we have prepared this priceless show as one complete interview with no stopping for spots. This program hasn't been heard anywhere except on our website for more than 45 years (unless you lived in Ed Harvey's house).
Listen in Real Audio!
Listen in Windows Media!
Julie was in town for the opening of the Walt disney movie "Mary Poppins." Within a few months of this interview, "The Sound of Music" was also released.
IN TOUCH WITH OUR MEMBERS:
Our organization's president Jerry Klein should be proud. We have heard that Anne Klein Communications Group (Jerry is Executive Vice-President) won 4 Pepperpot and Achievement Awards. They were presented last month by the Philadelphia Chapter of the Public Relations Society of America. It was the third straight year that the firm won at least 4 awards. "We could not be happier the work we do for our clients is being recognized. These honors belong to our clients as much as our team," Anne Klein said.
Member Charlie Gracie appeared on NPR's "World Cafe" last Friday. The program originates out of Philadelphia and WXPN Radio. The show is hosted by David Dye. Gracie sang his latest single, "Baby Doll," which is receiving national air play.
Broadcast Pioneers Board Member Michael Nise told us that WPHL-TV, Channel 17, aired 5 hours of specials and clips from the "Dancin' On Air" series, which aired over "The Great Entertainer, Channel 17" in the eighties. On New Year's Eve, they aired a one-hour special at 2 pm called, "Dancin' On Air High School Colors Show." That was followed by two hours of more clips. At 11:30 pm, "Dancin' On Air" returned with a New Year's Eve special from 28 years ago (1983) and that was followed by the show's 5th anniversary special. It made for good watching.
And speaking of Channel 17, WPHL-TV once again carried the Mummers Day Parade hosted by member Steve Highsmith. Steve was inducted into our "Hall of Fame" two months ago. Channel 17 carried ten hours of coverage which included two hours of the Fancy Brigade in prime time. The parade has been on Channel 17 for seventeen years and has averaged a 8.7 household rating. To paraphrase that old Bob Hope song, "Steve, thanks for the Mummeries."
At midnight on New Year's Eve, CBS 3 broadcasted live coverage of the fireworks at Penns Landing in Philadelphia. Chris May and Susan Barnett hosted.
Member Glenn "Hurricane" Schwartz was featured in the current issue of Philadelphia Magazine. Do you know that he loves Motown music? His first concert was at the Latin Casino in Cherry Hill, NJ. Who did he see? The Temptations, of course.
If you like classic soul and R&B like Glenn, WDAS (AM) is back playing oldies on the AM station. It was, of course, WDAS that played all these hits for Philadelphians during the music's first go 'round. "When I turned in, I heard a nice mix of sixties soul including the Independents, Linda Jones, The O-Jays, The Intruders, Stevie Wonder and Junior Walker and the All-Stars," says our Chairman of the Board, Gerry Wilkinson, who was Operations Manager of WDAS from 1970 to 1980.
By the way, Gerry and his youngest daughter, Zara, went to the bank in Bryn Mawr last Friday afternoon. While there, a young fellow came up to Wilkinson and said, "Aren't you a Broadcast Pioneer?" Turns out, the guy was Joe Lerro, son of member Johnny Lerro. Joe had attended one of our luncheons recently and recognized our chairman. Small world. Joe, by the way, said that later this month he is being transferred to the King of Prussia branch. All the best to both Lerros.
The Times Chronicle serving Jenkintown, Abington and Cheltenham had a front page picture of member Paul Big Bear accompanied by Nicole Chirios providing music and hosting for the annual Roslyn holiday celebration. Looking good, Paul!
Our very own pixie, Jane (Pixanne) Norman, departed for Palm Springs on Christmas Day to perform a series of shows during the holidays. Have fun, Jane! See you in the Spring!
Congratulations to Broadcast Pioneers board member and 2007 Person of the Year Kal Rudman as one of the recipients of the Temple University "2011 Lew Klein Alumni in the Media Award." CBS Newsman Charles Osgood was the main speaker for the event. And speaking of Lew Klein, he'll be the moderator for our February luncheon.
"Uncle" Bill Wright taped a couple of hours of "Uncle Billy's Christmas," which aired over Merrill Reese's WBCB in Levittown. Wright is a Vice-President of this organization and Reese has been a member for many years. The show has now become a tradition on WBCB. We look forward to it being aired for decades to come.
Member Gene Crane will be off on another cruise in a few months. His trip will end in Athens. From there, he will fly to Philly and is planning to be part of our May luncheon. Plans also call for member Jerry Del Colliano to be here in Philly (he lives in Arizona) just in time to be moderator for our March luncheon. Dick Carr and Bill McCloskey are also planning to be there.
A LITTLE BIT OF HISTORY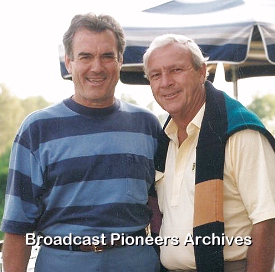 This photo of member Tom Brookshier was taken with Arnold Palmer at the Commonweath Golf Club in Horsham, Pennsylvania. The year was 1991.
WE REMEMBER:
A couple of weeks ago, Cardinal John Patrick Foley, our 2011 "Person of the Year," passed away. Check out his Tribute Page! On that page, you can read all about this wonderful broadcaster.
We have in our audio archive several recordings of John Foley as a high school student. He worked weekends at WJMJ Radio as an announcer. The December 1951 cut is the oldest surviving sound recording of Cardinal Foley. Both are in the Windows Media format.
The day after Cardinal Foley died, we received a letter from the Cardinal. It said, in part:
Please convey my gratitude to your colleagues who assisted in the arrangements for this elegant event. I am especially appreciative of your accommodations and understanding in view of my physcial limitations. It has been a privilege and a joy to work with all of you in the varied fields of communication, in our common pursuit of truth, for more than 60 years. May God bless you always.
ON THE HEALTH FRONT:
Member Phyllis Ariano-McGinnis was in the hospital recently. While the doctors originally thought she had suffered a stroke, it was, in reality, a vasovagal episode caused by interrupted blood flow to the part of the brain that controls mobility. She started rehab just before Christmas.
Board Member Carter Merbreier (aka Captain Noah) has been under the weather lately. He slipped and fell a few weeks ago, but is home and expecting the arrival of his daughter from England momentarily. Because of Carter's health, we have postponed our "Tribute to Mrs. Noah" luncheon, originally scheduled for this month. We hope to be able to reschedule it soon. Carter, get well soon. We all miss you at our luncheons.
We heard from member Herb Clarke's wife Barbara, who told us Herb is now in a wheel chair, no longer recognizes most people and is losing his eyesight. Herb is residing at Beaumont, a retirement facility in Bryn Mawr. Herb was a past President and past Chairman of the Board of this organization and served on our Board of Directors for more than 2 decades. Clarke is now a Lifetime Director Emeritus of Broadcast Pioneers.
Long-time Broadcast Pioneer member Sally Starr has been in Virtua Hospital in Voorhees, New Jersey, for several months. Sally is having difficulty swallowing and getting around. We did, however, hear that when the hospital staff realized "who" their patient was, Sally perked up and began autographing her pictures. She's lost a lot of weight and we pray for her recovery. Get well, Our Gal Sal. Love, luck and lollipops!

Did you know...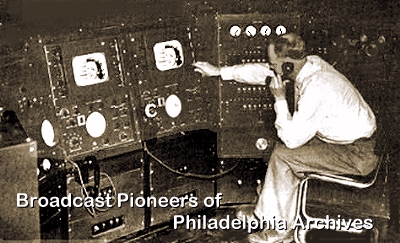 Television Engineer
W3XE, Channel 3
1941
that recently we heard from Dr. Marjorie E. Hoachlander, North Bethesda, Maryland who wanted to know more about Nicholas Alexander and his work? Many of you may not be aware that Alexander was the Program Manager for W3XE, Philco's experimental TV station. Today we know it as CBS 3, KYW-TV.
Marjorie said:
I found myself thinking back to my singing and playing piano and reading the news to the 100 owners of television sets in the Philadelphia area.

I was wearing the makeup created by Elizabeth Arden. It was thick and gooey of a deep brownish-orange color. At times it became runny because of the extreme heat in the studio.

Back in 1941, I worked with Nick Alexander in developing programming for Philco. I did this as a volunteer during my freshman year at Temple University, and I came to the Philco Studio in the late afternoons and early evenings of that academic year. I remember how dedicated Nick Alexander was about getting high quality television to the public.

I also recall that at the end of the evenings I was there, I joined others in calling up our audience of pioneer owners to ask them how well they saw the images we transmitted to them and how clearly they were hearing the sound. (The office kept a list of these owners.) They were so excited to be among the first to have television sets in their homes.

I wish I could have stayed longer at Philco, but after my wedding, my sister-in-law took my place at graduation from Temple.

I married and moved to Akron, Ohio, where I worked in sales research at Goodyear Tire and Rubber Company while my husband served his medical internship at Children's Hospital. I became involved for Goodyear in designing the first global survey on bike tires. I enjoyed my job, but I missed being involved in what was going on at Philco. My tenure at Philco was brief, but oh so memorable.

Years later, I earned my Ph.D. in Multimedia Technology and after that, conducted a nationwide study on "The Ascent of Man" under a grant from the Corporation for Public Broadcasting. In fact, during almost every project have undertaken since 1941-42 has been linked somehow to my earlier work at Philco. That, in truth, was where and how I fell in love with television.
William Craig Smith was nominated twice for Emmy Awards because of his work in television. He was also nominated for an Oscar in 1982 for his efforts in Victor-Victoria. However, in his early days, he worked at W3XE (later WPTZ) and Nick Alexander. In 1982, he said:
In the studio it seems to me the two cameras, both of them hand built in the Philco lab, did not match. One was obviously older and used a single lens. The "view finder" consisted of a hole cut in the back of the camera housing through which one viewed the image as it appeared on the target of the iconoscope via an ordinary pocket mirror glued inside the front of the housing! The other camera was much newer and had an optical view finder involving 2 lenses, one for the picture tube.

Both cameras were huge by today's standards. The cables to control had been hand fabricated and stuffed sausage-like into canvas sleeves. The final assembly was about 2 and ½ inches in diameter and extraordinarily clumsy. When it was found that the canvas covers caused objectionable swishing sounds when pulled across the floor they were later recovered with velour or cotton velvet. We did not see electronic view finders until after the war and the studio bought two of the newest RCA orthicon cameras. I remember the engineers being too impatient to await delivery from Camden, going across the bridge in a station wagon to carry those instruments like new born babies up to the top floor of the Architects Building on Locust Street. They spent days playing with the new lower light levels made possible by the image orthicon - lighting pipes and cigarettes and using only the light from the matches....
In 1941, Alexander wrote:
Our television facilities include a fully equipped television studio with associated control room, engineering laboratories, special effects and sound effects laboratory, scene shop, offices, dressing rooms, and viewing rooms, and one truck and one station wagon. In other words, it is a complete plant.

The television research, engineering and program staff's total more than 50 people with an unusual complement of talents, from script writer to glass blower, from program director to research engineer.

W3XE's sound and picture transmitters now serve a radius of approximately 25 miles from the transmitting town, 230 feet high. Reception has been reported as far as 40 miles in unusual instances. In the near future, Philco plans to increase this power in order to supply a much greater service area.

Our television experience dates back to the inception of electronic television. Our progress has been steady and its accomplishments numerous, and now with the advent of commercial television, we are ready to take our place as a pioneer and leader in this new industry as we have in many other fields of endeavor.

MORE DIGITAL ARCHIVAL PROJECT NEWS: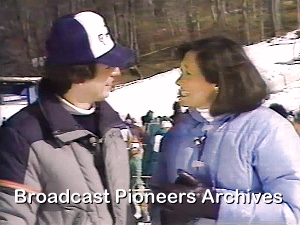 (left to right) Members Steve Levy and Cherie Bank
Ten Around Town
WCAU-TV, Channel 10
Friday, February 11, 1983
Here's a six-minute clip from a "Ten Around Town" program that starred Members Steve Levy and Cherie Bank. The show was taped on February 11, 1983, and aired the next day, Saturday, February 12th. It's a broadcast all about skiing. The station's slate in front of the show called it "Ten Around the Poconos - Special Edition."
Watch in Real Video!
Watch in Windows Media!
On Monday, September 26, 1949, WCAU's Hal Moore interviewed the legendary Al Jolson. Also, part way through this conversation, WCAU announcer (who later became News Director) Charles Shaw joined in with a very brief conversation with Mrs. Jolson. This was one of the last interviews done by "Jolie." A year later, he would be gone.

Remember that radio during this period had a lot of short broadcasts. This program is less than ten minutes in duration, but there's tons of information crammed into the short time period.
Our original source material was a WCAU Radio 16" transcription disc. We believe that the interview was recorded live onto the disc. When the program aired live at a later date, Moore simply introduced the piece. What we have here is the original recorded interview.
Listen in Real Audio!
Listen in Windows Media!
Broadcast Pioneers member Neil Harvey worked for the WFIL stations during the fifties and sixties. We have in our archives a 1956 clip of Neil doing the sign on for WFIL-FM.
Listen in Real Audio!
Listen in Windows Media!
We have in our audio archive a 7 minute cut of Jack Pyle doing the morning show on WRCV Radio, now KYW Radio. At this time, the station was owned by NBC. Jack tells a story about Robin Roberts, a famous baseball pitcher for the Philadelphia Phillies. He also talked about John Franklin (a WRCV air personality), Skip Clayton (a WRCV newsman) and Tom Pettit (who was a WRCV newsman until he left to head up the Washington Bureau of NBC News).
In this story, he tells us about his friend, Eddie Sawyer going to Baltimore to see Roberts pitch. Eddie was the manager of the Phillies from 1948 to 1952 with an encore from 1958 to 1960. After that, Sawyer was a scout for the team. Roberts had left the Phillies and went to the Yankees and then to the Orioles.
The date is August 6, 1962. The day after Roberts pitched for the Orioles. Pyle is doing the morning music program and talks for over 7 minutes with no music. Even though this dates from 1962, the original recording was on transcription disc. We were able to clean it up pretty good. Be advised that the tonal quality is not high fidelity. However, that's how it was on the original recording.
Listen in Real Audio!
Listen in Windows Media!
Remember, History is ONLY What Gets Saved!
(If there were no portraits of George Washington, how would we know what he looked like?)
MORE IN TOUCH WITH OUR MEMBERS:
Member Vince Papale is telling us there's a whole line of "It's Invincible" gear now available. From clothing to DVDs, it's all there. Vince says that these items are not available in stores from only from his website, http://www.vincepapale.com.
Broadcast Pioneers member Harvey Sheldon thought there should be an Internet radio station programming with nothing but Philly music. Sheldon wanted to have Philly music preserved not just for Philly but for everyone. Harvey Sheldon become the first Philadelphian to create a Philly radio station programming Philly musical artists. He considers himself to this day to be a Philadelphian--he just happens to live in LA. He ultimately created harverysheldonphillyradio.com. By the way, member Sam Lit, son of the legendary Hy Lit, produces the station right here in the Delaware Valley for Harvey. Harvey has also just completed writing his latest book (he's written so many, we lost track on the number), "America's Greatest Jazz and Pop Singers." This is his latest and it's over 800 pages long.
Member Gene Arnold e-mailed that he and his wife, Terry, have a children's book coming out in the summer of 2012. It's called "Let's Ride a Trolley." Terry, by the way, also has a new song out entitled "Here With You." It was recorded in Hollywood to welcome home the troops and supporting the families that waited. Proceeds benefit the USO and Wounded Warriors.
Member Ruth Weiman is seen in a television commercial for the Pennsylvania Lottery. She's the lady blowing out the candles on a birthday cake. Ruth is the daughter of Max M. Leon who owned WDAS AM & FM for thirties years. Max was a founding member of this organization and served as our Vice-President. And member Bunny Gibson just did a spot for PETA (People for the Ethical Treatment of Animals). We'll be looking for you on the telly.
THANK YOU:
As we do every month, we want to thank Broadcast Pioneers member Johnny B. Hall for his monthly cash donation to our DAP, Digital Archival Project. The amount totals $1,800 yearly and really helps us to underwrite this much needed but expensive project.
Thanks for the extra gift that member Terry Ruggles sent in with his membership renewal. We also want to thank Robin and Ira Adelman plus their two children, Marlene and Belle, and Robin's dad, member Leon Love, for their $1,000.00 gift to underwrite a scholarship for an area college communications student in 2013. They have already underwritten two scholarships that will be given away in April of 2012. They have been doing this for several years. Thanks.
If you forgot to make an extra contribution (cash or memorabilia) and would like to do so now, it's never too late. We would be thrilled to hear from you at: PO Box 2886, Bala Cynwyd, PA 19004.
A LITTLE BIT OF HISTORY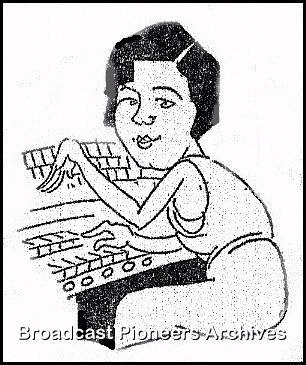 The above sketch dates from August 13, 1927. It's of Mary Vogt, organist for the John Wanamaker center city store. In the early years of radio, she was often heard over WOO Radio, the Wanamaker radio station. Click here for more information about Mary and WOO Radio.
IN TOUCH WITH THE INDUSTRY:
Sheena Parveen, a meteorologist has joined NBC 10. She does the weather on their 11 am daily newscast and contributes to the other casts during their schedule. Sheena came to Philly from Tampa Bay, WTVT, the local Fox affiliate.
Speaking of Meteorologists, Caitlin Roth starts January 23rd at Channel 29, WTXF-TV. She will become the station's weekend weather gal, replacing SallyAnn Mosley. Roth was at WOWT in Omaha, Nebraska. Prior to that, she worked for Accu-Weather in central Pennsylvania.
Member Joanne Calabria tells us that CBS 3 and the CW Philly 57 and sister CBS radio O&O's raised $112,030 in their 23rd annual Joy of Sharing campaign for the Salvation Army. Proceeds from the fundraiser will enable The Salvation Army to not only provide new toys and food to needy families during the holidays, but to support such programs as emergency shelters, child development programs, substance abuse programs and transitional housing among other services. Major corporate contributors included Herr's, UnitedHealthcare and PECO. A job well done.
South Philadelphia High School received a brand new ten-piece laptop computer lab courtesy of KYW Newsradio and Comcast. Listener John Middlebrook nominated South Philadelphia High School when he won his own Dell Laptop through the KYW Newsradio Comcast Laptop Daily Double contest in October. This marks the 12th year of KYW Newsradio's popular Laptop Daily Double giveaway, which always ends with a winner-nominated school receiving the biggest prize of all. South Philadelphia High was chosen randomly from a pool of almost 50 schools elected by this year's winners. The computer lab was presented to the students of South Philadelphia High on Friday, December 16th. Broadcast Pioneers member Marc Rayfield, CBS Radio Philadelphia SVP and Market Manager said:
We are pleased to again partner with Comcast, as we've done for more than a decade. They understand the importance of community service. The continuity has allowed us to see the true impact this program has on area schools, and as longstanding members of this community, we are quite proud of that.
The greatest competitive eater of all time, the legendary Takeru Kobayashi, will join SportsRadio 94WIP'sWing Bowl 20 to compete against dozens of eaters for $20,000 in cash and additional prizes. WIP's 20th Anniversary edition of Wing Bowl will be held at the Wells Fargo Center on Friday, February 3 at 6 a.m.
We've heard from Ira Mellman ,who worked at several stations here in Philadelphia before heading to Washington, DC as a newsman. He's now working for the Voice of America as a reporter/program host on "English to Asia."
John Records Landecker who worked here in Philly at a couple of stations a third of a century ago went on to be legendary in the Windy City of Chicago as a Rock Jock at WLS. Well, word is that Landecker is back at WLS (now an oldies station) doing weekends. Rumor is that John may be called upon later for additional duties.
Merlin Media is planning to buy Family Radio's WKDN for a reported $22.5 million bucks. Al Gardner, a native Philadelphian and a broadcaster who worked in this market some time ago, has reportedly been hired by Merlin as Vice-President of Programming. While the group hasn't announced the station's format, rumors has it going all news.
Tarsha "Jonesy" Jones, who recently left WUSL (Power 99), will now take her talents national with a syndicated radio program. The new venture starts January 9th. More changes are taking place at Power 99, Lady Shamara (mid-days) and Taz Anderson are both gone.
NBC 10 announced earlier today that they will air the 2012 season of ACC Men's Basketball games over NBC Philadelphia Nonstop, one of the station's digital sub-channels. Over the air, it's on sub-channel 10.2. On Comcast, it's channel 248 and on Verizon, it's channel 460. The first game is this Saturday.
ON THE SCENE BY EDITOR FRANK STONE: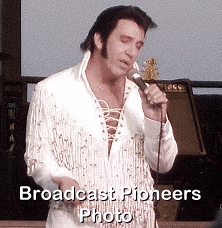 Elvis Presley Tribute Artist Jesse Garron
The Lou Booth Amphitheater
North Wildwood, NJ
(Photo by Barbara Farley-Stone)
It's January, and on the 8th of this month we celebrate the birth of the "King of Rock 'N Roll." Elvis Presley was born (in 1935) at 4:35 am in East Tupelo, Mississippi. This year, Elvis would have been 77 years old.
On January 8, 1946, Elvis received a $7.75 guitar (his first) for his eleventh birthday. On July 7,1954, Disc Jockey Dewey Phillips of Memphis radio station WHBQ became the first person to play an Elvis Presley record on air when he played "That's All Right (Mama)."
Over the years there have been hundreds of Elvis impersonators. "On the Scene" was present for "A Tribute to Elvis" concert performed by Jesse Garron. Jesse, by the way, was the name of Elvis' twin brother, who was delivered stillborn just 35 minutes before the baby who would be king.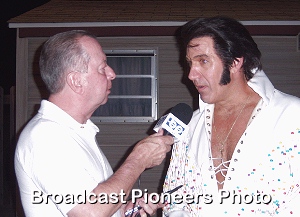 (Left to right) Broadcast Pioneers' Vice-President Frank Stone
Elvis Presley Tribute Artist Jesse Garron
The Lou Booth Amphitheater
North Wildwood, NJ
(Photo by Barbara Farley-Stone)
Last year, overflowing crowds jammed the Lou Booth Amphitheater in North Wildwood, New Jersey, to experience the mesmerizing performance of Jesse Garron's "Tribute to Elvis," complete with full live band and back-up singers. (Editor's note: It was amazing!)
After performing his first Elvis song at St. Mark's High School in Delaware, Jesse has gone from the Westbury Music Fair in New York to the U.S. Embassy in Algiers, performing on stage with such stars as KC and the Sunshine Band and Bill Haley and the Comets. All this is through the encouragement of his wife of 24 years (and back-up singer), Julie.
Garron says, "I do this out of respect. We try to put on the most authentic show we can. Greed is what draws the line between "impersonator" and "tribute artist,"…and there is a monumental difference between the two."
For this "On the Scene" reporter and his wife, Barbara (our photographer), as well as the hundreds in attendance, it truly was a memorable evening.
FOR THE RECORD: Like Elvis, Frank Stone had a twin brother. Ed Stone went on to become a Roman Catholic priest. He was ordained in May of 1973 and served in the diocese of Lafayette Indiana. Frank's brother passed away in June 1995.
A REVIEW OF OUR DECEMBER LUNCHEON:
Our December 21st Luncheon!
IT WAS BOOK AUTHOR DAY!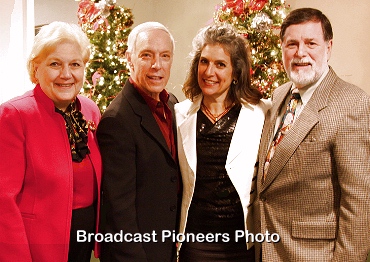 (left to right) Anne Klein, Jerry Blavat, Gerri Blavat (the Geator's daughter) & Jerry Klein
Broadcast Pioneers Luncheon at the Bala Golf Club
Wednesday, December 21, 2011

On Wednesday, December 21st, at the Bala Golf Club, you came out for another fantastic luncheon that we called "Author Day."
We had three different authors with us live that afternoon. Member Jerry Blavat, the Geator with the Heater, talked about his new book, "You Only Rock Once." Also on the big show was member Al Meltzer (often called "Big Al"). He discussed his latest book called "50 Years of Adventures in Sports Broadcasting." Also speaking that day was author Alan Boris whose book "Philadelphia Radio" came out earlier this year. Our Chairman of the Board Gerry Wilkinson wrote the preface for it.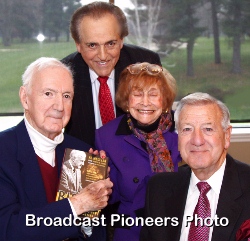 (left to right) Members Al Meltzer, Joe Pellegrino, Sally Berlin & Bill Baldini
Broadcast Pioneers Luncheon at the Bala Golf Club
Wednesday, December 21, 2011
Plus, live on the telephone from Los Angeles was member Harvey Sheldon, who has written 13 books. One of his latest is "Philadelphia's History of Music." Plus, as a extra special bonus, Harvey shipped us copies of his different books. Everyone got a free book.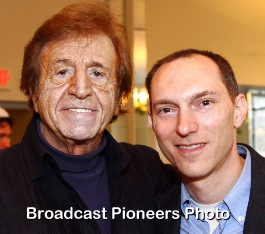 (left to right) Member Gene Arnold and Author Alan Boris
Broadcast Pioneers Luncheon at the Bala Golf Club
Wednesday, December 21, 2011
It all took place on Wednesday, December 21st at the beautiful and historic Bala Golf Club, 2200 Belmont Avenue (across the street from the State Police) in the Wynnefield section of Philadelphia. It's only minutes away from Channels 6, 10 and 17 and the radio stations in Bala Cynwyd.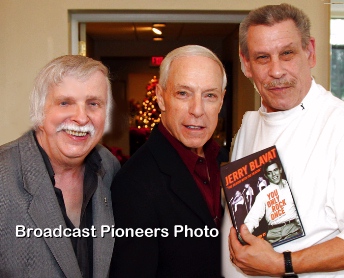 (left to right) Gerry Wilkinson, Jerry Blavat and Ira Adelman
Broadcast Pioneers Luncheon at the Bala Golf Club
Wednesday, December 21, 2011
By the way, Ira Adelman, his wife Robin and Robin's dad, Member Leon Love, had just underwritten a $1,000 scholarship this month to be awarded in April of 2013. They are already underwriting two scholarships to be given out in April of 2012. Thanks for your support!
PHOTOS OF THE EVENT!
60 pictures of this fabulous luncheon!
These copyrighted images are protected under US Copyright.
Any usage without the express, written permission of
the copyright holder is strictly prohibited!
Usage does NOT fall under "Fair Use" of copyright laws!
VIDEO OF THE AFTERNOON!
The December luncheon was another memorable and historic event. Our speakers were insightful, humorous and great story tellers.
Here's a glimpse at what we heard…
Member Harvey Sheldon, author of 13 critically acclaimed books, speaking (on the phone) with member Jerry Blavat, said, "Bob Horn, the original host of Bandstand, made a major contribution to the music scene in Philadelphia as well as the 'golden age' of music in Philadelphia. Back then it was known as the Ballroom City. It had twelve ballrooms and everybody was dancing."
Jerry Blavat, author of "You Only Rock Once," speaking at his legendary fast-paced delivery, said, "I always wanted to be in show business. I started on the dance floor at Bandstand and went on to meet the big names, from Sammy Davis to Sinatra. I was Don Rickles valet! I led the picket against Dick Clark. We didn't want Bob Horn replaced. It didn't work. Next thing I know, I'm the road manager for Danny and the Juniors and I see Dick Clark in New York. We wound up on a train together headed back to Philly. We talked a lot about the business and from that moment on, we became the best of friends. And, oh, by the way, Connie Francis is spending Christmas with Dick Clark."
Broadcast Pioneers Treasurer and Hall of Famer Pat Delsi was our MC for the afternoon. He told the audience, "Jerry Blavat is one of the hardest working guys in broadcasting."
Member Alan Boris, author of "Philadelphia Radio," said: "It's like a scrap book of Philadelphia radio…the Golden Age, Rock and Roll and the rise of FM radio. Radio became a vital part of our daily lives even listening at work! For example, in 1923 a construction crew in Kenneth Square building a house while wearing wool sports jackets and hats were listening to radio while working. They had an antenna wire strung up to the construction and an oversized speaker. The book contains a tremendous amount of little known facts about Philadelphia radio and over 200 images, many of which we had to research and discover because the stations don't save anything, and that's exactly why the Broadcast Pioneers archive project is so important to this industry, both radio and television. Thje essence of the book is to bring back memories to those who were there and to educate those who were not."
"Big Al Meltzer, author of "50 Years of Adventures in Sports Broadcasting," told the audience, "When I did television, everything was live. I made $66 a week. I was the luckiest guy in the world. I remember being on the air with a design of a ball park in front of me and a Western Union operator sitting next to me. He would tell me what was happening and I had to turn it into a credible, lively play by play broadcast! I worked all the bases in broadcasting…worked at all the major stations. The book is about television and sports and having spent 41 years in the business with my roots totally Philadelphia. I left once and went to Chicago and after a year realized what a mistake it was and came back to what they tell me now is a legendary career. I love being here with you. You're my people. You're broadcasters!"
HEARD ABOUT THE LUNCHEON:
The December luncheon was a remarkable event. From the myriad of celebrities in the audience to our blockbuster speakers, if you missed it, you missed a big one…again!
Clearly, by the sound bites above, you never know what will happen or what you'll hear at a Broadcast Pioneers event. What follows are some of what we heard, "after the luncheon."
"Every time I come to a luncheon it just keeps getting better. Today's speakers were legendary. Thanks to them, to be able to understand where we've come from, as an industry, was fascinating." Paul Big Bear
"It was varied and tremendous. People like Jerry Blavat and Al Meltzer all had a ton of stories. I worked with Big Al for several years at Channel 10 and shared the air. We went from competitors to great friends…and even as competitors we were friends! This was such a great luncheon…had a lot of fun." Joe Pellegrino
"Today was wonderful. Jerry Blavat has a memory like an elephant. I remember he would call me at night and say, I'm going to be a star…and look at what the man has done. He's a great salesman!" Kal Rudman
"I loved it. I love the stories, the history. It's like being in a living history book. Our group, 'The Soul Survivors,' were in Blavat's book and we're very proud to be included. Personally, Jerry is a wonderful, generous guy, who helped a lot of people along the way." Kenny Jeremiah
"We all have stories about broadcasting, but today we heard from the best." Johnny Lerro
"Another great day at the Bala Golf Club. They were all so good and all really knew what they were talking about because they lived it and told it like it was. Broadcast Pioneers making history again." Tom Moran
"I thought today was great. I brought a friend and he really enjoyed himself. The more we learn about this industry, the more important it becomes to save what we can and keep it for history. I'm passionate about this organization and the Pioneers." Johnny B. Hall
Editor's note: Hall is a major supporter of the Broadcast Pioneers' Digital Archival Project and is helping us to preserve broadcast history. Thanks, Johnny.
A FINAL THOUGHT....
"Broadcasting gives you the opportunity to be a witness to the front lines of life."
Member Steve Highsmith
November 18, 2011
remarks upon being inducted into our Hall of Fame
Please contact us by e-mail at newsletter@broadcastpioneers.com or by mail at Frank Stone. Your stories are important, to you, to us, and your colleagues. Contact us today and we'll include your story in the next newsletter!

Photo Editor & Archival Historian - Gerry Wilkinson
© 2012, Broadcast Pioneers of Philadelphia
All Rights Reserved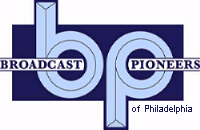 The e-mail address of the Broadcast Pioneers of Philadelphia is pioneers@broadcastpioneers.com
For luncheon reservations call (856) 365-5600 or e-mail us at: rsvp@broadcastpioneers.com