The Broadcast Pioneers of Philadelphia is a federally recognized, state chartered charity. We are a 501(c)(3) non-profit corporation serving Philadelphia since 1962.

Frank Stone
Newsletter Editor

December Luncheon
The Bala Golf Club
Wednesday, December 15, 2010

Reception at 12 noon
Lunch at 12:30 pm
Ratecard: $25 per person

RESERVATIONS REQUIRED!
(856) 365-5600
rsvp@broadcastpioneers.com
DECEMBER 15th LUNCHEON: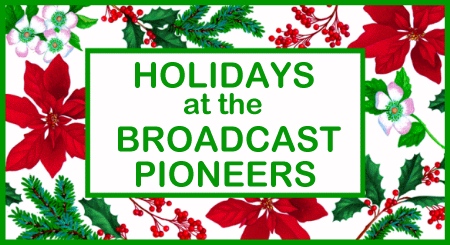 The December "HOLIDAY FESTIVAL" luncheon is sure to be another special and memorable event. A star-studded lineup will be on hand to entertain, share stories and celebrate the holiday season. It all happens at the beautiful Bala Golf Club, 2200 Belmont Avenue in Philadelphia! Just minutes away from Channels 6, 10 and 17 plus the radio stations in Bala Cynwyd. Meet and greet (networking) starts at noon with lunch served at 12:30 pm. Be sure you have a seat by making your reservation NOW. Call (856) 365-5600. Our MC for the afternoon is Dom Giordano of WPHT Radio!
The cost is still only $25 per person and includes a full-course lunch including salad, entrée, coffee or tea and desert served at 12:30PM. There's also a crudite and cheese table. The luncheon is open to all our members, any person in the industry or associated fields; both people now active and retirees. You do not have to be a member to attend. Call NOW with your reservation, (856) 365-5600.

Visit Our Website Often - http://www.broadcastpioneers.com

NOVEMBER'S ANNUAL BANQUET REVIEW :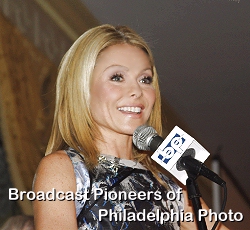 Kelly Ripa
at our Person of the Year Banquet
Friday Evening, November 19, 2010
Photo by Broadcast Pioneers member Don Hurley
On Friday November 19th at the beautiful Hilton Hotel, 4200 City Avenue, The Broadcast Pioneers of Philadelphia held its 42nd annual banquet. A record attendance of 385 people enjoyed socializing during a lively cocktail hour followed by a delightful and satisfying dinner that resulted in many "clean" plates, particularly dessert!
Our Person of the Year for 2010 was Kelly Ripa who started her TV career right here in Philly by being a regular dancer on "Dancin' on The Air" on Channel 17 and "Dance Party USA" on the USA Television Network. Both shows were produced by Broadcast Pioneers members Frank Nise and his son Michael. Mike currently serves on our Board of Directors.
Our Hall of Fame inductees for 2010 were:
Carol Erickson, meteorologist and news reporter for CBS 3, KYW-TV
Peggy King, former girl singer on "The George Gobel Show" on TV
Linda Munich, Vice-President of Public Affairs for 6ABC, WPVI-TV
Dave Neal (Dave Gomberg), news producer at Channels 3,6 and 10
Joe Pellegrino, all round sports guy at Channel 6 and WCAU-TV
Glenn Schwartz, the chief meteorologist for WCAU-TV, NBC 10
Dick Sheeran, former reporter and anchor for KYW-TV, CBS 3
Rick Williams, co-anchor of the noon and 5 pm for Action News, 6ABC
John Zacherle, the cool ghoul, host "Roland" of WCAU-TV's "Shock Theater"
We also inducted the following people posthumously in our Hall of Fame. They are:
Al Alberts, star of the "Al Alberts Showcase" for three decades on 6ABC
Herb Denenberg, consumer reporter and former PA insurance commissioner
Jack Downey, former VP/GM for WCAU Radio, now WPHT Radio
Joe Earley, who was Mr. Rivets on Channel 3 & the postman on "Gene London"
Ed Elias, former Engineering Supervisor for WPVI-TV for a half-century
Steve (Mr. Movie) Friedman, former movie expert and telephone-talk host
Paul Harron, Jr., head of Harron Communications for decades
Paul Harron, Sr., pioneer radio and TV owner including WIBG and Channel 12
Irv Homer, well-known tv personality and radio telephone-talk show host
Sarajane "Cissie" Hurst, TV producer at Channels 3, 6, 10; WPEN PR Director
Bob Klein, innovator of "Urban Contemporary Radio;" GM at WDAS AM & FM
Ed McMahon, sidekick to Johnny Carson, host of several local 50s TV shows
Bob Menefee, former longtime Philadelphia radio host and air personality
Jim Nettleton, one of the original Philadelphia WFIL, Famous 56 "Boss Jocks"
Frank Nise, innovator of modern-day broadcasting lines and TV producer
Nat Wright, the All-Night Rat, host of the Dawn Patrol/WIP Radio for 20 years
Proceeds benefited the Broadcast Pioneers Scholarship Fund and other educational activities. We are a federally recognized, state chartered charity with 501(c)(3) status for federal income tax purposes. Monies raised from this year's banquet plus extra gifts and grants will allow us to give away sixteen $1,000 scholarships to area college students in April of 2011! That's a 25% increase over last year. We also brought 8 area college students to be our guests at the banquet so they could network with the greats of the broadcast industry in our market.

HEARD AFTER THE BANQUET: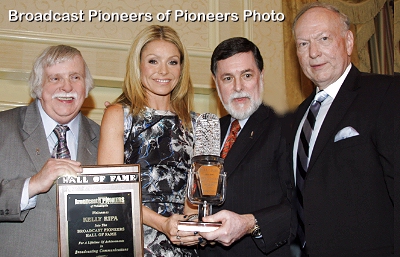 (left to right) Broadcast Pioneers Chairman Gerry Wilkinson, Kelly Ripa
Broadcast Pioneers President Jerry Klein and
Art Moore, producer of "Live with Regis & Kelly" & former president of this organization
Our Person of the Year Banquet
Friday Evening, November 19, 2010
Photo by Broadcast Pioneers member Don Hurley
"It was a brilliant evening. I really don't feel worthy of this award, especially considering all the Hall of Fame inductees and their credentials. I am blown away. Having a big fuss made over me is overwhelming." Kelly Ripa
"This is unbelievable. The way the organization has grown is just amazing. You have a wonderful Person of the Year. What a great night." Art Moore (VP Programming WABC TV)
"Broadcast Pioneers is a great institution. It's great to be here." John Zacherle
"It's a great thing for me…I'm a Philly boy and this means a lot, to be included in this prestigious group. It's a great night…all I did was make it not rain." Glenn Schwartz
"It's wonderful to be here and a great honor to be included." Rick Williams
"Kelly Ripa not only started on our show, but worked in our office. A great night for me and especially my mother and father." Mike Nise
"This is one of the great events in the history of Broadcast Pioneers. It's amazing the size of this audience tonight. We're delighted to be here." Allen Stone
"It's great to meet other people that you normally would not meet…and to have them all under one roof is amazing. This is phenomenal. All the legends are here! Adam Joseph
"I'm fantastic. I'm good looking. I'm debonair. I'm younger than I look and I'm humble! A great night!" Carter Merbreier
"This has exploded in size and turnout. I'm very pleased and happy to be here. This is a fantastic organization and that it has grown to this level is wonderful." Vernon Odom
"I'm a kid from West Philly who wants to shake every hand in the room." Ukee Washington
"So many notable broadcasting celebrities, and then to see my daughter receive this award, is very humbling." Joe Ripa
HALL OF FAME/PERSON OF THE YEAR SELECTION COMMITTEE MEETING:
There will be a brief meeting of the Hall of Fame/Person of the Year Selection Committee Meeting on Wednesday, December 15th from 10 am to 10:15 am. You must be assigned to this committee in order to attend.
BOARD OF DIRECTORS' MEETING:
There will be a Board of Directors' Meeting on Wednesday, December 15th from 10:15 am to 11:45 am. Board members and officers need to RSVP that they will be attending.
WELCOME NEW MEMBERS:
Full Members:
Frank Cerami is the president and owner of Cerami Creative strategies. He's worked as an on-air host for WISX (106.1), WMWX & WEJM (95.7), WIOZ (Q102), WUSL (Power 99), WKSZ (Kiss 100.3), WYXR (Star 104.5), all here in Philadelphia. Plus a tour at WWXT, Allentown. He has several awards to his credit.
Eddie "Mr. Ed" Collins started in the business in 1983 and has worked at a bunch of stations in the central part of our state including WARM, Scranton; WXPX/WQEQ in Hazelton; WMGS-FM, Scranton and a half dozen others. He owns Eddie Collins Productions and is a free lance musician and mobile DJ.
Father Jim Drucker has been a Catholic priest for almost a quarter of a century. However, he does has a quite extensive resume in broadcasting. He worked at WBAX in Wilkes-Barre; WARM, Scranton; WRAW, Reading; WYNS, Allentown; WAVZ in New Haven and WSMN in Nashua, NH.
Tom Kranz was an announcer at WWSH-FM, editor for WCAU-AM, did morning drive for WSNI, then in 1981, he went back to WCAU but this time in TV as an assignment editor and producer. In 1989, he became an Executive Producer and three years later moved to CBS News as a producer and then 18 years as a Senior Producer for the network.
Associate Members:
Art Wilson started in the business in 1961 and worked with Bill Hellman on WIFI-FM (92.5 on FM) in 1966. He has worked as a professional musician for 50 years and also has theater experience. He has done musical directing, composing and some acting. He writes songs with his wife, Janice. They run Jan Art Productions here in Philadelphia.
Janice Wilson grew up in the family business. Her dad was Sol Silverstein. She helped with scripts and ad copy for early local TV shows including the garden program on Channel 10. She also was a dancer on "American Bandstand" and is a lyricist and composer with her husband, Art. She now runs Jan Art Productions.
We are thrilled to have these new members being our total membership to 400 (an all-time record). We hope to see as many of you as possible at the December luncheon.
A LITTLE BIT OF HISTORY!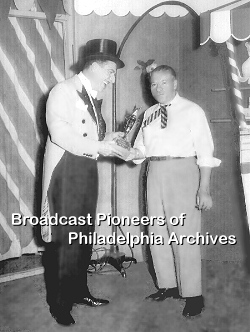 (left to right) Jack Sterling and Charlie Vanda
"The Big Top"
WCAU-TV
Saturday, June 14, 1952
(Read the story in our Digital Archival Project News Section about this 450 photo collection)
IN TOUCH:
2009 Broadcast Pioneers Person of the Year and Broadcast Pioneers' Vice-President Bill Wright, Sr. will be again presenting, "Uncle Billy's Christmas" on WBCB 1490-AM on Christmas morning from 6 to 9:30 am. This show is a wonderful tradition that has entertained listeners for years. Special thanks to station owner and Broadcast Pioneers member Merrill Reese for continuing to air this wonderful program and showcase the legendary, Bill Wright Sr., who entertains the Delaware Valley with this holiday favorite. Way to go, Uncle Bill!
If you're looking for a good holiday gift, Merrill Reese has a new book out called, "Sportscasting: Turning Your Passion into a Profession." He talked to alot of pro broadcasters, many in this organization, and came up with a really good read. The book is $19.95 plus shipping.

Listen to Merrill doing Temple University baseball in 1963 (Real Audio Only)
On Christmas day, Jane Norman will be leaving for the West Coast, where she'll be performing her new cabaret act, which she will also be doing when she returns to Philly. She's also on the bill for our December 15th luncheon. Have fun Jane!
Broadcast Pioneers member Michael Stein was featured on the November 17th episode of "Hollywood Treasure" on the SyFy channel. Mike is a collector of television and motion picture memorabilia. The episode focused on Mike's items from the Wizard of Oz. Mike said:" I spent many years behind the camera, but this will be my first time in front of it." Nice going Mike!
Broadcast Pioneers member Dennis Bianchi, President and General Manager of WCAU-TV, NBC 10 gave us the word that NBC 10 has launched "NBC Philadelphia Nonstop." It's a 24 hour channel with local lifestyles and information. Nonstop is available over the air on Channel 10.2 (formerly a 24 hour NBC 10 weather channel). It's also on Comcast on channel 248 (in most areas) and Verizon Fios channel 460.
A couple of interesting things we found include a revised and newly redone version of "Out of the Vault." This show ran on the main channel several years ago in a one hour format and was hosted by Broadcast Pioneers member Terry Ruggles. Well, the new version is 30 minutes long and hosted by Broadcast Pioneers member Glenn Schwartz. The program features old Channel 10 broadcasts. We've seen parts one and two of their 40th anniversary show hosted by Broadcast Pioneers members Herb Clarke and Gene Crane. There was also a 30 year old interview with Frank Rizzo done by Broadcast Pioneers member Larry Kane. It runs at 9:30 am daily and 12 midnight on weekends.

The other show of interest that they are doing is an one-hour live newscast from 7 to 8 pm. Lori Wilson (former host of the 10 Show) is anchor with Glenn Schwartz and Vai Sikahema. It's Philly's only TV newscast in that time period. New York Nonstop started in the Big Apple two years ago. In the nation's capital, DC Nonstop started two days after Philly. And from what we are told, this is just the beginning of what to expect.
A LITTLE BIT OF HISTORY!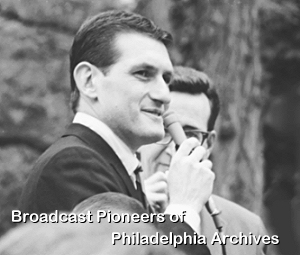 (left to right) Ken Garland and Joe McCauley
Rittenhouse House
WIP Radio Publicity Photo
1967
If you are receiving your TV signal over the air, you may wish to re-scan or update the channels. Channel 17.2 was carrying THIS, older MGM movies and some old TV shows like "Highway Patrol, Sea Hunt, the Original Outer Limits, Patty Duke, Mr. Ed and Bat Masterson." Well, that has now moved to 17.3. Elsewhere on the digital TV scene, WPHL-TV, Channel 17 has partnered with Tango Traffic. They will present traffic information for Philadelphians on this 24 hour a day service. It starts next month on Channel 17.4. Tango's website is promoting this venture as a "first of its kind 24/7 traffic network."
Vince Giannini, Vice President and General Manager of WPHL-TV said: "PHL17 is pleased to join forces with Tango Traffic to deliver a much-needed, 24/7 local traffic network. We have always been committed to providing relevant local content and Tango Traffic is the long-awaited answer to a real need in the lives of today's busy consumers."

What's coming on Channel 17.2 in January? It's called "Antenna TV." It's owned by Tribune Broadcasting (owners of Channel 17). Some of their programming will include Father Knows Best, Hazel, Gidget, Burns and Allen, the Monkees, The Flying Nun, Dennis the Menace, Rin Tin Tin, Circus Boy, Wild Bill Hickock, the Three Stooges and some movies.
Congratulations to B101 and owner Jerry Lee, a member of this organization, for winning the best station produced spot at the recent Radio Mercury Awards. Kudos also to Blaise Howard, VP/GM and Michael Bense, copywriter.You can download the spot here! Jerry Lee was the 16th President of this organization serving during 1978 and 1979. He was also our 16th Chairman of the Board serving during 1979 and 1980. Jerry has been inducted into our Hall of Fame and was our Person of the Year in 1997.
By the way, Jerry's station, B-101 is playing all Christmas music, all the time. It started on November 18th at 3 pm with Andy Williams' version of "It's the Most Wonderful Time of the Year." The regular soft rock format returns on December 26th. However, for those who don't want to wait, you can listen (if you have an HD radio) to the soft rock on the station's sub channel 2.
WYSP morning drive guy Danny Bonaduce got married last month in Hawaii to Amy Railsback, a school teacher who moved here from California to be with Danny. It's Danny's third marriage and Amy's first. Danny is the grandson of Jack Steck, the fourth president and chairman of the board of this organization. Jack was also program director for WFIL. In the seventies Danny was co-star of the network TV show, "The Partridge Family." Joe Bonaduce, Danny's dad also worked in broadcasting. Early on, he did PR for the Philadelphia Zoo bringing animals to local TV shows. Then he started doing work for WFIL, courtesy of father-in-law Steck. In 1964, when Dick Clark moved to the West Coast, Joe went with him. A year later, he was creating story ideas for "The Dick Van Dyke Show" and then on to Andy Griffith and "That Girl."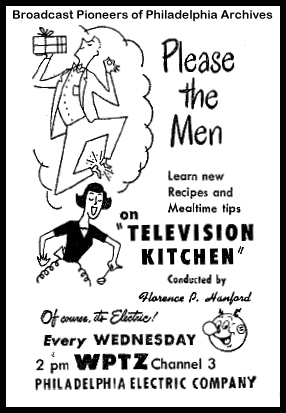 Ad for Television Kitchen
WPTZ, Channel 3
April 21, 1951
There's a lineup shakeup happening at WPHT (formerly WCAU Radio) next month. Out are syndicated talkers Glenn Beck and Sean Hannity. Michael Smerconish moves from morning drive to afternoon drive, bumping Hannity. Michael will be on for 4 hours. The first hour is local and the 4 to 7 pm time period is his national radio talk show syndicated by Dial Global. Since Smerconish goes to 7 pm, that means you lose the first hour of Broadcast Pioneers member Dom Giordano. But Giordano listeners have no fear, he's still on the schedule. He moves into Glenn Beck's time period (9 am to 12 noon). Beck's show originated from Philadelphia and WPHT for a half decade from 2002 to 2007.
Filling the morning drive spot (5:30 am to 9 am) is Chris Stigall. He comes from Kansas City's KCMO (710 am) where he's done morning drive from last four years. No word yet on what will fill the evening part of the schedule. One reason for the change is that Smerconish was doing his local morning show and his afternoon syndicated program for the last two years and decided he could no longer do both. Syndicated talker Rush Limbaugh remains the lone person untouched in the schedule, retaining his noon to 3 pm shift. Aside from the Phillies, the station's ratings are out of the top ten. They are 11th in their target audience (35-64) and 16th in the 25 to 54 demo.

Premiere Radio Networks, Inc. (owned by Clear Channel) syndicates both Beck and Hannity. Under national advertising guidelines, both shows will need a new home in this market and are shopping the stations for a new home. Glenn Beck offers live streaming of his show on his website and while Sean Hannity's website doesn't offer live streaming, you can find it on the WABC Radio website.
Broadcast Pioneers member Charlie Gracie returned home from the United Kingdom just before the family get together for Thanksgiving. Charlie and his wife Joan spent 4 weeks in England traveling 2,200 miles within the country. Gracie has a new book about his life coming out soon and a new CD. Way to Go, Charlie.
Did you know...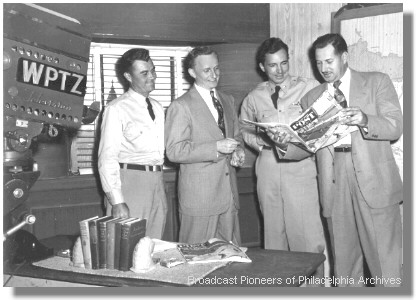 (Left to right) Col. Paul Tibetts, Roy Neal, Lt. Anderson and
the Promotion Manager (unidentified) of the Saturday Evening Post
WPTZ Television Show "Open House"
1949
Veteran broadcaster Roy Neal was from Philadelphia. While most of us remember him from his NBC-TV days covering the US space flights, he had quite a career here in our market before going to the network. He was a local radio personality on WIBG. He broadcast the Phillies games and did very early commercial television for Channel 3. About a year before his death, Roy contacted us. He said that he was writing a book, but now knew that he would never finish it. So he sent it to us for publication on our website. We thought you would appreciate reading a small excerpt of Roy's unfinished book.
(Everything) changed on a Sunday afternoon. On the 7th of December 1941, I had the duty, signing religious programs on and off from the studio (of WIBG Radio). It was just after 2:30 when our teletype began ringing. They used bells to summon us when news was breaking. Three bells meant information from the wire service. Four bells meant urgent stories, five bells signaled bulletin material. But this time the ringing never stopped. I was sure the teletype was broken as I went to the wire room to make repairs.

There, in capital letters, the print on the machine read: "FLASH: JAPANESE BOMB PEARL HARBOR."

I had never seen a flash before. They are very rare, only used for stories of overriding importance, such as this one that signaled the entrance of the United States into World War II. I pulled off the wire copy, waited a few moments until the bells stopped ringing and a bulletin cleared, giving a few early details on the sneak bombing of the American Pacific fleet. Then I ran into the studio and signaled my engineer. We broke into the religious program peremptorily.

A few minutes later, more bulletins were on line, bearing early reports of serious damage to American ships. So I broke in again to read them on the air. And then the phone rang in the control room.

"Are you outta your mind?" It was Ed Cleary, the Station Manager. "Are you trying to lose the account? You can't cut in and out like that, " he fumed.

"I think you'd better talk to Doug Arthur, boss, we just went to war. Even those people in church have to know about this." I may have been young and inexperienced but I knew we HAD to get out the word.

A few minutes later, the phone rang again.

"Keep right on interrupting. We're on the way to give you some help."

It was Doug Arthur. Within half an hour, he and three other top staffers were with me. Bless them. They let me stay on the air while they hustled bulletins. We set up a listening post. Rupe Werling, the station's Promotion Manager, started writing copy using stories stolen from the networks. Arguably the most respected commentator of his time "H.V." Hans Von Kaltenborn (founder of the national organization that evolved into the Broadcast Pioneers of Philadelphia), made an almost pitiable mistake when he said that the Japanese were a tiny nation, ill prepared to do battle with the mighty United States. They would soon be destroyed, he said. I read his words without comment.

We were not as locked into the system in those days. I felt no compunction in using other station's and network's stories, with attribution, and coupled them with the factual material coming in on the wires from Japan. And no one ever registered a complaint!

You couldn't tackle a pundit like H V without credentials. Lacking those, I let the actuality of the news speak for me. Even as a new kid on the block, in a tiny newsroom in Glenside, Pennsylvania, I had learned my first lesson. Let the story tell itself. The audience will understand, even if you're calling the lie to learned commentary. So I followed Kaltenborn with the real news as a picture of devastation emerged and Pearl Harbor took its place in, as President Roosevelt called it, "A Day of Infamy."
This regular monthly column is written and researched by Gerry Wilkinson
A LITTLE BIT OF HISTORY!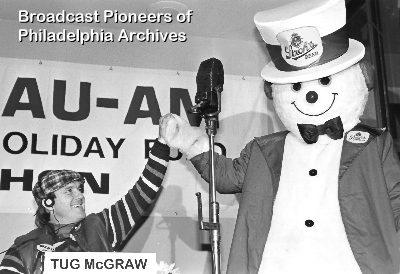 Tug McGraw with Frosty the Stroh's Snowman
at a WCAU-AM Radio Holiday Broadcast
circa 1982
WE REMEMBER :
Gary Geers, longtime KYW host and announcer died at 84. Over four decades of service to KYW, he hosted a farm show, a religious program, did weather, commercials and anything else that needed to be done. He started his broadcasting career in 1951 at WCAU-TV. He moved to WFIL (later WPVI). From there he went to WPTZ-TV, which evolved into KYW.
Gary Geers Audio from a May 31, 1970 station break for KYW-TV (Real Audio Only0
Gary Geers Audio from May 16, 1972. Eyewitness News 8:25 am report (Windows Media Only)
Tom Dooley, WFIL Boss Jock passed away on November 11th after a long and courageous battle. Tom's career spanned over a quarter century in broadcasting. His career took him to KHJ in Los Angeles, and KVIL in Dallas. In Virginia Beach, he worked for CBN and moved on to be the official voice of the Billy Graham Evangelistic Association, narrating many of Graham's national specials.
ON THE HEALTH FRONT:
On the Monday morning following the Hall of Fame & Person of the Year banquet, Broadcast Pioneers President Jerry Klein had surgery to remove his gall bladder. All went well and the surgery was done laparoscopically (minimally invasive), so Jerry should be up and around within a few days. EDITOR'S NOTE: He was sending e-mails Monday night (about 14 hours after the surgery).
Broadcast Pioneers member Billy Carlucci of "Billy and the Essentials" fame was in a bad automobile accident last month and was in rehab for two weeks. He's home now. We spoke to him just before this newsletter came out and he sounded fine. He will be singing at our December 15th. So come out and wish him well.
THANK YOU:
Special thanks go out to member Johnny B. Hall for his personal donation to Broadcast Pioneers this past month for our DAP, Digital Archival Project. In fact, every month for over a year now, John has helped further the goals of our DAP by providing some of the needed funds necessary to keep this project going. Our thanks also go to Susan and Bob Kravitz for the generous contribution to our Digital Archival Project.
Our thanks go to those who sent an extra contribution when sending in for banquet tickets. Add these to the ones mentioned in our October and November newsletters: Nessa Forman, Sylvia Kauders, Liz Matt and special thanks to Larry Kane for his very generous contribution. Also, we wish to thank board member Dave Custis for his contribution to our general fund.
Special thanks to Walt MacDonald, formerly of the GO Patrol, for donating some great goodies. He sent us video of our 1990 Persons of the Year banquet. Plus a complete KYW-TV Special called "Radio: Red Hot & Right Now." That complete program features many of our members and dates from August 8, 1983. Walt also sent some video of a high speed car chase with some GO Patrol coverage. And he sent hours of coverage of the local Emmy Awards from September 14, 1984. Tom Snyder returned to Philadelphia to host. Thanks Walt. Glad to have the material.
If you forgot to made an extra contribution and would like to do so now, it's never too late. We would be thrilled to hear from you at: PO Box 2886, Bala Cynwyd, PA 19004.
A LITTLE BIT OF HISTORY!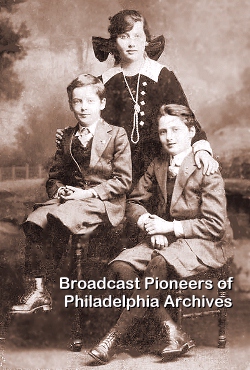 (left to right) Alan Scott with siblings Ella and Sam
1916
WE NEED VOLUNTEERS:
We always need volunteers to assist in all kinds of activities. From helping at our luncheons and banquet to scanning and writing stories for the website, WE NEED YOUR HELP!
MORE IN TOUCH:
Member Mel Klawansky e-mailed us some news about the Joey Reynolds video we had in last month's newsletter. He says: "I am 99% certain that Joey Reynolds' engineer in the Mike Strug piece is long-time, mid-day personality on 92.5 WXTU, Leigh Richards. Very cool to see the board I used to run for Don Cannon, Joe Simone and Barbara Sommers on Domino Lane."
And the latest news on Leigh Richards.... She just celebrated a quarter of a century on the country station last month but a week later, she is off the air and is no longer listed on the station's website.
Kerri-Lee Halkatt, formerly of the Fox 29 10 pm Report is starting at WVIT-TV in New Haven on December 13th. She's be a reporter/anchor. In that market, she will use the air name of Kerri-Lee Mayland. She is married to Bala Cynwyd lawyer Kirt Mayland. They have a vacation home in the area. She had been "on leave" from WTXF since September. Halkatt replaced Broadcast Pioneers member Dawn Stensland a little while ago and had been with the station for 8 years.
Sharon Crowley, another former Fox 29 reporter is now at WWOR-TV in New York City. She had been with the station for 11 years. She joins former Philadelphian Harry Martin (an Action News alumni) who has been with the station for 7 years and is the anchor of their 11 pm newscast.
Danny and the Juniors (including Broadcast Pioneers members Joe Terry and Frank Maffei) have a new release. It's on the Forevermore Records' various artists' album called "Over the Summer." Their latest song is entitled "From the First Kiss to the Last." While it was recorded three years ago, it was just released last month. Joe Terry wrote the song in 1963. It was recorded shortly afterwards by Len Barry but was never released. So, 2010 sees this great song being released 47 years after it was penned.
Broadcast Pioneers member Corky Warren tells us that "Corky's Time Machine" (co-hosted by Mrs. Corky, also a member of this organization, returns this Saturday evening to QBC-TV, channel 2 in South Jersey (down around Vineland). The show's on from 7 to 10 pm.
Since we're in the holiday season, we thought you might enjoy this picture because someone in it has the last name of Christmas. You'll have to excuse us if we mention that her dad was "Father Christmas." (Well, wasn't he? His last name was Christmas and he was a father). It's the WCAU-TV traffic department.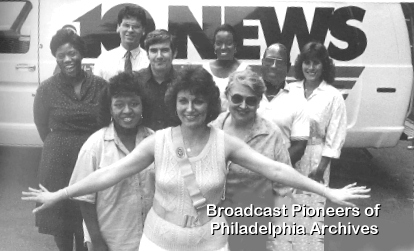 (front row - Maryann Christmas)
(second row - left to right) Kathy Johnson and Doria Jane Starankovic
(third row - left to right) Barbara Handy, John Lynch and Roland Shired
(back row - left to right) Pat Wooley, Myra Brown and Kim Martin
WCAU-TV Traffic Department
1988
By the way, in the above photo, did anyone notice that Maryann Christmas was wearing a AAA School Safety belt? Why? 'Cause they were the Traffic Department, get it?
Former Philadelphia broadcaster Tom Stanwood e-mailed:
I was saddened to hear about Charlie O'Donnell's passing. I remember an experience that occurred over 53 years ago just like it was yesterday.

I will never forget the kind gesture and support that Charlie gave me in 1957 as a young, raw, inexperienced, aspiring radio guy.

I was a student at Temple University, majoring in Communications and active on the campus station WRTI.
To get "my foot in the door," so to speak, I was working at as telephone switchboard operator at WIBG from 5 p.m. to 12 midnight. Charlie was pulling a night shift at the time and doing news.

In between incoming telephone calls at the station I spent as much time as I could with Charlie in the break room and intercepting him in his runs from the newsroom (downstairs) to the studio upstairs. Basically, I was trying to pick his brain and asking why he did and how he did his job.

What I will remember most about our interaction was that Charlie always made me feel like an "equal". He never talked down to me. He always had time for my questions, he was supportive and offered encouragement in my efforts to become a professional broadcaster. Most of all what I remember of our early time together was that he was kind to me. He was my hero.

It broke well for me when I was hired as a summer vacation replacement by Grady Edney, WIBBAGE's program director. Charlie had given me the confidence and an inside perspective of how the new WIBBAGE should be aired.

I spent that summer writing and airing news every half hour and hosting Club 99 from 12 midnight to the 2 a.m. signoff.

Later in the mid 60's I returned to WIBG on a fulltime basis doing News with Jerry Grove and Bruce Davis.
We have three excerpts of Tom on WIBG Radio from October of 1965. The first one is from October 17th and the other two are from October 24th. By the way, sometimes we get e-mails from visitors to this website saying, "Why don't you play more of what you have?" The answer quite often is, "that's all we have." That's the case with these WIBG newscasts excerpts. What you hear is all we have.
Excerpt #1 (Real Audio Only)
Excerpt #2 (Real Audio Only)
Excerpt #3 (real Audio Only)
Broadcast Pioneers board member, an inductee into our Hall of Fame and our 1993 Person of the Year Dorie Lenz tells us that a lady's earring was found in the Hilton banquet room during clean-up. The earring is now at the Hilton Hotel 's lost and found.
Former KYW-TV & KYW Newsradio veteran Steve Gary (a member of the Broadcast Pioneers) writes a blog for the Delaware County Daily Times on a wide range of topics, from clandestine U.S. Special Forces action in Yemen's mountains to the vanishing breed of neighborhood craftsmen.
Broadcast Pioneers member Todd Tuckey was on the "Kendra" show on E!. Kendra Wilkinson (no relation to our Chairman of the Board) came to Todd's place of business (TNT Amusements) to buy her husband Hank Baskin (former Eagles football player) some games. The show aired in several different time periods last month.
DIGITAL ARCHIVAL PROJECT NEWS:
Broadcast Pioneers member John Facenda
doing a Sears TV Commercial
aired December 25, 1977
We have in our video archive, a Sears commercial done by one of the most beloved figures in Philadelphia broadcasting. He was Broadcast Pioneers member John Facenda. This commercial aired on Christmas Day 1977 and talked about a big sale at Sears the day after the holiday. Note that the quality is not the best. Why? The commercial came direct from a Philadelphia television station's aircheck recorded on 3/4" video tape. These recordings are turning to dust as we speak. We were lucky to get this good of a quality. 15 to 20% of the 3/4" tapes from that era are already non-playable. This is why our DAP, Digital Archival Project is so important. We must get the material off the analog source as soon as possible. In our opinion, the Real Video version is slightly better.
Watch with Real Video!
Watch with Windows Media!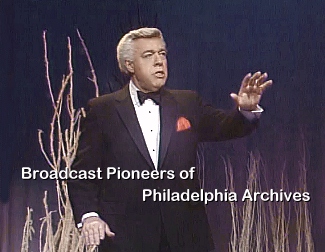 Broadcast Pioneers member Al Alberts
Al Alberts Showcase Christmas Special
circa 1986
We have a clip from an Al Alberts Christmas Special which aired over WPVI-TV, 6ABC. We know that this excerpt was used for several years on the show. The earliest Christmas telecast we have in our video archive of the Showcase dates from December 20, 1986. The record date of this program was December 7th. We have the next year's broadcast (December 19, 1987) and this exact same footage is also in that show and several broadcasts from the nineties. Since 1986 is the earliest show we have, we cannot verify whether it was used previously. We at least have knowledge that this song (Silent Night - Oh, Holy Night) was recorded about a quarter century ago. It was transferred off the original one inch tape which was donated (along with over a hundred other Al Alberts Showcase telecasts) to our video archive by WPVI-TV. In our opinion, the Real Video version is slightly better.
Watch with Real Video!
Watch with Windows Media!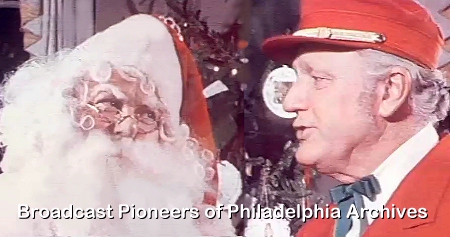 Broadcast Pioneers member Joe Earley as Santa and member W. Carter Merbreier as Captain Noah
This Way to Christmas - a Captain Noah High Adventure Special
circa 1979
Also in our video archive, we have several complete Captain Noah's High Adventure Specials which aired during 1979 through 1981 and were syndicated across the country. This particular episode is called "This Way to Christmas" and featured Broadcast Pioneers member Joe Earley as Santa Claus. We all know that Captain Noah is member W. Carter Merbreier. This 30 minute program was shot entirely on film. Some of the other High Adventure broadcasts were a combination of film and video tape. This leads us to believe that this particular program was one of the earlier telecasts. In our opinion, the Real Video version is slightly better.
Watch with Real Video!
Watch with Windows Media!
The Lower Merion Historical Society is donating to the Broadcast Pioneers of Philadelphia approx. 450 negatives (most are 4x5 in size). These original negatives were taken in 1952 and 1953 and all deal with WCAU-TV or WCAU Radio. The one of Sterling and Vanda (shown immediately after the new member section) is one from this collection. It is photo #1021. The is a real treasure trove of material and we are delighted to receive it. There's pictures of Ed Harvey, Gladys Webster, John Trent, John Facenda, Ed McMahon and much, much more. The negatives have not yet been scanned and converted into electronic photographs.
Remember, History is ONLY What Gets Saved!
(If there were no portraits of George Washington, how would we know what he looked like?)
ON THE SCENE: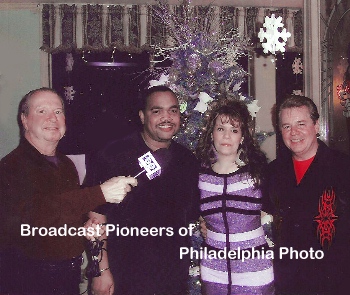 (Left to right) Bittersweet members Tony Wood, Michelle Parto and Kenny Jeremiah
La Piazza Restaurant and Lounge, Wildwood, NJ
Saturday evening, November 27, 2010
The Broadcast Pioneers Newsletter was "On The Scene" to catch a performance of our good friend and Broadcast Pioneers member Kenny Jeremiah & his group Bittersweet on Saturday November 27th at La Piazza Restaurant and Lounge in Wildwood, New Jersey.

Kenny told us: " I love playing in Wildwood. The people are great...Tony and Michelle (Bittersweet) are fabulous. I was here in the 60's with Soul Survivors and the 70's with Roman Candle. Everybody that comes here loves it!"
A FINAL THOUGHT....
With Thanksgiving taking place just last week, we thought you might enjoy this quote:
"Before I met my wife, I went out with a girl who was a vegetarian. I believe she led a really sheltered life because one night we were coming from Thanksgiving dinner at my parents' house. As we were driving away from the old homestead, she said that until she met me, she had never seen a turkey."
Gerry Wilkinson
Chairman of the Board
Broadcast Pioneers of Philadelphia
We welcome your input regarding content, future stories, suggestions, etc. Please contact us by e-mail at: newsletter@broadcastpioneers.com. Your stories are important, to you, to us, and your colleagues. Contact us today and we'll include your story in the next newsletter!

Photo Editor & Archival Historian - Gerry Wilkinson
© 2010, Broadcast Pioneers of Philadelphia
All Rights Reserved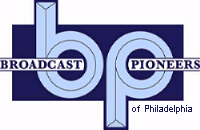 The e-mail address of the Broadcast Pioneers of Philadelphia is pioneers@broadcastpioneers.com
For luncheon reservations call (856) 365-5600 or e-mail us at: rsvp@broadcastpioneers.com