Visit Our Website Often - http://www.broadcastpioneers.com

WRAP-UP OF THE OCTOBER LUNCHEON:
On Wednesday October 21st, Broadcast Pioneers of Philadelphia presented the "Stone Age Dick Clark," Ed Hurst with a Rock and Roll Songfest. It all took place at the beautiful Bala Golf Club.
Ed's guests were Danny & The Juniors, Billy Harner, Kenny Jeremiah (of the Soul Survivors), Billy Carlucci (of "Billy and the Essentials") and Nicky DeMatteo. Included was a tribute to Jim Nettleton, one of the original Famous 56 Boss Jocks, who passed away earlier in the month from cancer. Live on the phone was Broadcast Pioneers member and former Boss Jock George Michael. Jim's son, Todd Nettleton also said a few words.
It was an amazing afternoon of 21 great songs and lasting memories. The audience was continually on their feet clapping to the beat, dancing and cheering as the "hit songs" brought everyone back to their teen years as we re-lived the ageless hits of these famous performers who electrified and energized the room and the nation.
Special thanks to Pioneers member and sound expert Dave Michaels for keeping it all together and providing everyone the opportunity to "hear" the historic performances and the ageless commentary of Ed Hurst. Also, kudos go to member Bill Gellhaus who records each of our lunches for our DAP, Digital Archival Project.
HEARD AFTER THE LUNCH:
"Thanks to the Broadcast Pioneers, we keep the 45's alive." Tom Lamaine
"One of the best programs ever, and that includes the WIBAGE reunion." Bill Wright, Sr.
"WOW! I felt like I was 15 again." Mike Nise
"A fabulous afternoon." Paul Big Bear
" I think this is great. Everybody's staying and having such a great time…they love it." Nancy Boyd (Server Bala Golf Club)
"Great show, can't get it any better. Gerry did a hell of a job." Billy Carlucci
"This is the best damn luncheon I've ever attended. This is what our luncheons are really all about." Tom Moran
"It was glorious, like stepping back into history." Nicky DeMatteo
"The finest Pioneers luncheon we've ever had. The place was jumping." Ed Hurst
WELCOME NEW MEMBERS!
The Broadcast Pioneers of Philadelphia is pleased and proud to welcome nine new members this month!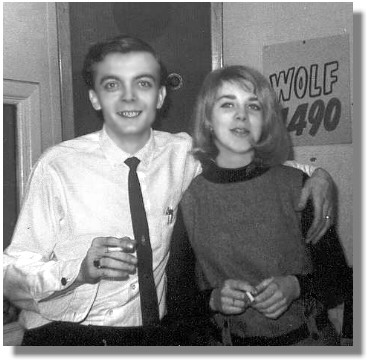 (Left to right) Don Lancer and Meg Bowden
WOLF Radio, Syracuse
1964
Don Lancer began his broadcast career in 1964 at WIFE, Indianapolis, Indiana, moving to WOLF in Syracuse and then to WKBW, Buffalo, New York and on to KYW Newsradio in Philadelphia in 1970. Don has been described as the "dean" of KYW Newsradio serving as business and financial editor for more than a quarter century. He has won several awards including AP Award for first place in public affairs in major markets. Listen to a complete 1971 KYW Newsradio, Don Lancer newscast.
Skip Clayton started in the business in 1962 at WRCV Radio along with stops at WPBS Radio, where he was music programmer and producer of Jack Pyle's "Saturday Night Big Band Wagon," WRCP Radio as Music and Public Service Director and KYW Radio. For the past 12 years, he has hosted "Racing Wrap" on WBCB Radio, member Merrill Reese's station in Levittown.
Lawana Scales began her television career 37 years ago at WCAU-TV in Human Resources for 12 years before moving into programming at NBC 10. She has received numerous awards including 9 Emmys, 2 Telly Awards, National Parent Choice Award, 2 Angel Awards and 6 PAB Awards. A sampling of her many productions include the Longwood Gardens Holiday Magic Special, Broadway Philly Style, and annual specials produced in conjunction with the Philadelphia Museum of Art.
Melanie Capoferri started performing as a child in local theaters in 1962, and solo appearances on the Gene London Show over several years. She is a professional soloist/vocalist and has been a private instructor to Broadway professionals such as Hugh Panaro. Presently she is on the musicians board with the Archdiocese of Philadelphia and conducts a variety of workshops.
Vibiana Bowman Cvetkovic started in the industry in 1998. She is a highly regarded educator at Rutgers University (16 years) focusing on areas of research, writing and communications. Among the extensive list of publications she has authored include: "The Rise and Fall of Television" and "Satellite Television Broadcasting: Timeline." Currently, she is Reference Librarian and Web Administrator at the Paul Robeson Library, Rutgers University, Camden. She will soon author her Ph.d thesis, "The History of Television."
Hillary Hickmott Baker began in the business in 1979 as a high school intern at WIFI, 92 FM. While attending Temple University, she worked for SUNNY 104.5 and then she went on to other Philadelphia radio stations including WFLN and WXPN. Currently, She is at WHYY (TV and radio) where she is a manager and is responsible for the stations' corporate underwriting.
Ken Jeremiah is a legendary performer and recording artist. His career dates back to the 60's as lead singer for the "Soul Survivors," receiving a gold record for their hit, "Expressway To Your Heart." He has toured with the Beach Boys & Buffalo Springfield, Smokey Robinson & The Miracles plus Flip Wilson. TV performances include the Joey Bishop Show, The Tonight Show Starring Johnny Carson, the Hollywood Pallace, Hullabaloo and American Bandstand. Most recently, he became co-host of WKTU's Oldies "Jammin' Sunday Night" with Broadcast Pioneers board member Mike Brooks.
Don Hurley a retired Atlantic City police officer, started in the business in 1994 as Talk Radio Host on WFPG, Atlantic City. He moved on to Suburban Television with a live cable talk show. He continued as a radio talk show host and in 2005 became host of "Classic Rock Memories" on WIBG Radio in Ocean City, NJ. Most recently, he is producer for Ed Hurst's "The Steel Pier Radio Show," WIBG Radio at the shore.
Nicky DeMatteo was singing at age 6 and received his first break at age 9 when he auditioned for the Horn and Hardart Children's Hour, won and became a regular with the show for five years. He performed on the Arthur Godfrey show for a short time when it was discovered he was only 15 and not the required 16. Nicky began recording with many records over the years. They were given major local airplay, thanks primarily to WIBG powerhouse Bill Wright, Sr. Nicky performs Wednesday nights at Ventura's restaurant in Voorhees, NJ.
Corrections: Last month we welcomed new member Monica Avery. An error in her bio stated that she started in the business in 1965. She actually began in the industry in 1994 and was pleased to let us know she wasn't born until 1972! Also in our new membership directory, we identified the handsome young broadcaster speaking to Harold Stassen as Allen Stone, however, it was, in reality, Alan Scott.
A hearty WELCOME to each of our new members. We hope to see you at upcoming Broadcast Pioneers luncheons! By the way, that sets an all-time high in membership, now at 354. Each month, we keep on breaking the old records.
MORE IN TOUCH: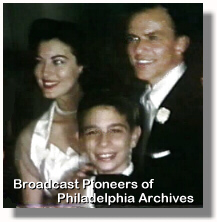 (Left to right - back row) Ava Gardner & Frank Sinatra
(front row) Broadcast Pioneers member Steve Sacks
November 7, 1951
Broadcast Pioneer member Steve Sacks has shared a little known story. Steve tells us that it was 58 years ago (November 7, 1951) when a historic event took place at his parents' house in West Mt. Airy, a quiet, private location, out of the "Philadelphia" spotlight. Turns out Steve's father, Lester and his uncle Manie were good friends of Frank Sinatra. Steve was 11 years old at the time. Among the many guests at his home were Frank's mother Natalie and father Martin. The ceremony was held in the living room with a buffet following, and Frank Sinatra and Ava Gardner were married. Due to limited space this is the short version. To hear the complete story, talk with Steve, the details are amazing!
Last month we reported on the passing of "Mr. Movie," Steve Friedman. We heard from Broadcast Pioneers member Bobbie Shaffner who was a faithful listener of Steve's "Movie Night." Both Bobbie and Steve were fans of the late Van Johnson. When Van Johnson passed away at 92 (last year), there was an outpouring of nostalgia for him. "Mr. Movie" picked up on this and was taking calls. Shaffner was one of his last callers, on what was to be his last broadcast, Saturday September 12, 2009. She tells us, "Steve sounded so up and natural, it is now hard to believe he is gone."
Special thanks to Broadcast Pioneers member David Custis who provided CDs at the October luncheon of "Honor Roll Hits" hosted by Joe Niagara (a member of the Broadcast Pioneers) from June 23, 1958 and promos for "Your Hit Parade" and "Billboard" Radio programs. Dave has an amazing library of music that is unmatched! If it exists, Dave has it! Thanks Dave!
Our Chairman of the Board, Wee Willie Webber, has some late breaking news for us. Beginning Monday, November 9th, his WHAT Radio program expands to two hours and will be heard Monday through Friday mornings from 10 am to 12 noon. That's twice as much Bill Webber. Does that mean he's now 13 feet tall?
Our Person of the Year for 2009, Bill Wright, Sr. will be the guest this Saturday, November 7th on the "Remember When" broadcast on WPHT Radio from 11 pm to 1 am. The hosts are Broadcast Pioneers members Steve Ross & Jim Murray.
Member Karen Scioli (Stella from Saturday Night Dead) informs us that she has all 141 of her television shows on the original tape masters. We have been promised that we will be able to archive all the programs in a digital format as part of our DAP, Digital Archival Project. Saturday Night Dead premiered on KYW-TV 25 years old last month. Watch the show's opening!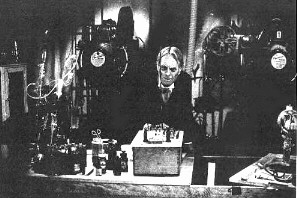 Please note that our next luncheon, Wednesday, December 16th, will feature Broadcast Pioneers member John Zacherle, who turned 91 years-old earlier this year. Make plans to be there. Watch excerpts from Shock Theatre on Friday, March 7, 1958 on WCAU-TV.
It's important that you keep us up to date with your contact information. Last month, we mailed out our new 2009 - 2010 membership directory and a bunch of them have been returned because of incorrect mailing addresses (mostly because the member has moved and didn't tell us). We also need a valid e-mail address so you can continue to receive this newsletter. Current phone numbers are also necessary so that if your address and e-mail are not correct, we can call you for the latest contact info. During these hard economic times, we are doing everything we can to keep our costs down (so we don't have to raise dues, luncheon prices and/or banquet ticket prices). This organization belongs to you. Please help us keep our costs down.
A final thought...
"It's impossible to reach good conclusions with bad information!"
© 2009, Broadcast Pioneers of Philadelphia
All Rights Reserved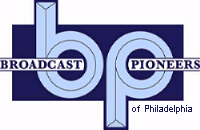 The e-mail address of the Broadcast Pioneers of Philadelphia is pioneers@broadcastpioneers.com