The Broadcast Pioneers of Philadelphia is a federally recognized, state chartered charity. We are a 501(c)(3) non-profit corporation serving Philadelphia since 1962.

Frank Stone
Newsletter Editor

September Luncheon
Bala Golf Club
Wednesday, Sept. 15, 2010

Reception at 12 noon
Lunch at 12:30 pm
Ratecard: $25 per person
RESERVATIONS REQUIRED!
(856) 365-5600
rsvp@broadcastpioneers.com
45 YEARS OF EYEWITNESS NEWS
Luncheon & KYW-TV Reunion!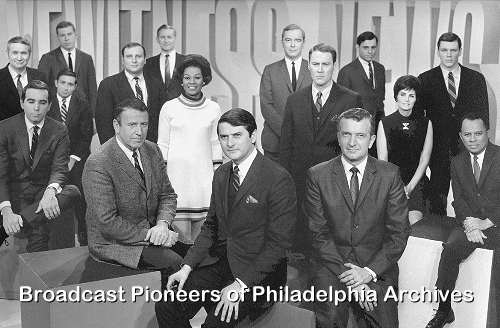 The Eyewitness News Team
KYW-TV, now CBS 3
1967
After one of the hottest summers on record, (and a busy one for Broadcast Pioneers) it's September and Broadcast Pioneers is launching into a cool new season with spectacular luncheon programs, special events and our annual Person of the Year/ Hall of Fame Banquet.
On Wednesday September 15, 2010 we'll be celebrating "45 Years of Eyewitness News" and a KYW-TV Reunion. Our moderator will be Broadcast Pioneers member Dick Sheeran.
On the panel, we will have:
Carol Erickson. KYW-TV, CBS 3 Meteorologist and Reporter
Trudy Haynes, former KYW-TV, Eyewitness News reporter
Larry Kane, Former CBS 3 News Anchor & the Dean of Philly News
Al Primo, the Creator of the Eyewitness News & former News Director
Marciarose Shestack, former Eyewitness News, Channel 3 News Anchor
Ukee Washington, CBS 3 News Anchor for "Eyewitness News"
Introductory remarks by Jon Hitchcock, President and General Manager of CBS 3 and the CW Philly 57; Jon will be introduced by Broadcast Pioneers member Steve Levy.
Plus, we will have Broadcast Pioneers member "Big Al" Meltzer speaking live on the telephone with former Eyewitness News anchors Vince Leonard and Mort Crim, both members of the Broadcast Pioneers.
Reservations can be made by calling (856) 365-5600. This looks like another huge luncheon as we already have over 50 reservations and the luncheon/reunion is still a couple weeks away. You don't want to miss it! Reservations can be made by calling (856) 365-5600. Be sure to call early to reserve your seat(s), we already have many reservations and we expect it to be another sell-out!
Broadcast Pioneers member Al Primo has donated 25 copies of his book, "Eyewitness Newsman" to the Broadcast Pioneers. They are on sale for $20 from Amazon.com. We also know that an autographed copy of the book sold on Ebay for $45. Well, Al's going to autograph all 25 copies. You can pick up your copy at our September 15th luncheon for a donation of $10 or more to the Broadcast Pioneers DAP, our Digital Archival Project. Get a good read and help support saving historic broadcasts, photos, etc. for future generations. Sounds like WIN-WIN to us!
It all takes place at the beautiful Bala Golf Club, 2200 Belmont Avenue in Philadelphia! Just minutes away from Channels 6, 10 and 17 plus the radio stations in Bala Cynwyd. Tons of free parking and for those who want it, there's also valet service. Meet and greet (networking) starts at noon with a full-course lunch including salad, entrée, coffee, tea, desert served at 12:30. There's also a crudité and cheese table. Cash bar available! The cost is still only $25 per person.(over six years with NO price increase) The luncheon is open to all our members, any person in the industry or associated fields; both people now active and retirees. You do not have to be a member to attend. Call now and make your reservation, (856) 365-5600. This is the placed to be at noon on September 15! See old friends and make some new ones!
1977 VIDEO!
Here's a three-minute clip from a couple 5:30 pm Channel 3 newscasts. In it, you'll see Vince Leonard, Bill Kuster, Mort Crim, Jessica Savitch, Beverly Williams, Malcolm Poindexter, Beverly Williams, Dick Sheeran and Bob Bradley. It starts with Mort & Jessie just BEFORE they went on the air. That's why there's no audio at the very beginning. It ends the same way, with Vince Leonard on camera AFTER they went into commercials. In our opinion, the Real Video file is slightly better in quality.

Visit Our Website Often - http://www.broadcastpioneers.com

ATTENTION BOARD MEMBERS:
There will be a Board of Directors meeting before the luncheon at 10:15 am. It's at the Bala Golf Club and the date is September 15th. Please let us know if you are planning to attend.
BANQUET REMINDER:
Our 2010 Person of the Year is KELLY RIPA!
Plus a star-studded cast of inductees
for our Hall of Fame!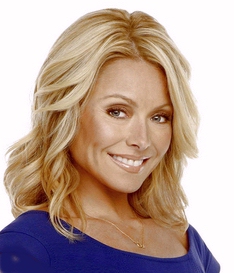 Our Person of the Year for 2010 is South Jersey native Kelly Ripa who started her TV career right here in Philly by being a regular dancer on "Dancin' on Air" on Channel 17 and "Dance Party USA." Both shows were produced by Broadcast Pioneers members Frank Nise and his son Michael. The younger Nise serves today on our Board of Directors.
Currently the co-host of the ABC-TV morning program Live with Regis & Kelly, she will be honored at the Broadcast Pioneers annual Person of the Year/Hall of Fame Banquet on Friday, November 19, 2010 at the Bala Golf Club. Mark your calendars now and save the date! This is going to be huge! Tickets (priced at $80 for members and $95 for non-members) will go on sale tomorrow, September 1st. Go to our website ( http://www.broadcastpioneers.com) and download the ticket form. The only way to reserve for the banquet (different procedure than our luncheons) is to buy your tickets by mail.
FYI - As a member, you can purchase one ticket at the membership price of $80. This price is only for the member. Spouses, families, friends, guests and everyone else pay $95 each. Tables can hold either 10 or 12.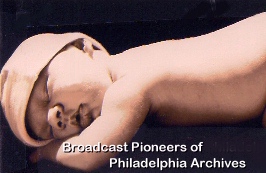 Dick Sheeran
Previously unreleased photo
Our Hall of Fame inductees for 2010 are:
Carol Erickson, meteorologist and news reporter for CBS 3, KYW-TV
Peggy King, former girl singer on "The George Gobel Show" on TV
Linda Munich, Vice-President of Public Affairs for 6ABC, WPVI-TV
Dave Neal (Dave Gomberg), news producer at Channels 3,6 and 10
Joe Pellegrino, all round sports guy at Channel 6 and WCAU-TV
Glenn Schwartz, the chief meteorologist for WCAU-TV, NBC 10
Dick Sheeran, former reporter and anchor for KYW-TV, CBS 3
Rick Williams, co-anchor of the noon and 5 pm for Action News, 6ABC
John Zacherle, the cool ghoul, host of WCAU-TV's "Shock Theater"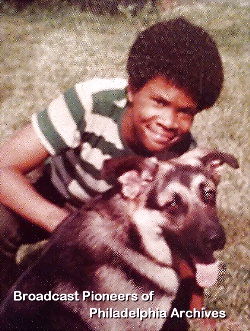 Rick Williams
Previously unreleased photo
We will also induct the following people posthumously in our Hall of Fame. They are:
Al Alberts, star of the "Al Alberts Showcase" for three decades on 6ABC
Herb Denenberg, consumer reporter and former PA insurance commissioner
Jack Downey, former VP/GM for WCAU Radio, now WPHT Radio
Joe Earley, who was Mr. Rivets on Channel 3 & the postman on "Gene London"
Ed Elias, former Engineering Supervisor for WPVI-TV for a half-century
Steve (Mr. Movie) Friedman, former movie expert and telephone-talk host
Paul Harron, Jr., head of Harron Communications for decades
Paul Harron, Sr., pioneer radio and TV owner including WIBG and Channel 12
Irv Homer, well-known tv personality and radio telephone-talk show host
Sarajane "Cissie" Hurst, TV producer at Channels 3, 6, 10; WPEN PR Director
Bob Klein, innovator of "Urban Contemporary Radio;" GM at WDAS AM & FM
Ed McMahon, sidekick to Johnny Carson, host of several local 50s TV shows
Bob Menefee, former longtime Philadelphia radio host and air personality
Jim Nettleton, one of the original Philadelphia WFIL, Famous 56 "Boss Jocks"
Frank Nise, innovator of modern-day broadcasting lines and TV producer
Nat Wright, the All-Night Rat, host of the Dawn Patrol/WIP Radio for 20 years
Our MCs for the evening are Broadcast Pioneers members Larry Kane and Pat Delsi. FYI! This year, we will have a new voice on our videos for the banquet, it's the guy short in height but long with talent (with one of the best sets of pipes anywhere in the industry), Tom Moran. With a line up like this, the 2010 banquet is sure to be a spectacular, history-making event. Plan on being there, to see old friends, make new ones and share in an evening that will make headlines. We expect this to sell-out early.
WELCOME NEW MEMBERS:
Charles Tomlinson, worked for WCHE-AM and WJBR-FM. Most recently with Northlight Advertising as Director of Marketing and Business Development and Director of Marketing for NuCar Automotive Group. Currently he is Associate Publisher of Delaware Today Magazine.
Robert McCone, is currently the News Control Supervisor for NBC 10, WCAU-TV 10. He's been there since 1995 and previously worked for WGBS-TV Philly 57 (where he was Bozo, the Clown), WGMR-FM, State College and CBS, New York.
Steven Strouss is the weather production coordinator and weather producer/meteorologist for KYW-TV, CBS 3 and The CW Philly 57 since 2007. Previously, Steven was with AccuWeather, Inc. in State College, PA. for a half dozen years as a broadcaster and forecaster. Now we know who to blame when it rains when we're at the shore.
Norman Glenn is a retired TV news photographer from CBS 3. He worked at WHYY-TV before joining KYW-TV in 1968. He worked in engineering as a film projectionist (remember them?), video tape operator and in master control. He was a tape editor, satellite truck operator, news photographer and most anything else you can think of.
We're experiencing wonderful growth in our membership! The word is out and it's all good news about Broadcast Pioneers. The more we are, the more we can accomplish. Let's keep growing! We've seen a 20% increase in membership is just the last year and we have almost double the members as four years ago. We welcome these new members and look forward to seeing you and everyone at a luncheon soon.
ADVERTISE IN OUR MEMBERSHIP DIRECTORY:
Well, we have almost finished our 2010 - 2011 membership directory which gets mailed to all our members in the fall. With an increase in membership, there will be more in it than ever before. That means we'll be printing more copies (because there are more members). It's a great source of getting the word out about your business to all our members and the cost is LOW! Most members use the directory over and over again. So your advertisement is seen dozens of times over the year. Rates start as low as $125. You only have to September 6th to take advantage of this fantastic opportunity. Contact Vice-President Frank Stone.
A LITTLE BIT OF HISTORY!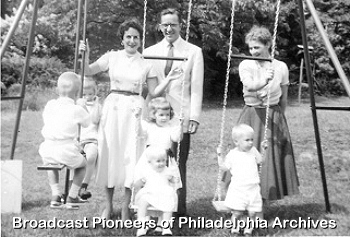 We received some correspondence from Pam Nester (Landis). He said:
My Mom recently gave me some old photos. Among them were several photos of Gene Crane. Although I was only about 5 or 6 years old at the time (1955), I remember the "Count the Sheep" contest that was part of his television show (Mr and Mrs). My Mom sent in a post card with my guess for the number of sheep. I won!

Gene Crane and his wife came to our house after the contest with my prize, a swing set! They pulled it out of the back of their Cadillac convertible in our drive way and assembled it in our back yard. It was a very special day. I have very fond memories of that swing set. I am now 60 years old!
IN TOUCH:
It's a wrap! Our Chairman of the Board Gerry Wilkinson was having a meeting on August 4th with member Michael Muderick about out DAP, Digital Archival Project. Right outside Michael's house, the Haverford Township police arrested a suspect believed to be "The Mummy Bandit." Muderick shot it with his video camera and supplied the TV stations with footage of the actual arrest. It was the lead story that evening on the 11 pm newscasts, all used the footage.
Any speaking of our Chairman, did anyone notice that he was missing for a few days last week? Gerry and his wife, Michele, went to Pittsburgh to bring home their youngest daughter, Zara, 25. She just received her Master's Degree in Library Sciences from the University of Pittsburgh. Zara had already earned a Master's in English. The youngest Wilkinson is now back in Philadelphia and looking for work at one of the area's higher education institutions. The oldest Wilkinson daughter, Maya, 32, has just begun teaching Criminal Justice at Temple University this fall.
While in the western part of the state, the Wilkinsons visited the Pittsburgh Zoo. Gerry told his family of a tale from Al Primo's book, "Eyewitness Newsman." It seems that Tom Snyder, then a local reporter/anchor for KYW-TV, was sent out to cover a local story at the Philadelphia Zoo. He returned with a can of film and a box of elephant droppings which he left on someone's desk. Broadcast Pioneers member Marciarose Shestack confirms that this story is true.
In the August newsletter, we mentioned"The Action News Theme," Move Closer to Your World. Shortly after we e-mailed that newsletter, we heard from member Jay Meyers who said:
It was funny to read today that you mentioned the Action News Theme because I was in an online discussion about it last night. I received a Facebook friend request from Al Ham's daughter Lori, who I knew in the seventies but hadn't been in touch with for more than 30 years. I actually met her before I ever met Al, who from about 1979 on became a great friend right up until the time he passed on. Our bond was Philadelphia and the Action News Theme, and also our love of radio and music. Al used me as an unofficial advisor for his Music Of Your Life Format in the eighties.

Lori and her husband of nearly 30 years tour as a Jazz Duet; she sings and he plays the piano. Their show is called "The Music Of Your Life," keeping her Dad's dream alive. At the age of I think 15 in 1971, Lori was the lead singer of the Hillside Singers which had a hit with "I'd Like To Teach The World To Sing" (The Seekers also had a hit with it but the Hillside Singers was the version featured in the Coke commercial). Lori's mom sang back-up on the Hillside Singers, and Lori told me last night her late Mom is also the female vocalist on "Move Closer To Your World" the Action News Theme.
A LITTLE BIT OF HISTORY!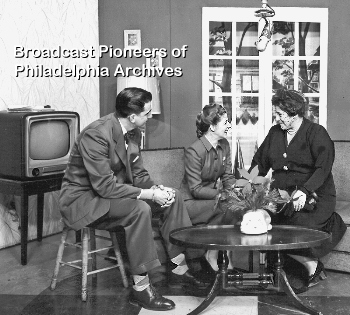 (Left to right) Ed McMahon, Jean Corbett and Gertrude Berg
on the set of "Home Highlights"
WCAU-TV
early 1951
Ed McMahon worked in Philadelphia for almost ten years and lived a couple blocks away from Dick Clark in Drexel Hill, PA. Most of his career here was at WCAU-TV, but he also did a late night live TV show on Channel 3 called "McMahon and Company." The program aired from 1 am to 2 am and was a forerunner of "The Tomorrow Show" with Tom Snyder, who worked at KYW-TV for five years.
Congratulations to Jim MacMillan on his upcoming retirement after 22 years with the Equity Communications owned station, WCMC 1230-AM, Wildwood and more than 50 years in the industry. He began his career as a DJ in 1959 in the Air Force and has become a legend playing classic pop standards featuring Glenn Miller, Tommy Dorsey, Al Alberts and Frank Sinatra. Good luck Jim!
A couple weeks ago, AM 1340, WHAT Radio debuted "the new and improved AM 1340!" A new look, a new lineup, but the same greatest music of all time! Mornings with Jim Clark, Paula Deignan, mid-day with Mike Bowe and Elaine Soncini, afternoons. Mike Bowe from 5-6 in the lounge for Happy Hour. Brendan in the evenings, and Anthony with "The Night Train." Sounds like a cool line-up, good luck!
Broadcast Pioneers member Mike Anderson of the Reading Public Museum tells us about two exciting new exhibits at the museum. Beginning October 9th through January 23rd, "Tiffany Lamps: Articles of Utility, Objects of Art." More than forty stunning objects will be on display. From September 4th through January 29th, "Women Artists Featured in Museum's Works On Paper Gallery. It's the outstanding works of art by more than 20 women artists from the seventeenth through twentieth centuries. Both exhibits sound like winners to us!
Broadcast Pioneers member Kenny Jeremiah doesn't take a summer break. He's performing on Labor Day Weekend September 3-4 with Bittersweet at LaPiazza Restaurant & Lounge. In mid-September, member Charlie Gracie is on the road in Minnesota and North Dakota with Wanda Jackson and Sleepy LaBeef. The ever busy "Danny and the Juniors" will headline on the 18th Annual Rock 'n' Cruise this coming January along with "Paul Revere and the Raiders" and "Bill Haley's Original Comets."
We were fascinated by a story in the Philadelphia Inquirer (Sunday August 8) "How Mad were Philadelphia's own Mad Men?" The first ad agency in the country N.W. Ayer & Son, opened in Philadelphia in 1869 and delivered some of the slogans we know best. "When it rains it pours" (1912) for Morton Salt and "I'd walk a mile for a Camel" (1912) R.J. Reynolds. In the late 1950's and early 60's Philadelphia hosted its own world of account executives who courted the country's biggest companies. The consensus among some of Philly's greatest ad execs, David Lane, Chet Harrington, Gene Shay, Allan Kalish, Benny Brownstein, is that Philadelphia was mild, more sedate, and genteel than New York. Chet Harrington summed it up best, "we were cordial but competitive." "Ad executives from four different agencies were taking the train to New York, all with appointments at different times but at the same place," says Gene Shay. "They all sat together, and two guys made the mistake of visiting the club car - and two other guys threw their portfolios out of the train windows."
We talked on the phone with member Steve Tatz a few weeks ago. It was a little after 12 noon. Little did we know that it was just after 6 am where he was. He was in Alaska. He said not to worry as they were getting ready for a boat trip and they were already up. He said that the hardest part of the trip was that there are months where there's no light and then times when it's light after 11 pm. It's sort of like that here. Quite often, there's light after 11 pm and then no light for months. Finally, they get around to putting a new bulb in the street light.
Did you know...
Bill Kuster became the full-time, permanent, primetime weatherguy on Channel 3, KYW-TV on Tuesday, August 24, 1965. That was his first day on the air in that position. It was with no fanfare. Why? Read on.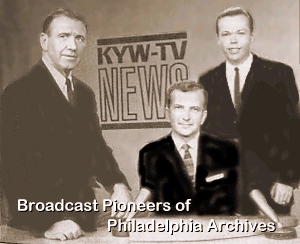 (Left to right) Jim Leaming, Vince Leonard and Dick Goddard
KYW-TV
Summer 1965
The decision was made swiftly because their current weatherguy, Dick Goddard, quit in the station's parking lot and never returned to the building. Broadcast Pioneers member Rex Polier was the Evening Bulletin's TV Critic and at one time, the organization's newsletter editor. He said:
Goddard... was to have stayed at his job here until September 10th. ...The youthful looking Goddard was said to be anxious to return to Cleveland, where he had been the city's most popular weatherman on the NBC station there when it was owned by Westinghouse.

He will not be returning to his former position in the Ohio city, however. Goddard's place there was taken by Wally Kinnan, who was with Channel 3 here when NBC owned the station.
Goddard, by the way, had a wonderful career back in Cleveland after this, becoming the evening weathercaster for WJW-TV for forty years.
The reason the station wanted Dick to stay until Friday, September 10th was that would be the last day of the old news format. On Monday, September 13th, "Eyewitness News" would premiere in the 6 pm and 11 pm timeslots. That would be a good time to institute a new weatherguy. But Goddard would have none of it.
The Eyewitness News half-hour format started at 12 noon on Monday, August 30th with Broadcast Pioneers member Marciarose Shestack and newcomer from Cleveland, Tom Snyder.
Polier added:
Kuster's takeover of his job came rather suddenly.... He appeared on the screen without any on-air announcement of his appointment or of Goddard's leaving.

Kuster has been with Channel 3 since May, 1963, when he came here after a period of seven years at WGAL-TV, Lancaster.... Unlike Channel 6's weatherman, Francis Davis, Kinnan and Goddard, Kuster is not a meteorologist (he later became one). He attempts to put a light touch to his reporting.
Member Al Primo (the creator of Eyewitness News) writes us:
I quickly picked Bill Kuster from the station announcing staff because he had an appealing look and voice. He also had something I always thought important in television, a great sense of humor and dry wit. He was more Midwestern (Bill was actually from upstate Pennsylvania) than urban and the audience took to him very well. He was a real asset to Vince Leonard who was a pretty serious and effective anchorman. Bill brought out Vince's humanity.
Now, back to our story. Member Vince Leonard (Eyewitness News' prime anchor) continues with the story:
It didn't take Goddard long to realize he didn't care for Philadelphia and certainly didn't want any part of Channel 3....

Bill always had the down home, folksy approach in telling us about the weather each day. He never forgot his small town background....

I always liked the line Bill used on the air when autumn had rolled around. He said one could always tell when Indian summer had arrived. We'd get Apache fog (a patchy fog.)

Kuster's garden was an idea that turned out to be a great success. ...It was next to the sidewalk on 5th Street. That's where he planted his vegetable garden. He tended it most evenings right after the Six O'clock news. The garden was there every year and, remarkably, was never vandalized. Bill donated all of the vegetables to charity.
Member Dave Neal who produced the Eyewitness Newscasts in the seventies told us that Alan J. Bell, VP of General Manager of KYW-TV didn't like the Kuster Kids. Bill used drawings of children to illustrate how to dress them in the morning. So Bell told Neal to kill the kids and come up with something new. Well, the Kuster Garden was Dave's creation. Bell thought Neal was nuts, especially when he came in one morning to find all the evergreen bushes pulled out of the soil and vegetables growing there. Bell's unhappiness was an understatement.
Member Herb Clarke (who was Kuster's competitor on Channel 10) tells us:
I knew Bill Kuster when he was in Lancaster County and was one of the 42 members of the Atlantic Refining Company's weather team.
For a time, both Kuster on WGAL-TV and Clarke on WCAU-TV dressed as an Atlantic serviceman and did the weather in that getup.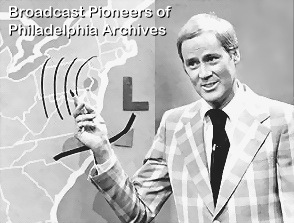 Hester Zettle and frequently talked about her on the
Member Dr. Francis Davis (the meteorologist on Channel 6 at the time) writes to us that there were real differences in the three weather forecasts on 3, 6 and 10. He said that Kuster's low key program was based on a friendly, conversational style. He said that it was very easy to listen and view. More like the guy next door.
Wally Kinnan, the Weatherman, was with Channel 3 here in Philadelphia for years. But Al Primo really didn't care for his air presence. So, Primo traded Kinnan for Goddard. We talked about this is more detail in our March 2009 "Did You Know" column. The Philly General Manager who was going to Cleveland loved Kinnan. Al pulled a fast one. He offered to trade Kinnan for Goddard, and "just to make it fair," said Primo, "I get a minor league guy." Like who, they asked. Al said, "Oh, I don't know. Let's say Tom Snyder." Incredibly, the GM immediately agreed to the deal.
Bill Kuster was one of the most loved people ever to be part of "Eyewitness News," both by others at the station and the general public at large. Bill was inducted into our Hall of Fame two years ago.
A sidebar to this whole thing is that Broadcast Pioneers member Tom Moran was just finishing his DJ work on KYW Radio. They were going all news and Moran was out of a job. Well, Tom applied for Bill's old booth announcing shift and got it. One evening after the early evenings news, Kuster went to dinner and returned to kill a little time in the announce booth with Tom Moran. The engineer said to Moran that there was a call for him on line one. He picked it up and a voice said, "Hi Tom. This is Dick Carr." Dick was the PD at WIP Radio. Moran, thinking it was a joke, was about to tell Carr that he could go to a very unsunny place. But before he could, Kuster yanked the phone away from Tom and said, "Hi Dick. This is Bill Kuster." Well, it turned out that Bill verified that it was Carr and Dick offered Moran a full-time gig at WIP Radio. Moran's total TV booth announcing work lasted 6 weeks.
This regular monthly column is written and researched by Gerry Wilkinson
THANK YOU:
Special thanks go out to Broadcast Pioneers board member and Hall of Famer, Carter Merbreier, aka Captain Noah for his $1,000 donation to our DAP, Digital Archival Project. With his support and that of others we have saved 44 Captain Noah shows as a part of our archives. The organization welcomes all donations from its members and friends at any time. Your support directly contributes to the ongoing success of our mission.
Special thanks go out to member Johnny B. Hall for his personal donation to Broadcast Pioneers this past month. Every month Johnny donates to us for our Digital Archival Project. He has recently increased his monthly pledge by 50%. Thank you, Johnny.
We also thought it would be nice to recognize those members who have made an extra contribution this past month when they renewed their membership. Thank you! They are: Allen Murphy and Daniel DiNardo. Also, when Bob McCone joined recently, he included a donation. It is appreciated.
In lieu of flowers, the family of Bill Webber asked that contributions be made to our scholarship fund. We wish to thank the following people for contributing this past month to this scholarship fund: Steven & Mary Kratz. FYI - save the date: Wednesday, October 20th. That's when we'll have our "Tribute to Bill Webber" luncheon.
Earlier this month, Broadcast Pioneers member Les Waas made a speech at one of the neighborhood organizations. It was arranged by the Broadcast Pioneers. Les received an honorarium and donated it to the Broadcast Pioneers. Thanks. We always get more with Les.
If you sent in your renewal and forgot to made an extra contribution and would like to do so now, it's never too late. We would be thrilled to hear from you at: PO Box 2886, Bala Cynwyd, PA 19004.
MORE IN TOUCH:
We heard from member John Carlton who commented on the Pop Singer piece last month. He said that the station had a tall receptionist named "Ruthie" who was constantly picking stuff up at Pop Singer's for the WFIL staff. He also mentioned a local hangout located between Singer's place and the station called " The Brown Jug." It was a restaurant and bar where several of the local WFIL people hung out after working hours. He mentioned that it was a favorite place of Bob Horn, the original host of "Bandstand." Carlton also said that the record promoters would always stop in giving the air staff records that the promoters needed played.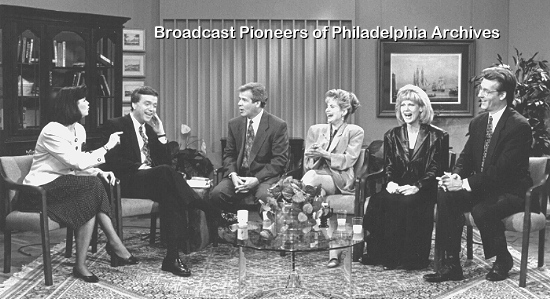 (Left to right) Lizabeth Starr (aka Liz Matt), Wally Kennedy, Dave Roberts
Claire Carter, Janet Davies and Harry Martin
on the set of "AM Philadelphia" (the 15th anniversary show)
WPVI-TV
fall 1993
Broadcast Pioneers member Wally Kennedy is teaching a course this fall at Immaculata College. Wally has former broadcaster turned lawyer Dave Frankel lined up to speak to the students. A reminder that the Broadcast Pioneers will host a college student symposium about broadcasting at the facilities of 6ABC on Saturday, October 23rd. President Jerry Klein is the moderator.
From across the pond in New Jersey, member Robert Timms writes us about working as a DJ. His favorite "bathroom" record was "Judy Blue Eyes" by Crosby, Stills and Nash. He says it's over 7 minutes long. Let us not forget "MacArthur Park" by Richard Harris. But those who worked at Urban Contemporary stations had a special favorite by Isaac Hayes. It was the LP version of "I Stand Accused" which runs 18 minutes.
Robin Hoehn e-mailed to tell us: "You have a god in Michael Tearson. Please thank him from me personally for the excellent show he had on WMGK last Saturday. (It's really nice to hear the likes of Ian Matthews and the Strawbs." Member Mike Tearson says: I continue to do original shows specially for the website, http://www.radiothatdoesntsuck.com. It's my art for art's sake radio which naturally comes without any pay. Here, I do the most adventurous and eclectic work I can do. Right now, I have about 25 shows posted. These are in addition to my ongoing WMGK, Saturday Morning 60s show (now in its 10th year) and my work on Sirius/XM. It keeps me busy, and busy beats bored every time."
One of our members received in the mail a few weeks ago, a newsletter from their Pennsylvania state representative, Louise Bishop. In it, there's a five paragraph story about member Sally Starr. The article says in part:
Rep. Bishop has recognized Sally Starr, famed TV cowgirl, with a citation from the Pennsylvania House of Representatives for her more than 50 year career as a broadcaster. ...She is a member of the Broadcast Pioneers of Philadelphia.
EDITOR'S NOTE: Louise Bishop may be better known to Philadelphia radio listeners as "The Gospel Queen," Louise Williams. Her half century broadcast career made her a household name in the African American community. Louise spent most of her radio time at WDAS Radio where she married the station's Vice-President of Programming, Jimmy Bishop.
Lauren Hart, well-known singer and former co-host of "The 10 Show" appears as a guest co-host on that show in a couple of days. Watch for her on Friday, September 3rd. Lauren replaced Kate Smith singing "God Bless America" at the Flyers games. Her dad was Broadcast Pioneers Hall of Famer Gene Hart.
WE REMEMBER :
A little while ago, we lost Broadcast Pioneers member Jonathan P. Casey who spent most of his life working in broadcasting in Vineland. He suffered from cancer. Jonathan had donated to our audio archive, a couple dozen of his interviews with people like Hy Lit, broadcast legends. The Casey legacy will live on. Carl Hemple, General Manager of WVLT said: "We lost a very professional talent at our family station. He will be missed."
Natalie Nevins, 85, lived in nearby Yardley. She may be best known for her regular spot on the "Lawrence Welk Show" on ABC-TV in the 60s. Previously as a teenager, she sang on local Philadelphia radio stations. She was "discovered" here in Philly by Ed Sullivan who had recently appeared on the Powers Gouraud program on WCAU Radio. She was 85 years old.
ON THE HEALTH FRONT:
Tom Dooley update from daughter Kristin: Most recently Tom has had another treatment of tumor-reducing medication. He has been handling it well with minimal side effects. One of his recent biggest troubles was hiccups for nearly a week! Tried every trick in the book and finally found a medication that could help. Thanks to KCBI's Jim Wilson and Terri Barrett for their tribute to Tom on their show and for graciously having Tom's wife on the program. Keep up the good work Tom!
Beth Doherty (Sid's daughter) has checked in to let us know, that Broadcast Pioneers member Sid Doherty is at the Wayne Center recovering from a broken ankle sustained during a fall. She tells us; "He is doing well, but anxious to get back home." Get well soon, Sid.
DIGITAL ARCHIVAL PROJECT NEWS :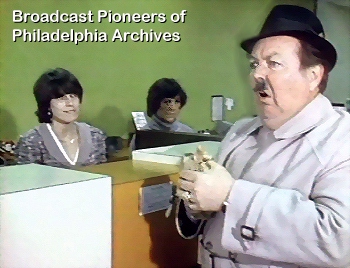 Joe Earley (on right)
on location at Beneficial Savings Bank
(Scene from a Captain Noah's High Adventures show)
circa 1980
We have finished digitizing all of our Captain Noah tapes. Looks like we have a total of 42 different shows (some one hour and some 30 minutes). Plus we have some roll-ins and b-roll material. We also have about a dozen rundowns that were used by the crew and cast for the production of the broadcast. Look at a rundown from March 26, 1994!
Nine of the Noah programs date from around 1980. They were specials and were entitled, "Captain Noah's High Adventures." Most of them featured the master of disguises, Broadcast Pioneers member Joe Earley, who was also known for his work as Mr. Rivets and the postman on the Gene London Show. These specials were mostly shot on 16mm film. Sometimes, the opening and ending segments were on videotape, but 90% of each of these shows were filmed. One of the episodes was called "Mr. Tweedle's Very Good Fortune." We have a four minute excerpt here for your viewing. It's the first time that it's been available in 30 years. FYI - The voice of Mrs. Tweedle is that of Mrs. Noah, also known as Broadcast Pioneers member Pat Merbreier.
Watch with Real Video!
Watch with Windows Media!
Just to highlight a little bit of the impact our archives have in this market, check out this page from KYW Newsradio's website. Scroll to near the bottom and watch the two videos. They both come from our video archive and both have a key crediting "The Broadcast Pioneers of Philadelphia" on the actual videos. They are also always available on our website.
Just a few days ago, we celebrated a sad day in Philadelphia. It was the 27th anniversary of the sign-off of WKBS-TV. Their last day was Monday, August 29, 1983. We thought you might like to see what they broadcast that last day.
WKBS-TV Print Ad
Monday, August 29, 1983
5:28 am - Sign On
5:30 am - CNN Headline News
6 am - News
6:30 am - The 20 Minute Workout (the show was 30 minutes long)
7 am - Underdog
7:30 am - The Flintstones
8 am - Popeye and Friends
8:30 am - The Great Space Coaster
9 am- Battle of the Planets
9:30 am - News
9:45 am - Del Val with Marty Jacobs
10 am - CNN Headline News
10:30 am - The 20 Minute Workout
11 am - Too Close for Comfort (from ABC-TV)
11:30 am - All in the Family
12 noon - Leave It to Beaver
12:30 pm - McHale's Navy
1 pm - Gomer Pyle USMC
1:30 pm - The Dick Van Dyke Show
2 pm - Dennis the Menace
2:30 pm - The Munsters
3 pm - The Little Rascals (Our Gang)
3:30 pm - Mighty Mouse
4 pm - Porky Pig
4:30 pm - Woody Woodpecker
5 pm - The Flinstones
5:30 pm - Mork and Mindy
6 pm - Lobo
7 pm - The Wild, Wild West
8 pm - The Bob Newhart Show
8:30 pm - College Football Pre-Game Show
9 pm - College Football (Nebraska vs. Penn State)
12:05 am - Remarks by the General Manager & Sign-Off
We have a recording of General Manager's Vincent Barresi's last editorial which aired just before they turned off the transmitter for the last time. It's a little after midnight on Monday night August 29th/Tuesday morning August 30th. Here's what Barresi told the viewers of the Delaware Valley.
Listen with Real Audio!
Listen with Windows Media!
The quality on this WKBS-TV piece of audio leaves alot to be desired. Maybe you have a better copy. Also, home video taping had already started by then so maybe you have some of video of this. If so, please contact us at 856-365-5600.
Remember, History is ONLY What Gets Saved!
(If there were no portraits of George Washington, how would we know what he looked like?)
ON THE SCENE :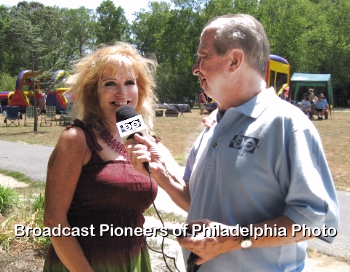 The Broadcast Pioneers Newsletter was "On the Scene" to catch a wonderful performance by Broadcast Pioneer member Maura McKinney Mastro, at "Praise In the Park," on Saturday August 14th at the Cape May County Park and Zoo. It was a stirring performance to which Maura said; "It's wonderful to have the freedom to sing these inspirational and moving songs (some of which she has written) as well as popular inspirational favorites." Maura will be appearing at the Irish Festival (for the seventh year) in Wildwood on their main stage, Friday and Saturday, September 24 and 25th at 6:30 pm - 8:30 pm, in honor of her father Jack McKinney. Be sure to catch her performance!
A final thought...
"Once there was a baby elephant (a guest on the Mike Douglas Show) stuck in the KYW-TV elevator. GM Fred Walker came into the building, hit the 'up' button and got a loud, trumpeted greeting from the smelly pachyderm when the doors opened. ...Most people in the Eyewitness Newsroom took the stairs for quite a while."
Al Primo
Creator of the "Eyewitness News" Format
This issue marks the second anniversary of the new newsletter format and editor. We encourage your feedback, comments, suggestions and most importantly your stories and updates. Please feel free to contact Frank Stone at newsletter@broadcastpioneers.com. Your stories are important, to you, to us, and your colleagues. Contact us today and we'll include your story in the next newsletter!

Photo Editor & Archival Historian - Gerry Wilkinson
© 2010, Broadcast Pioneers of Philadelphia
All Rights Reserved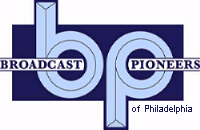 The e-mail address of the Broadcast Pioneers of Philadelphia is pioneers@broadcastpioneers.com
For luncheon reservations call (856) 365-5600 or e-mail us at: rsvp@broadcastpioneers.com